Raccoons are one of the several animal species found in Disney Dreamlight Valley. Just like all the other animals, you can feed the raccoons and make them your companions as you explore the game.
But, how do you befriend a raccoon? What should you offer them? Where can you find them? There are just so many questions that comes to mind!
Clearing up all your thoughts, I'll be helping you out with this article today on how to feed raccoons in Disney Dreamlight Valley!
How to Feed Raccoons in Disney Dreamlight Valley?
The home of the Raccoons is the Forest of Valor biome. These are available in large numbers around the bushes and rocks in the biome.
If you're having trouble moving past the tree stumps present near the entrance of the Forest of Valor, consider our article on how you can upgrade your pickaxe to remove these tree stumps and get this obstacle out of the way.
Raccoons are available in five different forms: Black Raccoon, Red Raccoon, White Raccoon, Blue Raccoon, and the Classic Raccoon. Some raccoons can be found all day, while others are available at specific times.
The White and Classic Raccoons can't be found all the time, whereas the Blue Raccoon can be seen from 4pm to 10pm.
The Red and Black Raccoons are the only ones that are available at all times. That's why, these raccoons are the ones you should feed as it'll take you relatively lesser effort to find these.
Disney Dreamlight Valley Raccoons Favorite Food
In order to feed raccoons and actually get a fruitful result, you'll need to feed them their favorite food in the game: Blueberries.

Thankfully, Blueberries are pretty easy to obtain. You can find several Blueberry bushes in the Forest of Valor spread all around the biome. Approaching one of these bushes can land you multiple Blueberries at a time.
Blueberries can also be found in Dazzle Beach. Furthermore, you can farm and harvest Blueberries if you're interested in farming too!
Disney Dreamlight Valley Approaching and Feeding Raccoons
Raccoons are small and quick animals that just refuse to stay still! They keep on running away every time you get close to them. They have an attitude similar to the Crocodiles in the game.
When a raccoon is stationary, it'll be sitting on the ground, looking straight ahead.
If you move a step closer to it, you'll notice that the raccoon stands up on its feet and looks around for a few seconds, as if it's trying to sense a predator.
The raccoon will go back to the original sitting position. That's when you take your next step. The raccoon will stand up again, just like before and take a look around. Make sure you aren't moving when the raccoon has stood up, or else it's scurry away!
Repeat this process until you're close enough to approach the raccoon.
The "Gift" menu will open up when you start interacting with the raccoon. Select the Blueberry from your inventory and offer it to the raccoon.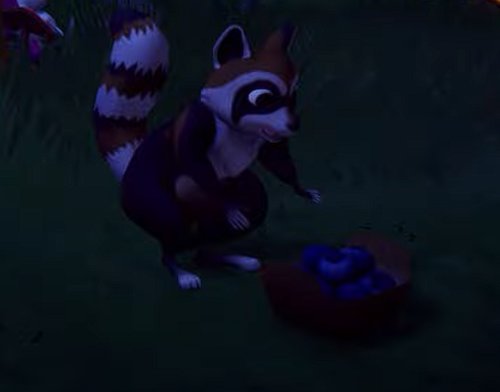 The raccoon will delightfully feast on your gift and then reward you with another gift item of its own!
In order to make the raccoon your pet, you'll need to feed the same type of raccoon for a second time. Therefore, make sure you know which type of raccoon you fed the first time!
Wrapping Up
Feeding raccoons is just like feeding all other animals in Disney Dreamlight Valley. The process may be a bit time-consuming, especially if the animal keeps on scurrying away, but the end result is absolutely heart-warming and adorable!
If you're having a hard time feeding raccoons or any other animals, though, make sure you leave a comment below so that I can help you out!