Disney Dreamlight Valley is a game where you will be creating your own Disney dream world that you've always imagined. It has a very big map full of different kinds of regions.
Stay tuned to find out how to fully unlock the Forest of Valor region.
Unlocking new regions in Disney Dreamlight Valley takes up time, energy, and a lot of in-game money. There are various types of methods to be earning money.
The Forest of Valor is a very big part of the map and it actually has 2 parts that you'll need to buy to unlock. That is why it is the harder area to unlock in the game.
In this article, I will be showing you the ways of what you'll need to do, to fully unlock Forest of Valor. Let's get started.
How to Fully Unlock Forest of Valor in Disney Dreamlight Valley
So, to get into the second half of this forest, you need to talk to the new NPC Anna.
Once you have unlocked her and met her you will need to hang out with her.
Do her quests for a certain level of friendship, make a shovel blade, and then unlock the whole by paying 3000 Dreamlight Coins. Forest of Valor.
Once you have done all of these things you will fully unlock The Forest of Valor.
How to Unlock Anna in Disney Dreamlight Valley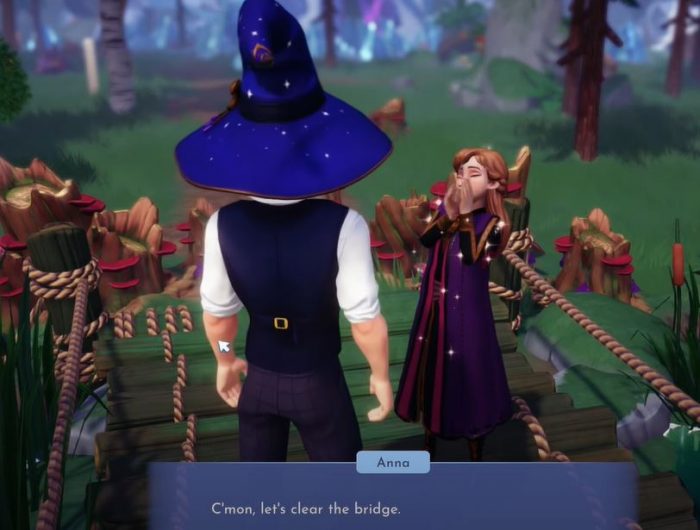 Anna's questline can begin as soon as the Frozen Realm in the Dream Castle is unlocked and the player goes there.
But in order to complete some quests, you will need to gather materials that can't be found in the main village area.
After getting your first character, you should ideally be able to move forward a little bit.
Before going to help Anna, you should first finish the main story quest Friendship Is Everything.
It will be a quest given to you by Merlin, and you'll have to get to Friendship Level 5 with three characters.
You will need to know how to make friends quickly in Disney Dreamlight Valley. There are a few ways to do this, like giving gifts to favorite characters, completing quests, or having characters help players do their jobs.
Then you will have to do these quests for Anna in order to unlock her:
Journey to the Enchanted Forest
Catch Bruni the Fire Spirit
Cook for the Earth Giant
Cross the River to reach Elsa
Calm the Wind Spirit
Hang the Wind Chimes
Once you have all of them you will need to go to the east of all those quests and you'll need 3000 Dreamlight to buy Forest of Valor.
How to Craft the Shovel Blade & Remove Tree Stumps
Shovel Blade is another thing that you will need to make in order to fully unlock the Forest of Valor.
To make one is pretty simple. First of all, make sure that you have these crafting materials.
10 Softwood – you can get them literally everywhere under trees
4 Hardwood – also under trees, they have a darker color than the Softwood
4 Iron Ingots – you'll need to find Iron ores to mine and then turn them into Ingots
4 Tinkering Parts – you will need Iron Ingots to turn into Tinkering Parts
Once you have all of these you will head to the nearest crafting station and craft yourself a shovel blade.
Once you have this item you will need to remove the tree stumps with Anna and you will fully unlock the Forest of Valor.
Conclusion
That is all that you'll need to know about fully unlocking Forest of Valor. It is one of the most beautiful regions in Disney Dreamlight Valley.
You will be seeing a lot of animals peacefully living here, a lot of trees, the scenery is also fantastic. It is overall an area that you'll want to unlock.
I hope that this guide has provided you with some quality information about how to fully unlock Forest of Valor. Have fun playing in the newly unlocked region!