Codes in Pokemon Trading Card Game Online are an easy way of obtaining free cards, booster packs, accessories for avatars, and gaining access to special decks.
However, getting your hands on these codes can be quite the task, since they're not available for free!
That's why I am here, today! I'll help you out with some useful codes for Pokemon Trading Card Game Online in 2023 and give you a few tips on how you can obtain even more codes by yourself!
Pokemon Trading Card Game Online Codes
I'll be providing you with a list of codes that you can input into your game to acquire certain items in Pokemon TCGO.
You can input the codes in-game and obtain the items through the "Redeem Codes" option in the "Shopping Cart" section.
You can also make use of the Pokémon website to get your items from the codes. All you need to do is login to your account on the website and enter your code in the "Redeem Pokemon Trading Card Game Online Codes" menu.
The codes mentioned in this article were originally shared by users on various platforms and have so far proven to work!
Unique Decks and Booster Packs

Shared by: Nooc34 and kirbystwin_2008
Codes
flashfire
plasmablast
primalclash
legendarytreasures
phantomforces
roaringskies
pokemonxy
ancientorigins
plasmastorm
plasmafreeze
plasmablast
boundariescrossed
furiousfists
All of these codes can be used once in your accounts and these will redeem a random booster pack or a special deck consisting of a specific theme!
Tradelocked XY95 Promo Pikachu
Shared by: APM
Code
1PIKACHU4U
You can only collect this special Pikachu card once by putting in this code in the game.
Avatar Accessories
Shared by: kirbystwin_2008
Code for Pokemon EX Hat
dragonsexalted
darkexplorers
nextdestinies
Code for Team Deck
Code for M14 Black Hat
pokemontcg
Code for Mewtwo T-shirt
mewtwo2012
The codes above, just like the others, can also be used once in each account.
How to get Free Pokemon Trading Card Game Online Codes?
The codes shared above were probably not enough for you! Unfortunately, these are the only codes available right now that are working and will actually redeem their respective items.
Most other codes are unique and can only be used once. There are no global cheats for the game either like there were for Pokemon Radical Red.
That's why finding free codes is quite difficult for Pokemon TCGO. But, it's not all a lost cause! There's a way you can get free codes!
Livestreams and Giveaways!
Hop on to Twitch and you'll find plenty of Pokemon streamers doing free giveaways and sharing these codes in their live streams to attract viewers.
If you can be fast enough or if you're one of the first few, you may be able to land yourself several PTCGO codes and earn free items in a short span of time!
It's similar for Reddit as well as Twitter, but you can mainly utilize these platforms to find even more fellow Pokemon streamers/gamers who are willing to give out free codes!
There's almost a daily update on newer codes in the PTCGO Subreddit and it can be an amazing source for you.
Moreover, some Twitter users do giveaways as well to increase their follower count, and you might as well participate in those since the requirements are usually to follow and retweet!
It's all about timing and of course, your luck, but if you keep trying, you'll eventually get a few free codes.
There's also another way to receive a code once every month, and that's by signing up for the Pokemon Trainer Club newsletter.
You'll receive free codes every month with the newsletter, but these may not just be laid out for you. You'll probably need to look through the newsletter a bit to find the code.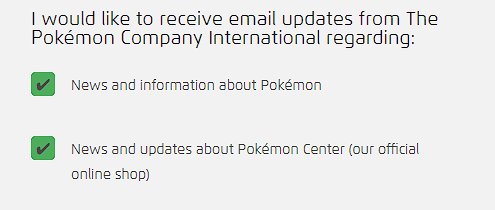 But, do make sure you tick both boxes under – "I would like to receive marketing email messages from The Pokémon Company International." – when you're signing up, in order to receive emails on a monthly basis.
Wrapping Up
Codes can help enrich your Pokemon collection easily in PTCGO, whether it's adding new Pokemon or getting items for your avatar.
You can use the codes shared above to successfully redeem their associated items; but I'd definitely suggest you to pursue another way to obtain these codes, such as the Twitch livestreams and Twitter giveaways, since most codes are for one-time use only.