Nothing is better than getting some free CRK redeem codes, so that you can boost your Cookie Run Kingdom experience with new goodies and free rewards. And I am here to share with you all the working in-game codes for June 2023.
Redeeming your codes in Cookie Run Kingdom is a bit more complicated than in your regular games, but we'll cover that too in the article.
But until then, let's get straight to the point and check out below the CRK codes that are working in June 2023, as well as the rewards you can get from them.
Cookie Run Kingdom Codes to Redeem
I expect Santa to be really nice with us during this holiday season and bring even more goodies ready to be redeemed for free towards the end of the month, but until then – here are the currently active codes:
CRKALWAYSLOVEYOU – Redeem code for 3,000 gems, 1,500 rainbow cubes
CRKINGDOMWITHBTS – Redeem code for 1,000 Army Bombs
CRK2NDBIRTHDAYD1 – Redeem code for 100 EXP star jellies Lv.6
CRK2NDBIRTHDAYD2 – Redeem code for 3x all aurora items
CRK2NDBIRTHDAYD3 – Redeem code for 100 topping pieces
CRK2NDBIRTHDAYD4 – Redeem code for 500 rainbow cubes
CRK2NDBIRTHDAYD5 – Redeem code for 30-time jumpers
CRK2NDBIRTHDAYD6 – Redeem code for 10 treasure tickets
CRK2NDBIRTHDAYD7 – Redeem code for 3 cookie cutters
THANX200MPLAYERS – Redeem code for 2,000 Cubes
FOLLOWINGINLATAM – Redeem this code for 2,500 Crystals
0728CKCOOKIELIVE – Redeem code for 2,500 Crystals
2NDBIRTHDAYPARTY – Redeem code for 3,000 crystals
Really good rewards, as you can see. Make sure to type the codes exactly as seen above, in all CAPS to be able to redeem them.
Also, if any of the codes above are no longer working, please let us all know by commenting below. Do the same if you manage to stumble upon a working code that I haven't shared yet.
And if you like receiving freebies, make sure to take a look at my previous article where I shared some Roblox Black Grimoire codes, as well as some Pokemon TCG Online Codes.
Now back to Cookie Run Kingdom, let's see how to redeem the codes above (and any future codes).
How to redeem codes in CRK (Cookie Run Kingdom)
Redeeming the codes above works a bit differently than it does in most games. The difference is that you need to log in to your account at the official CRK page and redeem the code there.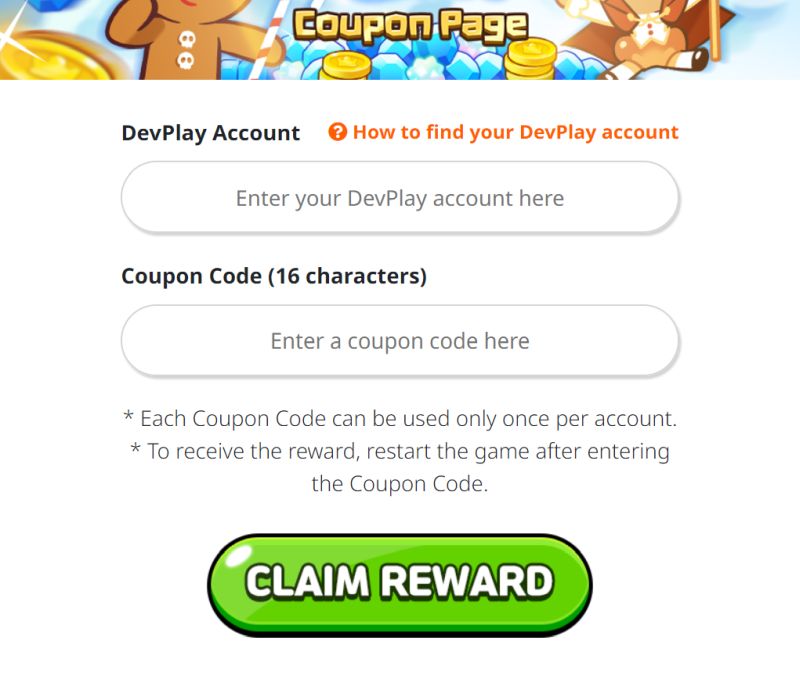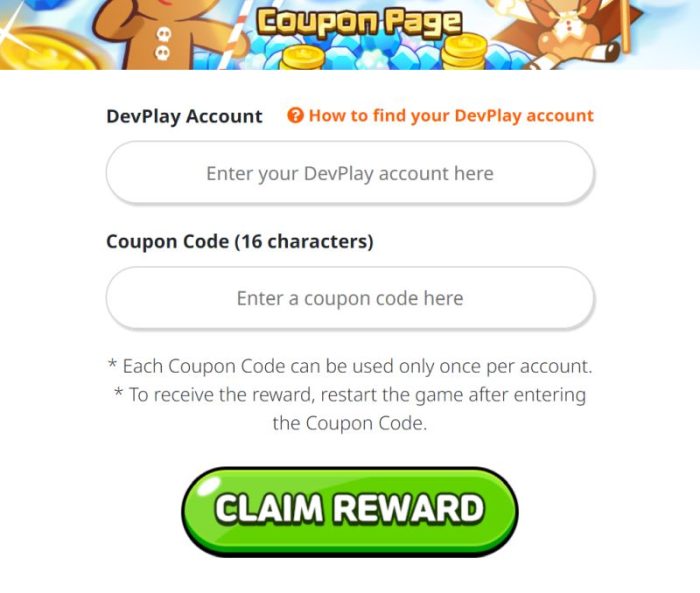 Here are all the steps that you need to follow:
1. Head over to the official Cookie Run Devplay page
2. Type your Cookie Run Kingdom user ID in the top bar and the code in the bottom bar.
You can find your user ID by launching the game, clicking the three lines in the upper right corner and selecting Settings, then going to the Info tab: you will see your user ID under the "User info" section.
3. After typing in the required info, click the big "Claim reward" button and your reward will be delivered into your in-game mailbox. This is it!
Where to find more CRK Redeem codes?
The best way to get more codes, which are updated on a monthly basis (sometimes even more often) is to bookmark this page and visit it regularly.
Apart from this method, you can follow the official channels of the game, as new codes are usually shared there. I am talking about the official Facebook page, the Twitter page and Instagram mainly.
Keep an eye on those and you will be among the first to get your codes.
Conclusion
Now you know all the working codes in Cookie Run Kingdom for the month. Don't forget to claim them as quickly as possible because they tend to expire really fast.
Also, if you stumble upon a code that wasn't shared above (or if one or more of the codes stop working), let us all know by commenting below.