Crocodiles in Disney Dreamlight Valley are rather quite adorable and cute, unlike their appearance in real life!
Nevertheless, it can be difficult to approach and feed a crocodile in Disney Dreamlight Valley since they keep on scampering away, even more than the other animals in the game.
There is a trick, however, in interacting and making friends with crocodiles. Do you want to find out? Let's get on with it then!
How to Approach and Feed Crocodile in Disney Dreamlight Valley?
Before you can approach crocodiles, you need to find them first!
Crocodiles can only be found in the Glade of Trust. These small, cute creatures are available near the lakes and ponds in Glade of Trust. Check out our article on unlocking the Glade of Trust, in case you haven't done it yet!
They're the same size as critters and squirrels, so try to take a look at the faces of the animals to ensure that you're trying to interact with an actual crocodile.
Disney Dreamlight Valley: Crocodile's Favorite Food
You can't tame, or even make friends with crocodiles, if you don't offer them the right kind of food. Each animal in Disney Dreamlight Valley has a specific preference when it comes to food.
For example, Rabbits only like Carrots, whereas Squirrels are fond of Apples.
The favorite food of Crocodiles is the Lobster.
Only feeding Lobster to the crocodiles can help increase your Friendship Ratings with them.
Disney Dreamlight Valley: How to get Lobsters
Thankfully, you won't be needing to go out of the Glade of Trust biome to find Lobsters.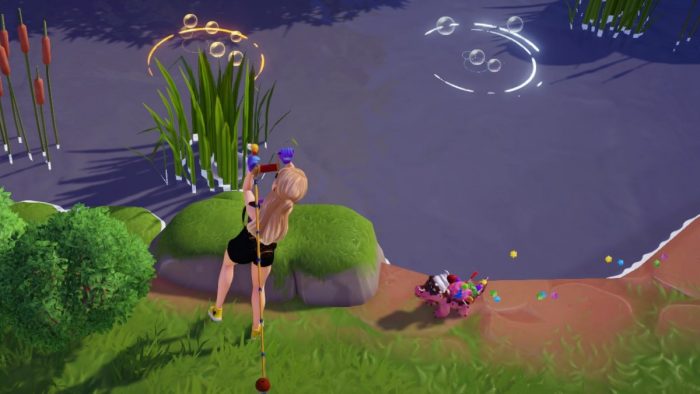 Lobsters are part of the Fishes and Seafood category in Disney Dreamlight Valley and you'll need to fish and catch them. Lobsters can be a tad bit difficult to find, since these are not as common as the Rainbow Trout and Seaweed. These are in the rare category of fishes.
In the lakes of the Glade of Trust, keep an eye out for orange sparkles of bubbles. This is a sign that a lobster may be available in the surrounding area.
Aim your fishing rod at the sparkling bubbles and spam "Pull" when you feel a tug. If luck's on your favor, you might just end up scoring a lobster on your first try!
You may need a few tries to catch a Lobster, so keep your patience and don't give up!
Disney Dreamlight Valley: How to Feed Crocodiles
Once you've caught a lobster, it's time to look for crocodiles to befriend!
When you spot a crocodile, don't rush towards it. These will run away when you move too fast around them.
You should move towards the crocodile very slowly, without making any sudden changes in your movement.
Take one step and stop. You'll notice that the crocodile sort of looks up and quickly scans the area around him. It tilts its head downwards again.
That's when you take another step. The crocodile, sensing your movement, will tilt its head up again and look around. Make sure you aren't making any sort of movements when it is doing that. The crocodile will look down again.
Repeat the process until you're close enough to interact with the crocodile. Select the button to "Approach" the animal, which will open up the "Gift" inventory.
Choose the Lobster and offer it to the Crocodile. Isn't the reaction too adorable? My heart melts!
The crocodile, after eating up the lobster, will reward you with a gift as well. Feeding the crocodile will also complete additional sub-quests and increase your Friendship Ratings with the animal.
Wrapping Up
As long as you're tiptoeing, approaching and feeding crocodiles isn't a big deal! You'll need patience more than hard work for this task; but the reaction of the crocodile makes it all worth it!
Feeding animals in Disney Dreamlight Valley gives me a different kind of joy, especially because they're so adorably created and their reactions are just heart-warming!
I hope this guide has helped you finally approach and feed crocodiles. If you're still struggling, do let me know in the comments, so that I can help you out!