In one of the first quests in Wylde Flowers, named 'The Most Elaborate Icebreaker', players are tasked by major Otto to meet with each villager.
This can be tricky to complete since each villager has their own unique routine and players can't access any of their houses.
In this guide, I will mention some of the best tips to meet all villagers in Wylde Flowers. With these, I was able to complete the quest within the first two days.
Hang out at the Main Square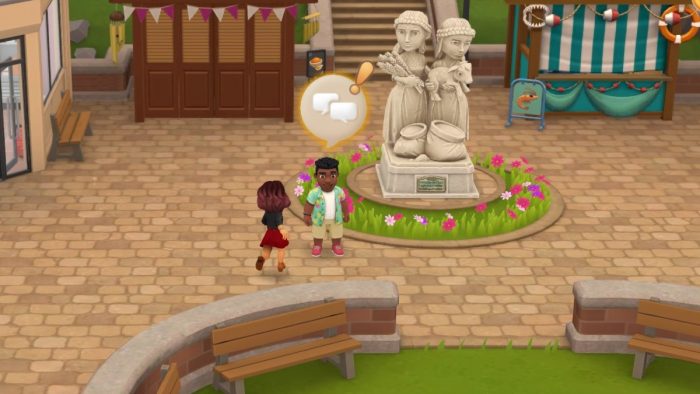 One of the best locations to meet new characters is the village's main square. Located down the stairs and in the middle of the village, it's a spacious location where many villagers pass through.
Some even decide to hang out there if they aren't busy. Whenever you're nearby, make sure to check if a villager you haven't met yet is there.
Visit the Bar
The bar is the most popular location during nighttime. Villagers gather there for a chat and it's usually pretty crowded.
By visiting the bar and the main square, you should have met the vast majority of villagers.
Visit Thomas' Farm
Just south of your farm, there's another farm belonging to Thomas. He doesn't leave his farm a lot, so players can easily miss him.
Just make sure to drop by his farm during the daytime and he'll usually be outside tending to his crops.
Visit Their Houses/Stores
Each character has a house they go to, and most of them have some kind of store.
The stores are easier to keep track of since they are open on specific hours. Try and visit every shop while it's open to ensure you've met most characters.
As for houses, if you're missing a specific character, you can go outside their house right after you wake up or before you go to bed. Maybe you'll catch them leaving or entering their house and finally meet them.
To find out which house belongs to whom, check the mailbox just outside. Houses are spread all over the village, with some being by the beach and another one in the forest.
Check the Official Wiki
If you've followed all the methods above and still are missing some characters, open the menu and check which ones you're missing.
Then, visit Wylde Flowers's official wiki and select the character you're interested in.
In the wiki, there's a tab named Personal Schedule that shows what that character is doing when they aren't working/at home.
Repeat this for any character you haven't met yet and you'll finally complete the initiation quest.
Conclusion
And that's all. Now you know how to meet all villagers in Wylde Flowers and complete 'The Most Elaborate Icebreaker' quest.
All it takes is visiting some key locations to find most of the villagers and then specifying your search based on their houses, shops, and specific routines.
After that, you're ready to start your farming life in Wylde Flowers and explore the vast world around you.
Now that you've met everyone, consider checking out our guide on each character's favorite food and gifts in Wylde Flowers. This will help you increase your relationship with the locals.
Did you manage to meet all villagers easily? What do you think about this initiation quest in Wylde Flowers? Let us know in the comments below.