The Aradanish Puzzle is part of the numerous mini games that take place in the city of Sumeru in Genshin Impact.
The rewards of these mini quests are pretty amazing, given how simple the tasks actually are! So, are you interested to find out how to complete the Aradanish puzzle in Genshin Impact?
Let's not waste any time and get on with it then!
How to Complete the Aradanish Puzzle in Genshin Impact?
Aradanish is an NPC that you can find in Sumeru. It's part of the Aranara race and resembles structures of that of plants.
Aradanish, along with a few more NPCs of the Aranara, will give you small and simple puzzles that you need to solve in order to earn various rewards. All of these take place in different locations in Sumeru.
The Aranara creatures will refer to you as "Nara" or "Golden Nara" and other names during these quests. You'll notice that their language is also a tad bit different from normal English, but understandable still.
The Aradanish Puzzle in Genshin Impact can be carried out by any of the characters that you've unlocked, be it Ganyu or Collei.
We'll take a look at how you can find and solve the mini quests handed to you by Aradanish in this guide.
Small Wooden Chest
The first puzzle of Aradanish will take place in Mawtiyima Forest in Sumeru.
You can find Aradanish waiting for you on top of the hills around the waterfalls. Once you interact with Aradanish, it'll ask you to play games with it, to which you should agree.
The game will involve you looking for a "Small Wooden Chest" for this cute, plant-like NPC.
When the quest resumes, you should be able to spot large, brown-colored wooden cubes around you. You won't need to explore the land for these at all.
All you need to do is approach one of the wooden cubes and you should see a "Touch" prompt show up.
Just touch the wooden box and it's important that you don't break it or damage it in anyway.
A simple touch will be enough for this quest and you'll be relocated back to Aradanish. It will refer to you as "Golden Nara" now and give you a Common Chest as a form of reward for solving the puzzle.
The chest may contain several items, such as Dendro Sigils and Lucky Dog's Clover, along with some Adventure EXP.
Piles of Rocks
The next puzzle in line that Aradanish gives you takes place in the Apam Woods.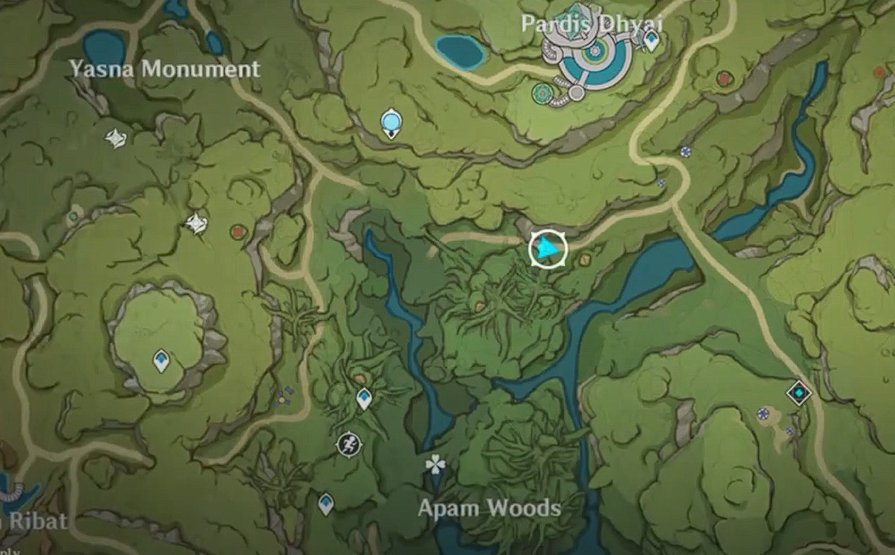 To get there, you'll first need to teleport to Ashavan Realm, which is between the Yasna Monument and Pardis Dhyai in Sumeru. After that, you'll need to move downhill towards the Apam Woods.
A bit of exploration after you've reached Apam Woods should help you find Aradanish. Upon interacting with it, Aradanish will ask you to play games again, just like the last time.
In this puzzle, you'll need to collect Piles of Rocks for Aradanish. This task is also as simple as the previous Wooden Chest box task.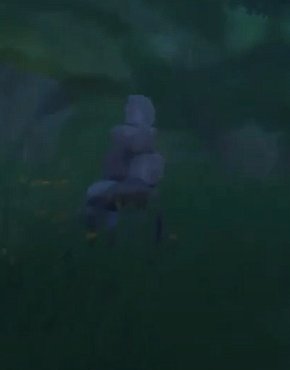 When the quest resumes, you just need to look around you until you spot an actual pile of rocks, stacked on top of one another. If you can't spot it right away, just walk around the area for a while and these should be easily visible.
You'll need to get close to the stacked rocks and just "Touch" these. That should be it for the puzzle and you'll be redirected back to Aradanish.
Aradanish will be grateful to you for bringing it the Pile of Rocks in such a short time and reward you with another Common Chest. You'll find Dendro Sigils, Exile's Goblet and Adventurer's EXP from this chest as well.
Bundled Hay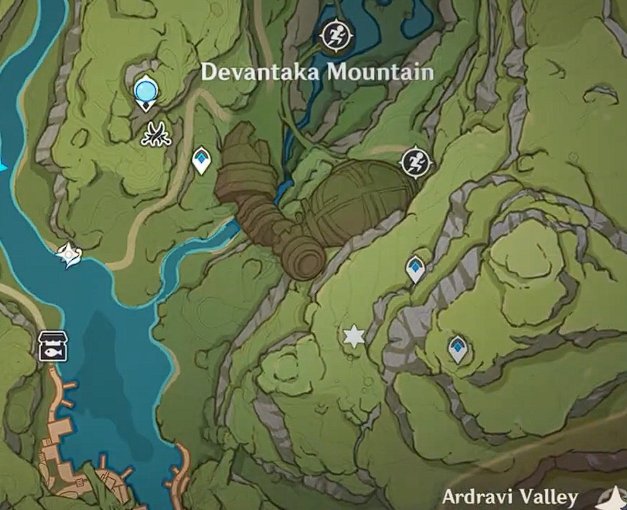 The last puzzle Aradanish will give you is where you'll need to collect Bundled Hay.
For this quest, you'll have to teleport to Ardravi Valley, which is located towards the southern side of Devantaka Mountain in Sumeru.
To find Aradanish, follow the "Star" symbol on the map and move towards it. You may need to fly and move for a longer distance, compared to the previous two puzzles.
Once you reach Aradanish, it'll ask you to bring Bundled Hay as quickly as possible.
The Bundled Hay will easily catch your eye when you look around a bit, as it has a relatively large structure and is darker in color, contrasting the greenery of the hills of Sumeru.
You'll need to approach the haystack and "Touch" it to complete the puzzle.
Aradanish will gift you yet another Common Chest and help you gain Adventure EXP as well as increase your inventory of Dendro Sigils and Teachings of Admonition.
Wrapping Up
The Aradanish Puzzle is actually quite easy and doesn't take up too much time. The same goes for all the puzzles of the other NPCs in the Aranara race. You can seamlessly complete these puzzles and earn the rewards with minimal effort.
Nonetheless, if you're still having issues solving any of the puzzles above, do leave a comment below, so that I can help you out!