Are you interested in exploring the world and farming in style? Let's see how to unlock and change outfits in Fae Farm.
Other than the starting outfits when making your character, you'll be able to unlock various new outfits by progressing in the game and buying them from Millie's shop.
In this guide, I will explain how to unlock and equip new outfits in Fae Farm since styling is an important part of farming sim games.
Before moving on, consider also checking out our guide on how to make pink flowers in Fae Farm.
How to Unlock New Outfits in Fae Farm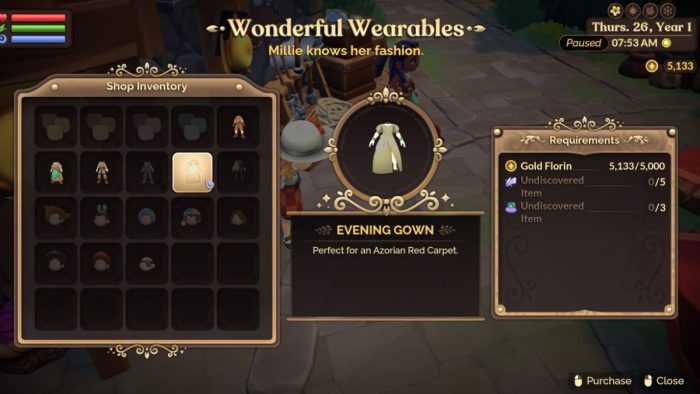 To unlock and buy new outfits in Fae Farm, visit Millie in the main plaza. She is on the left side and stands out due to her bright white hat. To make it even easier, Millie is the one shown in the first picture of this article.
Interact with her and open the store. From Millie's Wonderful Wearables store, you'll be able to purchase a wide variety of outfits. However, not all of them will be available from the start.
To buy most outfits, you'll need to unlock certain materials first. Most of these materials are gained by processing flowers, so make sure to check out our Fae Farm flower bed guide on how to plant flowers.
Other than flowers, you'll need Cotton Fabric, Plant Fibers, and other late-game items. On top of everything, you'll also need Florins. Thankfully, most clothes are fairly cheap with prices being between 50-100 Florins.
If you're low on money, check out our guide on the best crops to plant in Fae Farm which will help you get rich easily.
How to Equip Outfits in Fae Farm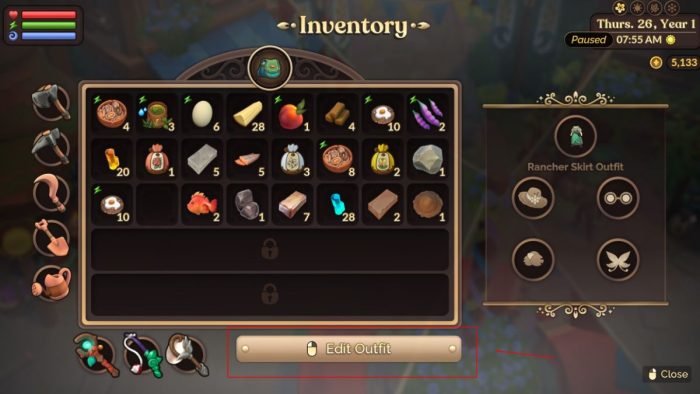 Now that you've selected and bought the outfit of your choice, you're probably wondering how to equip it.
To equip an outfit in Fae Farm, simply open your backpack inventory (up on Controller or I on Keyboard) and select Edit Outfit on the bottom.
You can see your equipped outfit on the right and you're able to equip any unlocked outfits you want.
Thankfully, outfits don't take up space in your backpack, so feel free to unlock as many as you want and switch between them constantly.
Also, you are able to mix and match outfits. You can select clothes, headpieces, glasses, accessories, and more. As you progress in the game, you'll unlock even more recipes.
Wrapping up
In conclusion, you can unlock outfits in Fae Farm by buying them from Millie at the central plaza with the required items and florins.
Then, you can equip your newly unlocked outfits from your backpack inventory by selecting "Edit Outfit" on the bottom side of your screen.
What's your favorite outfit so far? What do you think about the early-game outfits? Personally, they seem mediocre at best but I'd like to hear your thoughts in the comments below.
Now that you're in style, don't forget to also check out our guide on how to complete the A Watery Wonder quest and get Steamed Fish in Fae Farm. This quest is unlocked once you reach the bottom floor of the saltwater mines and completing it is essential to progress the main story.