Stardew Valley is still one of our favorite games here at Common Sense Gamer. We consider it one of the best relaxing games ever made and love playing it whenever we have the chance.
And even though the game itself is awesome, it gets even better if you add some mods into the mix to make it perfect.
That is exactly what we're going to talk about in today's article: the absolute best mods for Stardew Valley. I have an updated list for you, including the latest and best releases in recent times.
So if you haven't played Stardew Valley with mods yet, now it's your chance to begin and do so with the best ones on the market (plus installation guide at the bottom.)
If you stopped playing it a while ago, use these mods to give the game the extra boost it needs to charm you once again and find new ways to play.
But let's not waste any more time with the intro! Let's check out the best mods for Stardew Valley below!
Ali's Overgrown Fairy Buildings & Flower Grass
We're starting with a bit of a cheat, since these are basically two mods, not one.
But they work hand in hand perfectly and are created by the same person, so I'm sure you'll forgive me this time.
These two mods bring a massive visual boost to the game. You're really taken into a fairy tale, with vibrant, beautiful colors, as well as new textures for buildings and trees. Absolutely beautiful!
You can download the Overgrown Fairy Buildings mod here and the Flower Grass one here.
Teh's Fishing Overhaul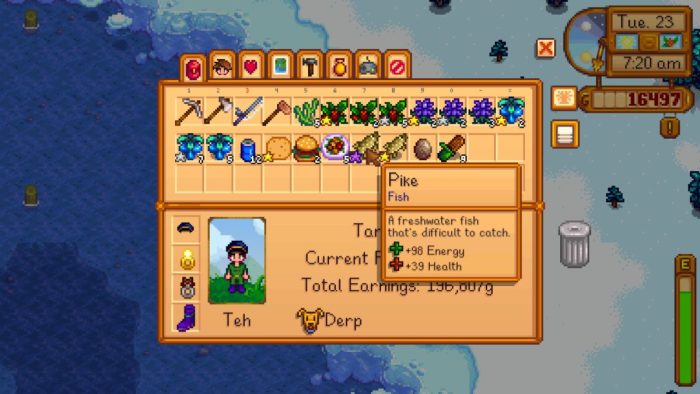 Fishing becomes a lot more enjoyable if you decided to install this mod. And you should – this way, you will have more fun trying to catch those rare fish, like the Void Salmon.
Check out the mod here.
Nightmare's Additional Weaponry Mod

One of the more advanced mods available for the game, this one adds a ton of brand new weapons to the game.
From a guitar that can be used to whack enemies to Soul Calibur themed swords, there's a lot of diversity and great weapons to add to the mix.
This mod requires SMAPI (I've written about it at the bottom of the article), and it can be downloaded here.
NPC Map Locations

Even after tens of hours of play time, it's still difficult to keep track of where a specific NPC is at any given time.
But with this mod, you no longer have to worry about it! This mod will add NPCs to your map and makes them extremely easy to find.
It's also highly customizable, allowing you to instruct it to only show specific in-game characters or just those in your area.
This mod requires SMAPI and you can download it here.
Items show sell price in your inventory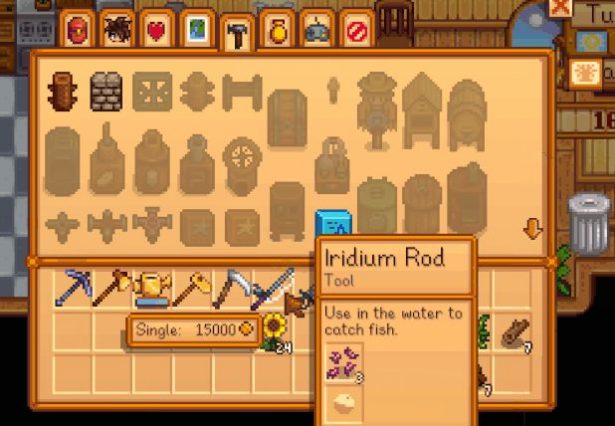 Another complex mod that requires SMAPI, it's also one of the most useful in Stardew Valley, in my opinion.
It adds a simple, but extremely useful feature: it shows you exactly how much each of the items in your inventory cost.
This makes micromanagement a breeze and protects you from mistakenly dropping an expensive item.
You can download the mod here.
Animal Sitter

This one is a bit of a cheat, for sure, but one that I can live with and one that doesn't really destroy the game.
Instead, it makes taking care of your tons of animals a breeze (and a lot less time consuming).
You can press a key and it does it all for you, each day: feeds them, pets them, harvests from them.
You can even instruct it to charge you a bit for each use if it feels too much of a cheat. You can download it here.
JG LightSabers
If you want a bit of that Star Wars vibe in Stardew Valley, you can easily do so by installing this mod.
It will replace existing swords with oh, so awesome lightsabers. Simple, to the point and extremely cool.
You can install the mod for free from Nexus Mods.
Farm Extended
A united map (standard, foraging, mining and fishing) with increased size, dedicated foraging and mining area, escape-proof animal fields, minecart-transport and much more!
This is perfect for those who want to get a bit of a head start and more organized farm life in the game.
You can download the mod for free here.
Animal Husbandry Mod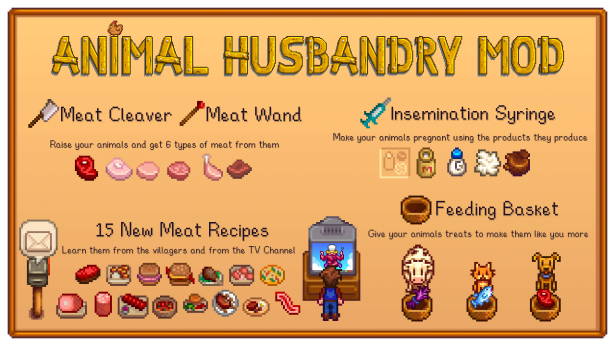 A really good mod that adds a lot of new things for you to do in the game, all related to animals.
You will be able to give treats to your animals, see them produce offsprings, but also turn them into meat, use new tools and cook new recipes. A lot of really exciting content added to the mix!
Head over here to download and install your mod right away.
Automate
Get a bit of a Minecraft vibe here by automating some production in the game: Place a chest next to a machine and it will will automatically pull raw items from the chest and push processed items into it.
You can even connect two machines to each other by placing a chest in between them! This does save a lot of time!
Click here to download the mod now.
Movement Speed
If you feel like half of your play time is spent just walking around slowly and looking at various animation of your character when he's performing a job, this mod will make you really happy.
As its name suggests, this mod increases your character's movement speed, but also speeds up the charging time of the watering can and hoe.
You can download this mod here.
Gift Taste Helper
I know that part of the fan – and challenge – in the game is finding out all by yourself what gifts each of the NPCs appreciates.
But it can get a bit too complicated keeping track of all that and this mod fixes it for you.
After installing it, simply scroll over a character's birthday in the calendar and you will see what gifts they like to receive.
You can install the mod right now from Nexus Mods.
Save Anywhere
A very simple mod in concept, but extremely useful: it simply allows you to save your game's progress no matter where you are in the game. Just press the assigned key and you're done!
Click here to download the mod now.
Enemy Health Bars
Another simple, but extremely useful mod. It adds health bars over your enemies, so that you know better how long you have to hit them before they turn into smush.
Click here to get the mod now.
Stardew Valley Expanded
I saved the best for last, so if you managed to get all the way here, you're in for a treat. This is probably the most ambitious and best ever mod for the game!
This mod features 23 new locations, 126 new character events, 9 new NPCs, a new village, 750 location messages, reimagined maps and festivals, a huge remastered farm map, a new world map reflecting all changes, and many miscellaneous additions! It's a real expansion that truly takes the game to the next level. You will love it!
You can download this mod for free here.
Stardew Aquarium
I'm adding new mods to the mix – like this awesome Stardew Aquarium. Donate fish here and see them in the aquarium! Pretty cool.
As a person who absolutely loves fish and aquariums (and owns a couple in real life), I can say I am really happy with this one!
Download it from Nexus Mods.
Tractor Mod
Well, I have to admit that, until finding this mod, I never thought: "Man, this game really needs a tractor".
But you have to try it to see how useful it can be. The tractor makes your life a lot easier, speeding up your farming process, from tilling the land to harvesting crops and even breaking rocks.
Get it for free here.
How to install Stardew Valley mods?
In case you need help on this matter, we've got it for you! And don't worry – it's easy! And you have two options when it comes to getting them installed & ready to run:
1. Replace XNB files
This is the easiest way to handle things and most of the less complex mods work with it.
All you have to do is to download the XNB file following the links above, then copy them over the XNB file in the game.
You find your XNB file by simply performing a search on your install drive (which might take some time) or by going directly to you game's install folder. This is found in Steam\steamapps\common\Stardew Valley\Content.
Make sure that you create a back-up of the original XNB file in case something goes wrong (so rename your file to something like filename-old.xnb), but with our recommended mods you are safe.
2. The SMAPI mod manager
The more complex mods that we have recommended require the SMAPI application (which stands for Stardew Modding API).
It can also be downloaded from modding forum and then it should be installed on your computer.
Then, simply download the mods that require SMAPI, copy them into the SMAPI mod folder and you're ready to play (after launching the tool itself). Very easy too, so you shouldn't worry about anything!
Wrapping up
Now you know how to install and activate mods in the game, as well as which are the mods that I absolutely love and recommend to other Stardew Valley players.
And if you don't necessarily like mods, learn how to get back one day in Stardew Valley or how to catch the Crimsonfish in the game.
Do you have any other great mods to recommend? Let us know by sharing your thoughts below.