Stardew Valley is still one of our favorite games here at Common Sense Gamer. We consider it one of the best relaxing games ever made and love playing it whenever we have the chance. And even though the game itself is awesome, it gets even better if you add some mods into the mix to make if perfect.
That is exactly what we're going to talk about in today's article: the top 5 best mods for Stardew Valley. And since we're in 2018, we have an updated list, including the latest and best releases in recent times. So if you haven't played Stardew Valley with mods yet, now it's your chance to begin and do so with the best ones on the market (plus installation guide at the bottom.)
But let's not waste any more time with intros! Let's check out the 5 best mods for Stardew Valley below!
Ali's Overgrown Fairy Buildings & Flower Grass
We're starting with a bit of a cheat, since these are basically two mods, not one. But they work hand in hand perfectly and are created by the same person, so I'm sure you'll forgive us this time.
But these two mods bring a visual boost to the game like no other. You're really taken into a fairy tale, with vibrant, beautiful colors, as well as new textures for buildings and trees. Absolutely beautiful!
You can download the Overgrown Fairy Buildings mod here and the Flower Grass one here.
Nightmare's Additional Weaponry Mod

One of the more advanced mods available for the game, this mod adds a ton of brand new weapons to the game. From a guitar that can be used to whack enemies to Soul Calibur themed swords, there's a lot of diversity and great weapons to add to the mix.
This mod requires SMAPI (we've written about it at the bottom of the article), and it can be downloaded here.
NPC Map Locations

Even after tens of hours of play time, it's still difficult to keep track of where a specific NPC is at any given time. But with this mod, you no longer have to worry about it! This mod will add NPCs to your map and makes them extremely easy to find.
It's also highly customizable, allowing you to instruct it to only show specific in-game characters or just those in your area.
This mod requires SMAPI and you can download it here.
Items show sell price in your inventory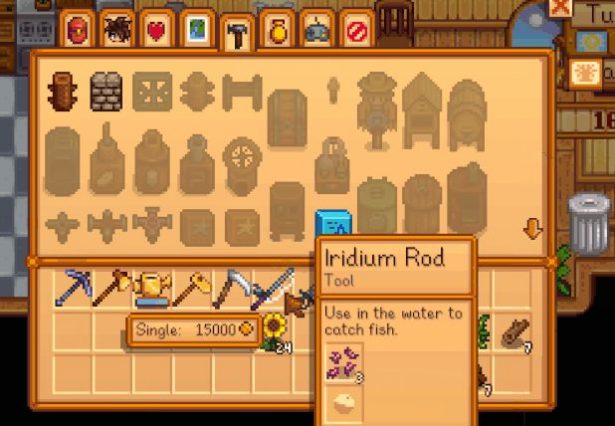 Another complex mod that requires SMAPI, it's also one of the most useful in Stardew Valley, in my opinion. It adds a simple, but extremely useful feature: it shows you exactly how much each of the items in your inventory cost. This makes micromanagement a breeze and protects you from mistakenly dropping an expensive item.
You can download the mod here.
Animal Sitter

This one is a bit of a cheat, for sure, but one that I can live with and one that doesn't really destroy the game. Instead, it makes taking care of your tons of animals a breeze (and a lot less time consuming). You can press a key and it does it all for you, each day: feeds them, pets them, harvests from them.
You can even instruct it to charge you a bit for each use if it feels too much of a cheat. You can download it here.
How to install Stardew Valley mods?
In case you need help on this matter, we've got it for you! And don't worry – it's easy! And you have two options when it comes to getting them installed & ready to run:
1. Replace XNB files
This is the easiest way to handle things and most of the less complex mods work with it. All you have to do is to download the XNB file following the links above, then copy them over the XNB file in the game.
You find your XNB file by simply performing a search on your install drive (which might take some time) or by going directly to you game's install folder. This is found in Steam\steamapps\common\Stardew Valley\Content.
Make sure that you create a back-up of the original XNB file in case something goes wrong (so rename your file to something like filename-old.xnb), but with our recommended mods you are safe.
2. The SMAPI mod manager
The more complex mods that we have recommended require the SMAPI application (which stands for Stardew Modding API). It can also be downloaded from modding forum and then it should be installed on your computer.
Then, simply download the mods that require SMAPI, copy them into the SMAPI mod folder and you're ready to play (after launching the tool itself). Very easy too, so you shouldn't worry about anything!
Now you know how to install and activate mods in the game, as well as which are the mods that we absolutely love and recommend to Stardew Valley players. Do you have any other great mods to recommend to fellow players? Let us know by sharing your comment below.