Using codes can be extremely useful to give you a helpful boost. In this guide, I will go over all the codes working in September of 2023 for Call of Duty: Mobile.
Want to play Call of Duty on the go? Call of Duty Mobile exists to cover that want, and with all the redemption codes you can redeem you can look cool doing it.
It is super easy to do, and there are so many codes, you will feel that you can look as cool as players that have been playing for a while.
The game offers both battle royal, where you have to survive the 100-player experience, and traditional 5v5 team-based multiplayer combat.
You will also be able to play iconic characters from Call of Duty: Black Ops and Modern Warfare.
If you are an anime fan and want to try out a mobile game inspired but the hit One Piece series, check out our guide on all the working codes for September 2023 for Idle Pirate Legend.
Call of Duty: Mobile Redeemable Codes
There are 6 different active codes, you can use in the game. As of September 2023, there are 49 expired codes, so make sure to use all of the codes you see listed below.
Here is a complete list of all the redeemable codes:
170TSIINDQ9UZ
ARPM3LUJ0JF97
CDNIZBZXSD
CDNKZBZJBC
CGCDZBZCDM
CGFJZBZ3QT
CGFKZBZ5GK
CGFLZBZDG7
CGPGZBZJAC
CHNBZBZSS5
CHNCZBZHUS
CHNDZBZDG8
CHNEZBZFTR
CHNGZBZNNV
CHUBZBZA6N
CHUCZBZATR
CHUDZBZ6UF
CHUEZBZKHR
CHUFZBZW5J
CHUGZBZDEG
CHUHZBZUWR
CHUIZBZGR6
CHUJZBZPG5
CHV0ZBZ86T
CHVMZBZHQB
CHVNZBZHCT
CICPZBZT47
CIDDZBZA9A
CIDEZBZP7R
CIDEZBZP7R
CIDFZBZHMB
CIDFZBZHMB
CIDGZBZWHP
CIDHZBZAUE
CIDIZBZ6VS
CIDJZBZ39X
CIKPZBZ3VG
CIKQZBZJJV
CINUZBZNE6
CIQUZBZQJH
CIRCZBZQ68
CIVOZBZX96
CIVPZBZHBV
CIVQZBZMD8
CIVRZBZKD7
CJHFZBZFF7
CJLKZBZ6UF
CJLLZBZ6QC
CJQRZBZMH9
CJQTZBZRW3
CJRBZBZWTG
CJRCZBZV8G
CJRDZBZXMC
CKKLZBZGCF
CLARZBZ7UE
CLAVZBZEFH
CLTDZBZXGA
FFPLOJEUFHSI
Keep in mind that you will need to enter the codes as seen. If you are having any problems, you may have made a mistake while copying the code back into the game.
Always make sure that you capitalize the correct letters as shown, and you will end up with a variety of amazing rewards that will when you are starting out, or even if you have already played for some time.
How to Redeem Codes in Call of Duty: Mobile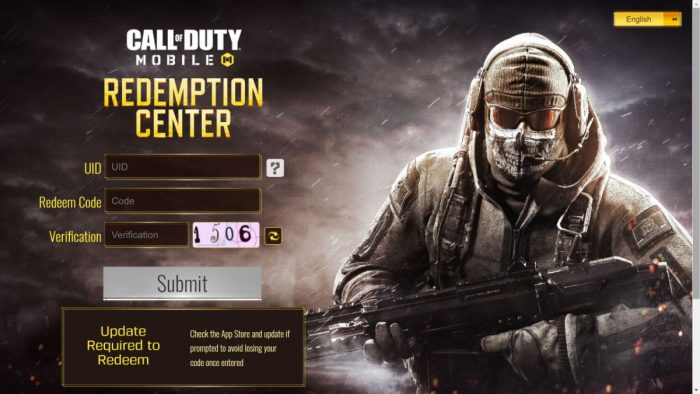 To redeem Call of Duty: Mobile codes, follow these easy steps:
Head on over to the Call of Duty: Mobile redemption center
Enter your UID (The UID can be found in the game, by pressing the profile menu available on the top left side. Select the second option from the Menu to go to the Profile Section. The UID will be below the in-game name.)
Enter the Redemption Code
Enter the verification code
Press submit
Open the game
Check your in-game mailbox
If you follow the steps correctly, you will the rewards you redeemed. You can redeem any particular code only once per account.
Final Thoughts
Redeemable codes can help players who pick up a game later in its release to catch up to those who have been there for a long time.
If you enjoy Call of Duty on consoles and PCs, check out our guide on how to get the Dark Matter Camo in Call of Duty Warzone.
With all the redeemable codes listed, you will feel rewarded to pick up and play Call of Duty Mobile. Share your thoughts on where this version can match up to the original Call of Duty experience.