Using Genuine Qi to level up Fire Virtue will allow you to gain extra Spirit when fighting enemies and consume less Spirit when using Martial Arts. Additionally, it will give you access to some high-damage Fire spells that can deal great AoE and single-target damage.
Overall, the Fire Virtue is the most offensive of the five Virtues and focuses on dealing solid AoE damage.
In this guide, I will showcase the best Fire Virtue build in Wo Long: Fallen Dynasty focusing on the best weapons and spells available.
Best Fire Virtue Build Weapons and Armor in Wo Long: Fallen Dynasty
The best weapon type to use for Fire Virtue builds is the Dual Halberd. These offer the best Fire bonus damage and should be your weapon of choice for any Fire Virtue build. Some notable weapons include the following:
Dual Rooster-Crowing Halberds
Tiger Fang Dual Halberds
Dual Marquis Halberds
As for upgrades, aim for Damage Dealt, Flame Attack Power, and any Spirit Gain bonuses.
In terms of armor, focus on anything that has Damage Dealt and Flame Attack Power upgrades.
Best Fire Virtue Build Spells in Wo Long: Fallen Dynasty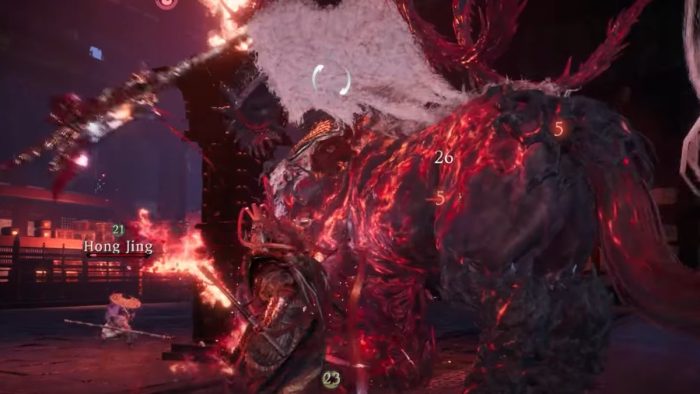 Overall, you want to prioritize leveling up Fire Virtue. The soft cap is at level 50, so aim for that and then spend any remaining points on the Wood Virtue for survivability.
In terms of spells, these are the best Fire Virtue spells in Wo Long Fallen Dynasty:
Bursting Fireball (Fire) – Throws a large fireball that splits into multiple small fireballs and then explodes.
Flame Weapon (Fire) – Enchants weapon with Flame.
Overpower Burst (Fire) – Increases the damage of the next spell or martial arts skill.
Engulfing Inferno (Fire) – AoE Flame damage in front of you.
Combining Overpower Burst with Bursting Fireball with deal insane damage and allow you to take down any enemy.
Best Divine Beast for Fire Virtue Build
In terms of the best Divine Beast for this build, I highly recommend either Xiezhi or Qinglong.
Xiezhi offers extra Fire damage while Qinglong provides continuous healing. Make sure to choose your Divine Beast based on what you're missing.
For more beast suggestions, consider checking out our guide on the best Divine Beasts in the game.
Wrapping up
To summarize this Wo Long: Fallen Dynasty guide, this is the best Fire Virtue build in the game with the most optimal weapon, armor, spells, and Divine Beast.
With this build, you'll deal solid AoE damage to the point where you can one-shot most common enemies and utilize your spirit efficiently to take down even the hardest boss fights.
Do you agree with our recommended equipment? What's your favorite virtue in the game? Let us know in the comments below.
For more build guides, consider checking out our article on the best Metal Virtue build in the game.