Are you looking for a role that plays in the low post close to the basket and stands out due to its height and body mass? Here's the best center build in NBA 2K24.
With the right build, you'll be able to get consistent finishes from the low post while also being a great defender and giving enemies a hard time when they're trying to get in the low post.
In this guide, I will explain the best center build in NBA 2K24 including the best height, weight, and wingspan as well as the best attribute point distribution.
If you're not fully familiar with the game yet, consider also checking out our NBA 2K24 timing stability guide. It's a new shot attribute that reduces the overall effects of fatigue and defense on your shot speed.
Best Center Stats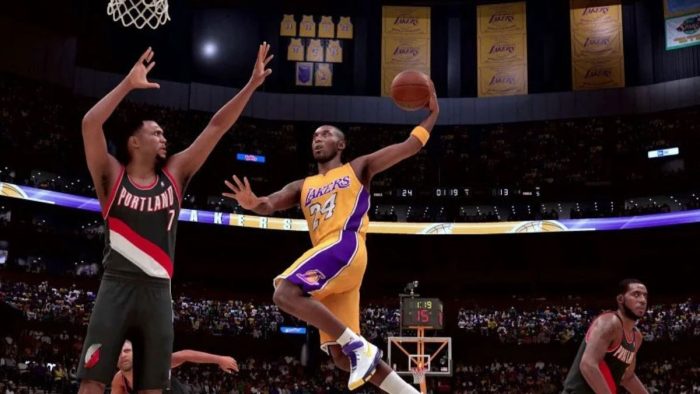 Since the center's main role is to play in the low post and apply pressure in both defense and offense while close to the basket, you want a tall and strong player in terms of stats.
Based on that, here are the best body attribute stats for a center in NBA 2K24:
Height: 7'1″
Weight: 240 lbs
Wingspan: 7'6″
Overall, the most crucial stat here is height. After all, most centers in the NBA are 7′ high or taller.
Best Center Attributes in NBA 2K24
As for stats, the best center attributes in NBA 2K24 focus on finishing and defense, with some solid stats on shooting.
Ideally, you want to be close to the basket at all times and apply pressure while also being able to score consistently when given the space and opportunity.
Based on that, here are the best attributes for the best center build in NBA 2K24:
Finishing
Close Shot: 99
Driving Layup: 85
Driving Dunk: 83
Standing Dunk: 99
Post Control: 99
Finishing is the bread and butter of this build and you shouldn't skip any of these stats. Close Shot, Standing Dunk, and Post Control should be maxed out to make you a true menace whenever you get close to the basket.
Shooting
Mid-Range Shot: 86
Three-Point Shot: 80
Free Throw: 89
Since you'll end up being pressured and won't get the chance to go for a layup every time, it's important to have solid shooting stats overall.
While three-pointers aren't your biggest strength and it's best to leave them for shooting guards, it's a good idea to have some attribute points here in case of need.
Playmaking
Pass Accuracy: 99
Ball Handle: 63
Speed with Ball: 55
In terms of playmaking, only focus on Pass Accuracy and ignore the other two stats. You won't run or dribble much, so they aren't needed.
Defense
Interior Defense: 93
Perimeter Defense: 66
Steal: 92
Defensive Rebound: 94
With these body attributes and positioning, it's important to focus on Interior Defense and Rebounds. This way, you'll make the most out of your height and be a valuable asset to your team's defense.
Physicals
Speed: 64
Acceleration: 57
Strength: 84
Vertical: 82
Stamina: 98
Physicals are an essential part of the best center build in NBA 2K24.
While you don't need speed and acceleration (as you're not going to be running with the ball a lot), strength, vertical, and stamina are key to consistently getting rebounds and scoring from the low post.
Best Center Build in NBA 2K24 Summary
To summarize the best center build in NBA 2K24, focus on making a tall and strong player with high finishing, defensive, and shooting stats.
Your role will be to pressure enemies consistently by playing in the low post, holding your team's defensive line, and playing for rebounds.
Do you have any other recommendations for this build? Who is your favorite center in the NBA? Feel free to share your thoughts and suggestions in the comments below.
For more similar content, check out our guides on the best SG build in NBA 2K24 and the best point guard build in the game.