Poogie is the pet mascot of the Monster Hunter series and he makes a massive comeback in Monster Hunter: World. In this game, carrying him around proves to be extremely useful – and that's exactly what we're here to talk about! A complete guide to Poogie in Monster Hunter World!
Therefore, in this article, we're going to share with you where to find Poogie, how to make him love you and and what costumes you can find for Poogie. We're also including additional info that might be useful… so read on, because there's more about this pig than first meets the eye!
Where to find Poogie in Monster Hunter: World
If in other games in the series, the pig was instantly available, now you have to do a bit of searching. Fortunately, it's not too difficult to find it here either: all you have to do is go to the first floor of Astera and you'll see the pig near the supply vendor.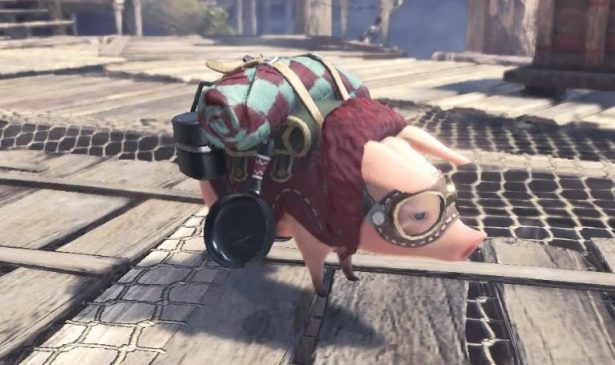 How to make Poogie like you
Just finding it doesn't really help you much. You have to make the pig like you and it's not that easy (not too difficult either, though). All you have to do is to successfully complete the petting minigame by pressing the button at the right time, when the red exclamation mark appears on the screen.
If you succeed, Poogie will like you and little hearts will appear over its head. If you fail, Poogie will bash you and run to its place and won't be available until the next quest.
And since he is actually useful, giving you some extra options when it comes to items you can find when having him as a companion, as well as (apparently) better luck at crafting rare items, it's worth paying attention to your pig-friend and pet him as you should.
Here are the materials you can find all over the game map if you visit locations while carrying Poogie:
Adamant Seed (3)
Armor Sphere+
Barrel Bomb (2)
Bitterbug
Bounce Bomb
Carbalite Ore
Catalyst (2)
Demondrug
Dragonite Ore (5)
Godbug
Herb
Herbal Medicine (3)
Herbal Medicine (3)
High-quality Pelt (2)
Honey
Immunizer (2)
Ivy (2)
Light Crystal
Mega Nutrients (2)
Mega Potion (3)
Might Seed
Monster Bone M
Nullberry
Parashroom (3)
Quality Bone (2)
Slashberry
Sleep Herb
Spider Web
Voucher
There is a complete map of the locations of all these items created by Steam user Little Bird and you can click this link to check it out.
Poogie Costumes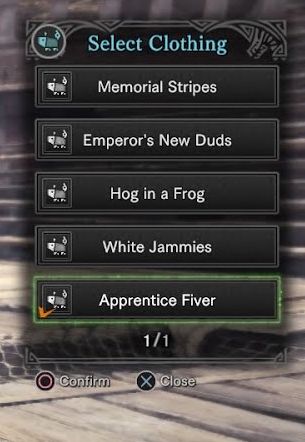 There are four costumes (as you can see on the map I linked to above) that you can find for Poogie after building up your relationship. Let's check out the names of each costume for your pig, as well as their locations:
Apprentice Fiver: You will have to place Poogie next to the Huntsman and the White Flag near the Commander's table.
Emperor's New Duds: Place Poogie on the wooden platform near the big rock inside the observation point. Enter the blacksmith and up the stairs until you reach it.
Hog In A Frog: Place Poogie next to the Scoutfly Lamp in the botany area, near the water where the baskets are located.
White Jammies: To the left of the Botany area, go all the way to the left of the Ecological Research Area and place Poogie near the large stone fossil in the corner.
And this is it! You now know everything about Poogie in Monster Hunger World. Now put that little fellow to some good use!
Also, if you want to check out more of our MHW guides and articles you can start with our fix to server errors in the game, our guide to finding the save game locations or our guide to using a controller in-game.