With many unique characters and a fantasy setting, there are a lot that use swords. In this guide, I will go over all the characters that use swords in LoL.
League of Legends offers a variety of play styles that transcend lanes, but the character design and the weapons they use will always be something players get attached to.
If any of these champions caught your eye and you were thinking about starting the game, check out our guide on the best tips for beginners for League of Legends.
League of Legends: ALL Characters that Use Swords
With 164 unique characters in the game, it may sound unexpected that only 16 of them use the most popular fantasy weapon type.
This makes them pretty special, so let's check them out below, in alphabetical order.
Aatrox, The Darkin Blade
Main Lane: Top
Role: Fighter
Difficulty: Moderate
Once honored defenders of Shurima against the Void, Aatrox and his brethren would eventually become an even greater threat to Runeterra, and were defeated only by cunning mortal sorcery.
But after centuries of imprisonment, Aatrox was the first to find freedom once more, corrupting and transforming those foolish enough to try and wield the magical weapon that contained his essence.
Now, with stolen flesh, he walks Runeterra in a brutal approximation of his previous form, seeking an apocalyptic and long overdue vengeance.
Diana, Scorn of the Moon
Main Lane: Jungle
Role: Fighter
Difficulty: Moderate
Bearing her crescent moonblade, Diana fights as a warrior of the Lunari a faith all but quashed in the lands around Mount Targon.
Clad in shimmering armor the color of winter snow at night, she is a living embodiment of the silver moon's power.
Imbued with the essence of an Aspect from beyond Targon's towering summit, Diana is no longer wholly human and struggles to understand her power and purpose in this world.
Fiora, the Grand Duelist
Main Lane: Top
Role: Fighter
Difficulty: Low
The most feared duelist in all Valoran, Fiora is as renowned for her brusque manner and cunning mind as she is for the speed of her bluesteel rapier.
Born to House Laurent in the kingdom of Demacia, Fiora took control of the family from her father in the wake of a scandal that nearly destroyed them.
House Laurent's reputation was sundered, but Fiora bends her every effort to restore her family's honor and return them to their rightful place among the great and good of Demacia.
Gangplank, the Saltwater Scourge
Main Lane: Top/Mid
Role: Fighter
Difficulty: High
As unpredictable as he is brutal, the dethroned reaver king Gangplank is feared far and wide. Once, he ruled the port city of Bilgewater, and while his reign is over, there are those who believe this has only made him more dangerous.
Gangplank would see Bilgewater bathed in blood once more before letting someone else take it and now with pistol, cutlass, and barrels of gunpowder, he is determined to reclaim what he has lost.
Garen, The Might of Demacia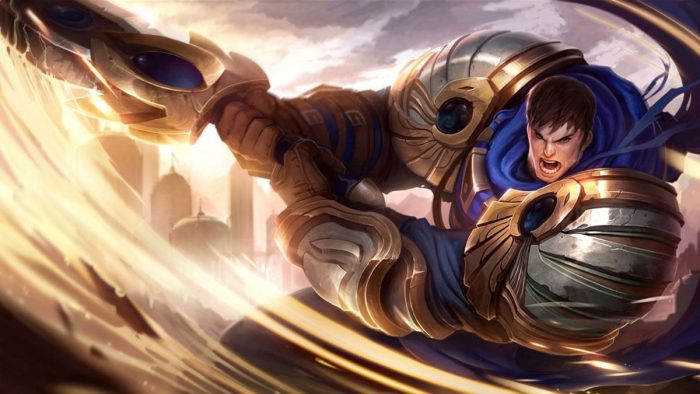 Main Lane: Top
Role: Fighter
Difficulty: Moderate
A proud and noble warrior, Garen fights as one of the Dauntless Vanguard.
He is popular among his fellows and respected well enough by his enemies not least as a scion of the prestigious Crownguard family, entrusted with defending Demacia and its ideals.
Clad in magic-resistant armor and bearing a mighty broadsword, Garen stands ready to confront mages and sorcerers on the field of battle, in a veritable whirlwind of righteous steel.
Irelia, the Blade Dancer
Main Lane: Top/Mid
Role: Fighter
Difficulty: Moderate
The Noxian occupation of Ionia produced many heroes, none more unlikely than the young Irelia of Navori.
Trained in the ancient dances of her province, she adapted her art for war, using graceful and carefully practiced movements to levitate a host of deadly blades.
After proving herself as a fighter, she was thrust into the role of resistance leader and figurehead, and to this day remains dedicated to the preservation of her homeland.
Kayle, The Righteous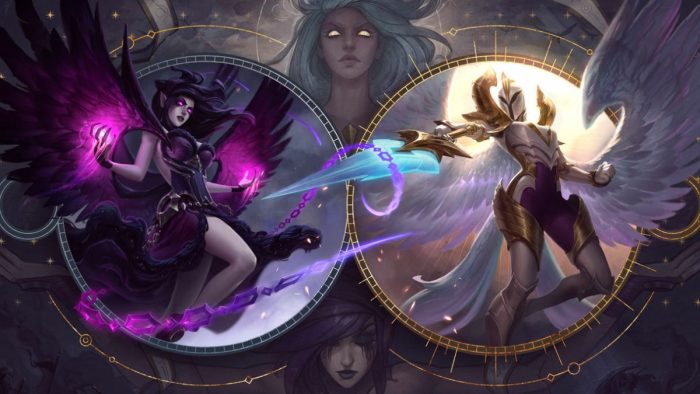 Main Lane: Top
Role: Fighter
Difficulty: Moderate
Born to a Targonian Aspect at the height of the Rune Wars, Kayle honored her mother's legacy by fighting for justice on wings of divine flame.
She and her twin sister Morgana were the protectors of Demacia for many years until Kayle became disillusioned with the repeated failings of mortals, and abandoned this realm altogether.
Still, legends are told of her punishing the unjust with her fiery swords, and many hope that she will one day return…
Leona, The Radiant Dawn
Main Lane: Support
Role: Tank
Difficulty: Moderate
Imbued with the fire of the sun, Leona is a holy warrior of the Solari who defends Mount Targon with her Zenith Blade and the Shield of Daybreak. Her skin shimmers with starfire while her eyes burn with the power of the celestial Aspect within her.
Armored in gold and bearing a terrible burden of ancient knowledge, Leona brings enlightenment to some and death to others.
Master Yi, The Wuju Bladesman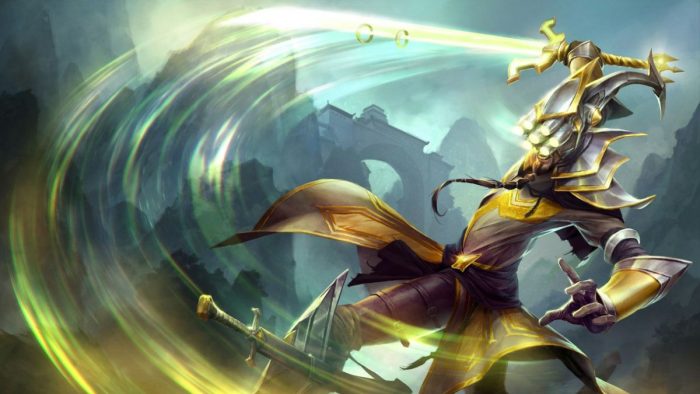 Main Lane: Jungle
Role: Assassin
Difficulty: Moderate
Master Yi has tempered his body and sharpened his mind, so that thought and action have become almost as one. Though he chooses to enter into violence only as a last resort, the grace and speed of his blade ensure resolution is always swift.
As one of the last living practitioners of the Ionian art of Wuju, Yi has devoted his life to continuing the legacy of his people scrutinizing potential new disciples with the Seven Lenses of Insight to identify the most worthy among them.
Riven, The Exile
Main Lane: Top
Role: Fighter
Difficulty: High
Once a swordmaster in the warhosts of Noxus, Riven is an expatriate in a land she previously tried to conquer.
She rose through the ranks on the strength of her conviction and brutal efficiency and was rewarded with a legendary runic blade and a warband of her own. However, on the Ionian front, Riven's faith in her homeland was tested and ultimately broken.
Having severed all ties to the empire, she now seeks to find her place in a shattered world, even as rumors abound that Noxus itself has been reforged…
Samira, The Desert Rose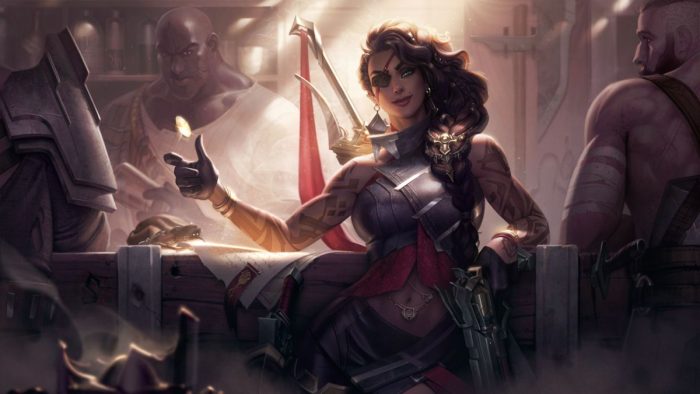 Main Lane: Bot
Role: Marksman
Difficulty: Moderate
Samira stares death in the eye with unyielding confidence, seeking thrill wherever she goes.
After her Shuriman home was destroyed as a child, Samira found her true calling in Noxus, where she built a reputation as a stylish daredevil taking on dangerous missions of the highest caliber.
Wielding black-powder pistols and a custom-engineered blade, Samira thrives in life-or-death circumstances, eliminating any who stand in her way with flash and flair.
Shen, The Eye of Twilight
Main Lane: Top
Role: Tank
Difficulty: Moderate
Among the secretive, Ionian warriors known as the Kinkou, Shen serves as their leader, the Eye of Twilight.
He longs to remain free from the confusion of emotion, prejudice, and ego and walks the unseen path of dispassionate judgment between the spirit realm and the physical world.
Tasked with enforcing the equilibrium between them, Shen wields blades of steel and arcane energy against any who would threaten it.
Tryndamere, the Barbarian King
Main Lane: Top
Role: Fighter
Difficulty: Moderate
Fueled by unbridled fury and rage, Tryndamere once carved his way through the Freljord, openly challenging the greatest warriors of the north to prepare himself for even darker days ahead.
The wrathful barbarian has long sought revenge for the annihilation of his clan, though more recently he has found companionship with Ashe, the Avarosan warmother, and a home with her people.
His almost inhuman strength and fortitude is legendary and has delivered him and his new allies countless victories against the greatest of odds.
Viego, The Ruined King
Main Lane: Jungle
Role: Assassin
Difficulty: Moderate
Once ruler of a long-lost kingdom, Viego perished over a thousand years ago when his attempt to bring his wife back from the dead triggered the magical catastrophe known as the Ruination.
Transformed into a powerful, unliving wraith tortured by an obsessive longing for his centuries-dead queen, Viego now stands as the Ruined King, controlling the deadly Harrowings as he scours Runeterra for anything that might one day restore her.
He is destroying all in his path as the Black Mist pours endlessly from his cruel, broken heart.
Yasuo, the Unforgiven
Main Lane: Mid/Top
Role: Fighter
Difficulty: High
An Ionian of deep resolve, Yasuo is an agile swordsman who wields the air itself against his enemies.
As a proud young man, he was falsely accused of murdering his master unable to prove his innocence, he was forced to slay his own brother in self-defense.
Even after his master's true killer was revealed, Yasuo still could not forgive himself for all he had done, and now wanders his homeland with only the wind to guide his blade.
Yone, the Unforgotten
Main Lane: Mid/Top
Role: Assassin
Difficulty: High
In life, he was Yone's half-brother of Yasuo and a renowned student of his village's sword school.
But upon his death at the hands of his brother, he found himself hunted by a malevolent entity of the spirit realm and was forced to slay it with its own sword.
Now, cursed to wear its demonic mask upon his face, Yone tirelessly hunts all such creatures in order to understand what he has become.
Final Thoughts
These characters have seen various buffs and nerfs throughout the different patch cycles, and are a blast to play.
With each new patch, there is a PBE that allows players to try out the upcoming changes, and if you have any trouble check out our guide on how to fix "PBE Is Not Available for Your Current Account" for League of Legends.
With all the sword-wielding characters listed, you will be able to start your LoL journey or find a new main for you to use.
Let us know in the comments which is your favorite champion to use on League of Legends, and which role you enjoy playing.