If you've decided it's time to uninstall Genshin Impact, you've probably also noticed that it's impossible through the in-game client.
For some reason, there's no way to uninstall Genshin Impact through its launcher. However, there are some other options through Windows or Epic games, depending on where you've downloaded the game from.
If you've lost too many 50/50s to Qiqi, are facing some technical issue, or simply aren't impressed by the new Dendro reactions, the point is you want to uninstall Genshin Impact.
In this guide, I'll show you how to do it within only a few steps.
How to Uninstall Genshin Impact on Epic Games
If you downloaded Genshin Impact through the Epic Games launcher, uninstalling it is fairly easy. Simply follow these steps:
Open the Epic Games Launcher
From the left tab, select 'Library'
Find Genshin Impact, select the three dots next to it, and click 'Uninstall'
If you can't find an 'Uninstall' option, select 'Manage' and then 'Uninstall'
How to Uninstall Genshin Impact via Control Panel
If you've downloaded Genshin through the official website, you'll need to use other options to uninstall it.
Here's how to uninstall Genshin Impact through the Control Panel:
Click the Windows key from your keyboard
Search and open 'Control Panel'
On the bottom left, select 'Uninstall a program'
Locate Genshin Impact and select 'Uninstall/Change'
How to Repair Genshin Impact
If you're trying to uninstall because the game isn't operating properly, maybe you should consider repairing the game instead. Repairing will take significantly less time than re-installing the game.
This is the best option if you have corrupted game files or are facing any technical issues in-game.
To repair Genshin Impact, follow these steps:
Go to the game's launcher and click the cog next to the minimize button.
Scroll down until you find the 'Repair Game Files' tab and select 'Repair Now'.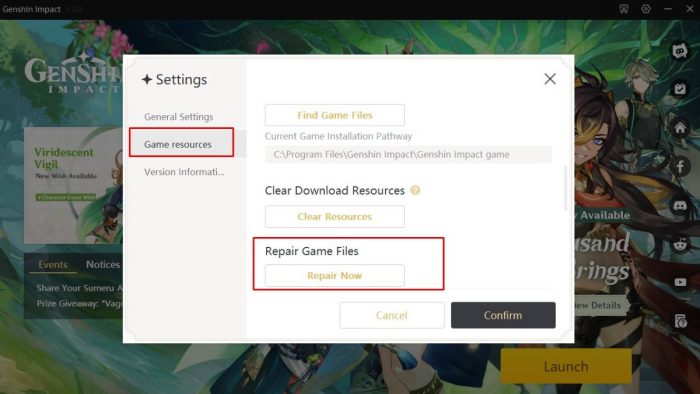 This will start the repair process immediately and hopefully fix any issues you've been having.
Conclusion
If you've decided you no longer want to explore Teyvat on your PC, we've gone through all the ways to uninstall Genshin Impact.
Whether you're using the Epic Games launcher or Genshin Impact's official launcher, there's a way to uninstall it through simple and easy steps.
If you've changed your mind and decided to give Sumeru another try, consider checking our guide on some of the best Dendro teams in 3.0.
What made you uninstall Genshin Impact? Was it the gatcha system, its enormous size, technical issues, or something else? Let us know in the comments below!