If you want to game like a pro this year, make sure to pick up one of my recommended laptops with 64GB RAM. These awesome gaming laptops feature the latest tech and will ensure you will get the best possible gaming experience.
Notice: We get commissions for purchases made through links in this article. This has no editorial impact, though, and you don't pay extra.
If you don't want to go through all the reviews below, this is my top choice:
17.3″ display – 144Hz, 64GB RAM, i9-12900H CPU, RTX 3060 GPU with 6GB RAM, 4TB SSD
Unlike the previous article where I shared the best 128GB RAM gaming laptops, we have a lot more options to choose from and prices are all over the board.
I strived to keep costs as low as possible in the list I am sharing below, without losing anything in terms of quality of the gaming laptop itself.
With these in mind, check out this table below the Pros and Cons of each of the recommended gaming laptops with 64GB RAM:
Laptop
Details
MSI GE76 Raider

Best 64GB RAM Gaming Laptop
17.3″ display, 64GB RAM
RTX 3060 GPU, 4TB SSD
Intel Core i9-12900H CPU
Check at Amazon
ASUS 2023 TUF

Best 15″ Award
15.6″ display, 64GB RAM
GeForce RTX 3060 GPU
AMD Ryzen 9 5900HX CPU
4TB SSD
Check at Amazon
Sager 2023 Gaming Laptop

17″ Budget Alternative
17.3″ display, 64GB RAM
Intel i9-13900HX CPU
RTX 4070 GPU, 2TB SSD
Check at Amazon
Now, if you want to go a bit more in depth with each of my recommendations above, read on. I'm sure it will be a fun read and it will help you make a more educated choice.
MSI GE76 Raider – Best Gaming Laptop with 64GB RAM
Overall, I consider the MSI GE76 Raider as the best 64GB RAM gaming laptop you can buy this year. It has everything I want in a gaming laptop – pus a few extras, making it a perfect choice.
First of all, it's powered by a 12th Generation Intel Core i9-12900H processor running up to 5.00 GHz with Turbo Boost activated. Combine that with the 64GB of RAM and you have all the processing power you could ever need for your games.
It also comes equipped with an NVIDIA GeForce RTX 3060 GPU with 6GB of RAM, which further enhances is gaming capabilities.
Sure, it's not the latest or the best graphics card on the market, which is indeed a bummer, but it can handle top AAA games with ease and will do so for years to come – so again, nothing to worry about here.
It has a 17.3″ IPS Full HD display with an 144 Hz refresh rate, which is perfect for gaming. I actually consider the 17″ laptops to be the best choice for gaming – you definitely need the larger screen to fully enjoy your favorite titles.
The image is crisp and the colors are great, which goes well hand in hand with the overall display of this laptop. It's sleek and classy, with a beautiful design and a backlit keyboard.
Speaking about the keyboard, it has full-sized arrow keys and a numpad, which is always a bonus. The keyboard itself is a bit narrower because of the speakers to the side, but overall, you will have no real reasons for complaint in this matter.
Another thing you won't complain about is the number of USB ports. Most laptops on the market don't offer a lot in this area, but the MSI GE76 Raider treats you well with plenty of ports, including USB-C ones, but also a few traditional USB ports.
What surprises me the most about this laptop is the fact that it's very slim. It has decent cooler capacity and it doesn't get insanely warm during the most intense play sessions, but I would still recommend a cooling pad, especially if you're planning to put it to hard work. Which you should, since it can handle it!
The sound it provides is decent, having an interesting 2x Dynaudio 2W Speakers + 2x 1W Woofers setup. It's one of the best audio experiences I had on laptops, but still it can't compete with a dedicated sound system. But it's really good.
Finally, its battery life is not its strongest point – but I am yet to see a gaming laptop that can run for several hours on a single charge, running the latest games on the market. It's simply not doable, so I won't really consider this as a con.
Instead, I will say that the MSI GE76 Raider is the best 64GB RAM gaming laptop on the market at the moment, my clear favorite and I am sure you will find it amazing too.
ASUS 2023 TUF – Best 15″ Award
Now, if you want a smaller laptop or you disagree that you need a 17″ one to fully enjoy your gaming experience, this ASUS TUF 2023 model is the best you can get.
I am actually typing this article from an ASUS TUF model (although not exactly this one) and I've always used and recommended ASUS products, having absolutely no problems with them.
The same goes with today's model, which packs a real punch in terms of performance and quality and also sells for a really decent price.
In terms of specs, it is powered by a super fast AMD Ryzen 9 5900HX processor, it has the required 64GB of RAM and also comes with the NVIDIA GeForce RTX 3060, like the model above.
Also, like the MSI model, it offers a more-than enough 4TB of storage space on a blazing fast SSD. So all in all, it's very similar – at least in terms of performance with my top recommandation.
The main difference is its size – it's smaller, with a 15.6″ display, but it also offers 144Hz refresh rates and FHD IPS-display, which makes it perfect for gaming.
As it is the case with most ASUS laptops, this one too has small-ish arrow keys but at least they are spaced out nicely and you won't have problems pressing a different one when playing your games. The keyboard it also backlit, which is a must today.
In terms of connectivity, it could've been better, but it still offers 1 USB Type-C port and 3 USB Type-A ones, as well as an HDMI port, audio jack and LAN port.
It could've done with more USB-C ports, but at least it has one. It's not difficult to expand that, if you really need it, by getting a small (or large – your choice) docking station.
Back to the ASUS 2023 TUF laptop, it's a perfect gaming laptop with 64GB RAM for those who want extra portability and who appreciate a smaller screen.
The image quality is there, the sound is acceptable and the battery life is on par with current models.
In other words, this is a real beast of a laptop, capable of handling the latest games on the market and I believe it will remain relevant for years to come (so no need for an upgrade).
Sager 2023 Gaming Laptop – 17″ Budget Alternative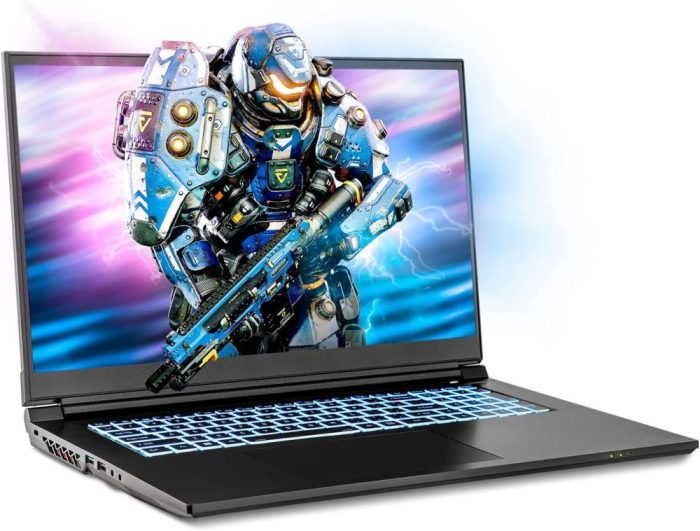 While Sager is not a brand as recognizable as the other two above, I am sure you will really like their gaming laptop, which is durable, high quality and decently priced.
We're also talking about at 17.3″ laptop here, which is the best size for gaming – as I have already mentioned. While the design is not amazing and is the bulkiest of the bunch, it is still a great choice with amazing specs.
It is powered by a 13th Gen Intel Core i9-13900HX 24-Core Processor going all the way up to 5.4GHz when Turbo boosted, so it's slightly faster than my top recommendation.
It has a newer GPU too, the GeForce RTX 4050 6GB, but tests have shown it to run similarly (if not a bit under) the 3060. But still an amazing GPU for sure and it will keep handling games for years to come.
It only has a 2TB SSD, so a bit less storage – but still enough. It only has one USB-C port, with plenty other USB-A and other ports available, so overall you get the decent, traditional offering from it.
The large display is a Thin Bezel Full HD one with 144Hz refresh rates and the image quality is surprisingly crisp and nice.
It has a full keyboard which is backlit and the keys are decently sized – I would say that they're exactly as you would expect them to be on a 17″ laptop.
While the sound quality is not the strongest point of this model, it is definitely passable. What I found interesting is the fact that it has separate jacks for mic and headphones, unlike most models.
It has a very solid cooling system in place and it does manage to keep things under control and temperatures decent. As with all gaming laptops, I would recommend getting a cooling pad to make sure that you help as much as you can.
All in all, this Sager gaming laptop with 64GB of RAM is a really good choice – despite the lack of a brand name. You get a really decent and highly durable product with amazing specifications, but at a lower price since you're not paying extra for the brand.
Definitely worth looking at, at least – so check it out below!
Wrapping up
If you want to make sure that you have a super gaming laptop that will remain capable of playing the latest game releases, choosing one from my list above is the way to go.
These are the best 64GB RAM gaming laptops at the moment, in my opinion, and they deliver amazing performance, as well as top notch quality, making them durable and perfect for gaming and, well… basically anything else you can think of.
If you're still not sure about which of the three to choose, trust me and go with the MSI GE76 Raider. It's an amazing, durable, good looking and high performance 17.3″ gaming laptop that you will absolutely love!