Modern games require a ton of processing power paired with an awesome graphics card. And you can't really do any better than by choosing one of the best 128GB RAM laptops recommended below.
Notice: We get commissions for purchases made through links in this article. This has no editorial impact, though and you don't pay extra.
If you don't want to go through all the reviews below, this is my top choice:
17.3″ display, 128GB RAM, i9-13980HX CPU, RTX 4090 GPU with 16GB RAM, 4TB SSD
We don't have plenty of options available right now. Blame the semiconductor crisis for that, as well as the fact that laptops with 128GB of RAM are still not too common yet – and probably a bit overkill.
So, if you don't consider it a must – or you're open to suggestions – make sure to check my other article too, sharing the best 64GB RAM gaming laptops.
But if you want to see the options you have in this range, here are the best gaming laptops with 128GB RAM right now:
Laptop
Details
MSI Titan GT77

Editor's Choice
17.3″ display, 128GB RAM
RTX 4090 GPU, 4TB SSD
Intel i9-13980HX CPU
Check at Amazon
ThinkPad P15

Best 15″
15.6″ display, 128GB RAM
Quadro RTX 5000 Max-Q GPU
Intel Xeon W-10855M CPU
8TB SSD, Touchscreen
Check at Amazon
ThinkPad P17 Gen 2

17″ Budget Alternative
17.3″ display, 128GB RAM
Intel i7-11800H CPU
RTX A2000 GPU, 4TB SSD
Check at Amazon
Now, it's time to get a bit more in depth and see which are the best gaming laptops with 128 GB RAM this year.
MSI Titan GT77 – Editor's Choice
This is a real beast when it comes to performance and quality. By far, the best option that you have when it comes to 128GB RAM laptops for gaming.
It's also one that can break the bank easily… but it's up for you to decide if it's affordable (or worth it) based on my thoughts and its stats.
Created by MSI, which is a brand that I hold in high regards, this laptop was made to run the latest games, video editing software and anything in between at blazing speed.
It has some amazing specs, as you can see below and it can be considered, without a doubt, a TOP gaming laptop right now.
It makes sense since, apart from the 128GB RAM, it is powered by an amazing processor, one of the best on the market: the 13th Gen Intel Raptor Lake Core i9-13980HX with 24 cores, running at 5.6GHz.
In other words, a very capable CPU, able to handle probably any task you can throw at it (and even multiple ones with ease).
It also has a really solid graphics card, the NVIDIA GeForce RTX 4090 with 16GB of dedicated RAM, which means that this beast can easily run any of the latest AAA releases in the gaming space, as well as VR gaming and everything you can think of.
And based on these specs, I believe that this laptop will remain relevant and capable to run the latest releases for years to come.
In other words, all top notch specifications that will make every gamer's jaw drop. There really isn't more to say here.
It offers various storage options, but for this particular build, I went for 4TB of storage via two 2TB NVMe SSDs. Extremely durable and super fast too, complementing well the entire setup.
The display of this laptop is also up to the standards. We're talking about a large, 17.3″ screen which is what I would consider a must for gaming. I don't like playing games on anything smaller – but if you do, there's an alternative below.
But back to the MSI Titan GT77, we're talking about an anti-glare, wide view angle UHD display of the highest quality. It has a 144Hz refresh rate, mini Led technology and HDR 1000 technology which really boosts up the brightness if or when needed.
This means that even if lighting is not ideal in your room, you'll still get super crisp, highly detailed image quality – without any glare.
I have to admit that for such an amazing gaming laptop – one that comes with a matching price – I was expecting the built-in speakers to be much better. But they're really not insanely special.
I don't think that built-in laptop speakers can currently offer the quality of a dedicated sound system – so you will most likely use this with a pair of headphones instead.
The sound is not bad by any means, but it's not top class either. Which is understandable.
Also, another thing that bothers me a bit is the size of the keyboard. Because the speakers are to the left and right of the keys, the entire keyboard area is smaller than I'd like it to be and feels a bit cramped.
For example, there is no space around the arrow keys, with keys like Tab and Enter being on the smaller side too. But you will get used to this sooner rather than later.
All in all, we're talking here about a high quality, extremely durable laptop that can handle any game on the market, even on the highest settings. And it will handle them with ease.
ThinkPad P15 – Best 15″ 128GB Laptop
If you're looking for a smaller laptop, then Lenovo's ThinkPad P15 is the one you should get. With a more traditional display of 15.6″, it is more portable and smaller.
I personally prefer gaming on a larger screen – but if you don't agree with that, this one's the only option that you have currently.
And while it is a good laptop with great specifications, it has a pretty disappointing GPU: the NVIDIA Quadro RTX 5000 Max-Q. It has 16GB of dedicated RAM to make up for it, but it still can't compete with the RTX 3070Ti we have on the model above.
Sure, even though the RTX 5000 Max-Q is not the best GPU of the moment, it can still handle some serious gaming and still deliver top performance even in 4K resolution. But it could've been better.
Everything else is, fortunately, really solid. We're getting 128GB RAM, the Intel Xeon W-10855M processor that goes up to 5.1GHz and a super-massive 8TB PCIe NVMe SSD.
The display is smaller, as mentioned already, but it can handle 4K resolutions. I can't say that I am a big fan of Lenovo's display, but this one does a good job. Not stellar – it has a maximum refresh rate of 60Hz, which isn't ideal – but still good.
All in all, I would consider this laptop only if the larger MSI is, for some reason, too large. Otherwise, I would still choose my top recommendation as it comes with a better GPU and overall better performance, even though it has a lower storage.
But it's good to have options and by no means am I saying that this model is not good.
ThinkPad P17 Gen 2 – Budget Alternative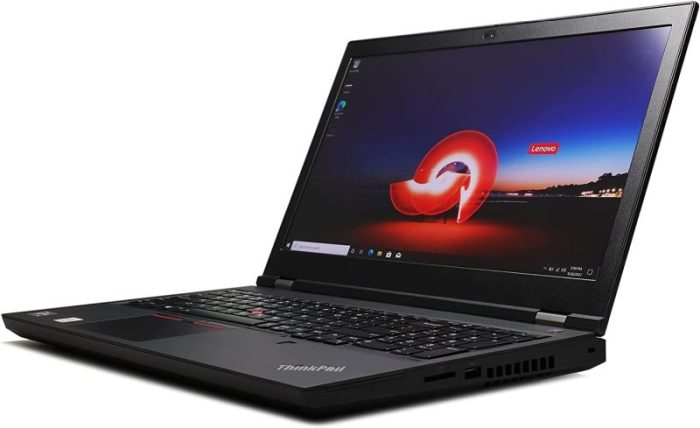 Now, if you want a cheaper alternative to the recommended model above, we also have a Lenovo laptop to offer it.
But again, you're not getting the best of the best when it comes to the graphics card. On the contrary!
This model is only powered by the Nvidia RTX A2000 with only 4GB RAM. It can handle games and it can even go with the highest specs with most titles out there, but this GPU can already be considered outdated in the gaming world.
I have to admit that the only reason I am listing this model is the fact that it is pretty cheap if we look at everything else it offers: we're talking about 128GB RAM, 4TB PCIe SSD for storage and the Intel 8-Core i7-11800H CPU. Now these are some good specs!
However, the MSI model above makes more sense, despite its slightly higher price. In the end, if you are going for a beast of a laptop for gaming, you should have a beast of a GPU too.
The current problems in the world, with the semiconductor crisis, makes solid GPUs a premium (and really expensive). Lenovo is a budget brand, so I understand why they would compromise a bit on the GPU side.
But unless you really want those 128GB of RAM, and you can accept a somewhat outdated GPU for that, this model makes sense and comes at a nice price.
Wrapping up
I consider that going for a 128GB RAM laptop is a bit overkill, but at the same time it's pretty obvious that if you get one, you are basically set for a LONG time as it won't become obsolete for several years (most likely, a lot more).
Also, if you are a pro gamer, a streamer or you simply like to get the best out of your gaming experience, then it makes sense to spend a bit more for such a powerful gaming beast.
There aren't many options available though, so I personally believe that you might get a better deal from a 64GB RAM laptop instead, but paired with an amazing GPU.
Because basically, you only have one great option here: the amazing MSI Titan GT77. That's the truth!
If you have additional comments or questions, let me know by commenting below.