The Attack on Titan anime inspires this Roblox game, and much like the anime, upon creating a character players will be assigned to a family. These families are similar to the clans in Demon Slayer-inspired Roblox fighting games.
The family a player has been assigned to can provide a variety of buffs, and like any other gacha game, some are far better than others. In this tier list, I will go over all the families, and which ones are the best to have.
As with most gacha games, there is one thing crucial you should know. There will always be something that appears to be the best, but that doesn't mean you should go after it with everything you got. Enjoy the game with what you have.
Now here is a quick overview of the tier list for those of you who don't want the details.
S+ Tier Families
S Tier Families
A Tier Families
Arlert
Braun
Finger
Tybur
Galliar
Leonhart
Ksaver
B Tier Families
Smith
Zoe
Kirschtein
Springer
Braus ODM
Sadies
Grice
Kruger
C Tier Families
Now that you know the basics, let's go over all the basic information you should know.
If you are interested to know more about other anime-inspired Roblox games, check out our guide on how to become a hybrid in Roblox Chainsaw Man Devil's Heart.
How Families Work in Attack on Titan Evolution
When a new player joins the game for the first time. they will receive 5 free spins that they can use immediately. With these spins they can change the family they started on.
The rarity of the family indicates what kind of bonus they will provide. Rare and Mythic families will give players unique passives, while uncommon ones will only provide a stat boost.
These spins can be obtained through daily quests, using perks that give you free spins through gameplay, or by redeeming Attack on Titan Evolution codes.
When it comes to rolling for the family you want the game has implemented a pity system. Epic families can be obtained at 500 rolls and Mythic families at 4000.
The game also has the Bloodline Bag game pass, which can provide you with many helpful benefits.
You can hold up to 10 families
you can switch between families
You can trade families
It will reduce the 'Mythic Pity' counter from 4000 to 3250
It will reduce 'Epic Pity' from 500 to 440
You can hold the same family more than once as a copy
Though this game pass is not necessary to play the game.
Family Tier List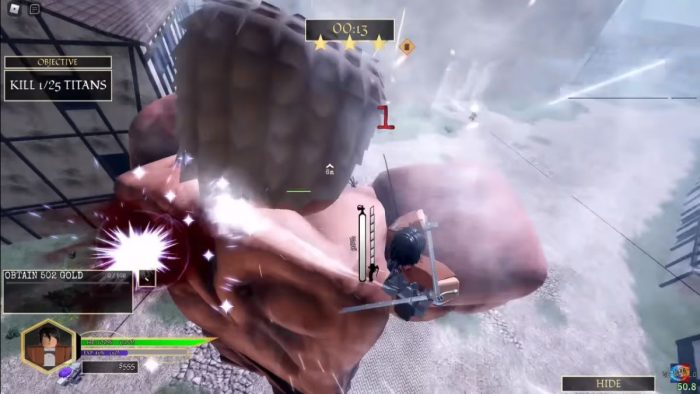 S+ Tier
Yeager
Passive: Fight! – You gain 2 revives upon death. Every 40 minutes, you will be able to kill all the titans in a 150m radius upon death as well. Attack titan stats increase by 50%.
I think it's quite appropriate that Eren Yeager's family is the best in the game since it provides free revives. This passive is especially useful for new players. Understandably, they would want to make the protagonist provide the best passive.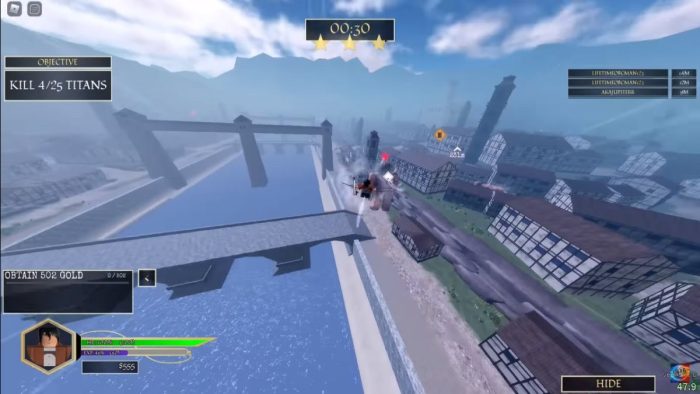 S Tier
Ackerman
Passive: Ackerman's Rage – 1.2x speed and damage multiplier. Gain a 50% boost on all stats when you reach 35% hp, and maintain a consistent speed. Lasts for 3 minutes. Additionally, individuals with Ackerman can hold up to 8 thunder spears.
Reiss
Passive: Grace – No titan will aggro/attack you until you hit it once. There is a 30% chance the titan may not attack you even after hitting it. Titans have a 15% slower reaction toward you as well.
Ackerman is still an awesome Family, even though Yeager is higher. If you can one-shot Titans, with Reiss you can stay safe. However, it is harder to achieve on harder missions.
A Tier
Arlert
Passive: Intellect – 1 revive upon death. Gain a 10% EXP increase. Colossal Titan stats increase by 50%.
Braun
Passive: Strong body – 1 revive upon death. Gain x2 health. Armored titan stats increase by 50%.
Finger
Passive: Stamina – 1 revive upon death. Base gas increases by 15%. Cart titan stats increase by 50%.
Tybur
Passive: Blacksmith – 1 revive upon death. Gain a 15% discount on upgrades. Warhammer titan stats increase by 50%.
Galliard
Passive: Nimble – 1 revive upon death. Gain a 50% base speed multiplier when running (and remove any injured speed damages). Jaw titan stats increase by 50%.
Leonhart
Passive: Advanced Hardening – 1 revive upon death. Gain 10% damage when hitting titans. Female titan stats increase by 50%.
Ksaver
Passive: Advanced Hardening – 1 revive upon death. Gain 15% Crit chance when hitting titans. Beast titan stats increase by 50%.
B Tier
Smith: The player gets a 10% speed boost, and everyone in the mission with you gets a 5% speed boost.
Zoe: Your upgrades are reduced by 10%.
Kirschtein: Your horse's stats are boosted by 25%.
Springer: Critical chances get a 5% boost.
Braus ODM: Your range increased by 10%.
Sadies: You gain a 10% increase in the gold you obtain.
Grice: You recover x2 faster.
Kruger: The player gets a 10% damage increase.
C Tier
Pixis: The player gets a 10% hp boost, and everyone in the mission with you gets a 5% hp boost.
Forster: 10% chance to not be detected by a titan for 3 seconds.
Conclusion
In conclusion, this was the families tier list for Attack on Titan Evolution.
No matter which family you get, you will be able to roll for a new one or stay with the one you have. There are no bad families in the game so enjoy the one you started on.
Now that you see the tier list do not worry if the family you have is on the lower end. The game can be enjoyed no matter the family you have and you will be able to clear the challenges you will face.
If you are interested in more anime-inspired Roblox content, check out our Devil Fruits tier list, in Roblox Fruit Battlegrounds.
Let us know in the comments down below which family you aim for, and which one is your favorite.