In a game like Ark Survival Evolved leveling up is crucial, especially when you are beginning your adventure. The skill points acquired will help you in your adventure and any PVP situation.
When you start, everything can feel kind of new and exciting and you will want to increase your gains to reach more of the game's content quicker. Here is what you need to do to level up faster in Ark: Survival Evolved.
Explorer's Notes
While looking around the island, gathering materials, and getting a feel for the game, you will find ruins in the middle of nowhere.
Some of those ruins have chests or vases or tech dashboards. Interact with those and collect your rewards.
Normal explorer's notes give a 2x exp modifier while special explorer's notes give a 4x exp boost. Be sure to keep an eye out, because those modifiers can help you reach your goal that much faster.
Crafting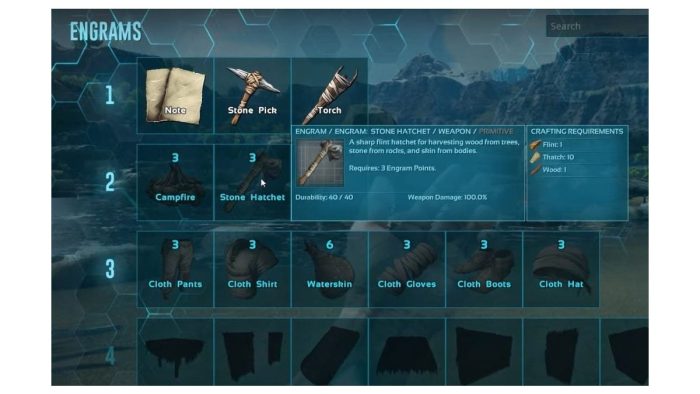 From base building to tools and weapons, players will gradually gravitate toward crafting throughout their adventure.
Crafting anything will grant exp, with stone foundations yielding the most exp points.
When a higher level is reached, canoes or rafts can be a good alternative to help players gain exp.
Crafting, along with our next suggestion is the easiest and most consistent way to level up fast.
Farming
Farming, though a bit labor-intensive, will be a constant asset throughout the game.
Players will need to gather a few materials, in the beginning, to get started but seeing as hunger is an important stat to manage, farming will have a multitude of benefits.
From harvestable crops required for cooking to frequent exp yields, farming will be something worth your time and effort. Keep up with it and you will not be let down.
Hunting
For players in need of more thrills and battles, hunting higher-level dinosaurs is a good way to earn more experience and level up faster.
Though at risk of death, hunting can be a fun way to earn exp. It also allows players to be more familiar with the game's mechanics and battle systems.
Do be careful though, because upon death the game has a penalty where you lose all your items and respawn in a random location. Your exp and levels remain unaffected, so feel free to experiment if you feel courageous.
Tribes
Ark Survival Evolved feels better to play with friends and tribes are a way to make your group feel more productive and earn exp together.
While in the vicinity of your tribesmen, you will passively gain exp each time one of the other members gains exp. Most tasks will be able to finish sooner and battles that alone would be arduous, with tribesmen becoming easier.
Lastly, you will inevitably get to share many memorable experiences giving the game a parallel sense of progression, through shared goals and milestones.
Conclusion
To sum up, these are the best ways to level up fast in Ark Survival Evolved. From the earliest stages of the game to a more steady way as you progress and even to the riskiest way, there is something for everybody.
For those of you with friends on different platforms don't worry. You can check out our guide on whether Ark Survival Evolved is cross-platform or not before getting the game. Making an informed decision you won't regret afterward.
If you know of any other ways to level up fast let us know in the comments down below.

Latest posts by Nikiforos
(see all)