The C&P Boarst Factory ID Cartridge is one of the most difficult ones to get in The Outer Worlds, simply because you don't really know where to get it from and unlike all the others, it's not nearby the facility itself.
In today's article, I will share with you the location of the C&P Factory ID, so that you can access the Restricted Area of the Factory without having to take down all the guards posted there (although that's an option as well if you don't care too much about your reputation with the faction).
The C&P Boarst Factory is located on Monarch and you need to get to the Restricted Area during the Slaughterhouse Clive Side Quest (or at any other moment if you just stumble into it when exploring the planet).
However, the Boarst Factory is restricted to employees only, so you need to use your Holographic Shroud to get inside without starting a fight.
And it took me a while to find that Cartridge ID that allows access, as the quest line itself didn't say where I can get it from.
Where to find the C&P Factory ID to get inside the Restricted Area?
You will have to travel to the Fallbrook settlement, which is fortunately also on Monarch and talk to Duncan at the Dry Goods store.
After a nice chat with him, he will fabricate an Employer ID Card just for you.
Note: If you're looking to collect all the science weapons, it's also Duncan who has the location of one – so take advantage of your visit to get the SubLight Datapad from him.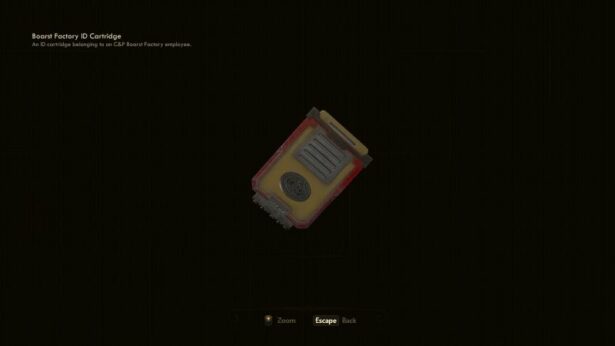 Now, back to the C&P Factory and accessing it without restrictions.
After getting the Employer Card ID from Duncan, you can safely travel back to the factory itself, enter the Restricted Area and peacefully complete the mission.
Hopefully this quick guide proves useful to you – I definitely know that I went crazy searching the surrounding area for the ID until I found it by complete chance at Duncan.
Probably that bit of information was made available during the dialog with other NPCs, but I simply didn't catch that.
But at least you know now how to get inside the restricted area at the C&P Boarst Factory and where to get the ID Cartridge from.