Have you ever planned the perfect heist? It's okay, you can tell us – we won't blab. Maybe you're the meticulous sort, the kind who assembles ranks of tools and aids to help you score beyond your wildest dreams and retire in luxury and riches. Maybe you're the kind who wings it, improvises and just goes with the flow. Maybe you're the kind of master thief who only needs one tool – one multi-purpose implement that gets the job done better than any toolkit ever could.
We're betting that if the protagonist of Stickman Hook planned a heist, he'd fall into the third camp. Stickman Hook is a physics-based platformer that comes to us from French studio Madbox. You might have played a few of Madbox's games before, especially if you're experienced in the mobile space; they count Dash Valley, West Gangs and Tribs.io among their previous efforts, all of which are accomplished outings in their genres.
It will come as no surprise to fans of Madbox that Stickman Hook is no exception. With over 20 million downloads across Google Play and the Apple App Store, as well as consistent Top 3 placement on both platforms, the Stickman Hook game is serious business indeed. The version we have for review is an exclusive web build constructed specifically for browsers, so you're not just getting a shoddy rehash of the mobile version; if you've played that game before, it's still worth getting stuck into this revision.
For those who aren't experienced Stickman Hook players, here's a quick rundown. You are a stick fellow, and you must reach the end of over 100 stages using nothing but your trusty grappling hook. If you're the type who needs extensive narrative context before you can enjoy your video games, then you're definitely best looking elsewhere, because Stickman Hook has absolutely no story to speak of whatsoever.
Not that this is a negative thing. We've lost count of the amount of games with excellent core mechanics that get bogged down by overly florid exposition or a surplus of story, so the clean, simple lines of Stickman Hook are a refreshing change. That's not just a narrative comment, either; the visuals of Stickman Hook are as minimalist and hands-off as the storytelling, with the game's core concepts communicated perfectly through lines and geometric shapes.
Actually, the presentation as a whole is a joy to behold. The exclusive web build presented to us here sports completely revamped animations, so the occasionally stiff and jerky movement of the mobile version has been replaced with a smooth, effortless glide between grapple points. Granted, it's not a particularly taxing technical challenge to animate a single stick figure, but you'd be amazed at the amount of developers who do manage to get this wrong, so the visuals here are a breath of fresh air whether you're new to the game or a returning player.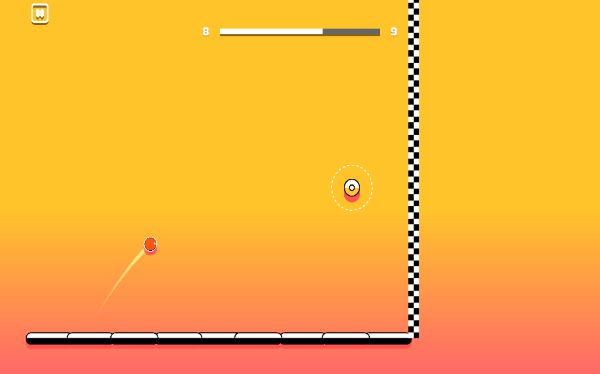 For newbies, Stickman Hook on the web is a simple proposition. This game is controlled entirely using the mouse, so you won't need more than a single finger to play it – a nod to the game's touch-screen roots, but also a concession to simplified design that we love. Even browser games don't need to be complicated, and Stickman Hook exemplifies this philosophy perfectly.
Each stage consists of a series of grappling points which must be traversed using only the main character's titular grappling hook. Momentum is a huge part of Stickman Hook, with a surprisingly realistic physics engine giving each jump an appropriate amount of momentum. If you launch yourself from a point at speed, you'll maintain that speed, but if you don't manage to land on the next hook at just the right moment, you'll come to a grinding, shuddering halt.
It's a system that rewards skill and emphasizes challenge without ever feeling too difficult, even when the game has you performing seriously interesting feats with its central engine. Several moments throughout the game – which we don't wish to spoil – were surprising shake-ups of the formula that we didn't expect, and the design genius of Madbox shows through when the game takes its core concepts and thinks outside the (mad) box with them.
There's a host of unlockable characters for those who need extra incentive to play the game, but the main attraction of Stickman Hook is undeniably its gameplay. Although the game's origin as a mobile title is clearly visible in its simple controls and level-based structure, the web build breathes new life into the formula, creating an experience that doesn't just stand beside the original but surpasses it in many ways.
It's not difficult for us to recommend Stickman Hook to anyone who's looking for a fun time. With close to 150 levels, a series of fun unlockable characters and a robust core gameplay loop, Stickman Hook had its hooks in us from the moment we pressed play.

Latest posts by Calin Ciabai
(see all)