Mines of Dalarnia is one of my favorite play to earn games as it has simple mechanics and is really fun to play.
And despite the fact that the crypto market crash has affected the entire ecosystem, there's still money to be made from blockchain games.
And today we're going to focus on this: how to make money in Mines of Dalarnia. We all know that you can earn coins from simply playing the game, but getting a bit more in depth will always help.
The game takes place in the far future and in a sector of extraterrestrial planets called the Dalarnia where you – the player – have arrived to mine precious resources to sell and fight monsters that get in your way.
There is more to the story than just that but the main point is you mine minerals that give you resources available for selling.
Yet the real question is how does the play-to-earn mechanic work in Mines of Dalarnia? In this article, we will guide you on how to earn and make real money in Mines of Dalarnia in 2023.
Extraterrestrial Mining Industry of Dalarnia
Even in the future and outer space, the mining industry is a tried and tested thriving business. All you have to do is go into a mine on one of the four planets in Dalarnia and find minerals to get sellable resources.
In the early development of Mines of Dalarnia, there was a whole list of minerals you can collect with respective tiers.
Higher tier minerals indicate a higher selling price and difficulty in collecting. However, that has been abandoned for a more plain and simple resource system.
You simply have to fight your way against alien creatures to get enough minerals and reach the end of the mine or die trying.
When you die or reach the exit, the number of minerals will be calculated to points. Every time you reach a certain amount of points, you will be eligible for one crate.
The crates contain the resources available for crafting, upgrading, and selling so you will need to try your best to stay alive and farm all the minerals in one mining run.
If this sounds like fun, you'll surely enjoy another blockchain game called Town Star. I've shared some tips and tricks to help you play better – make sure to read that also.
And now let's get back to the methods available for making money in Mines of Dalarnia!
The Mines of Dalarnia Marketplace
What are these sellable resources and how can I sell them?
When opening crates, you can get Garpen Copper, Iron, Silver, Ozymodium, and many more that can be sold in the marketplace.
The token and in-game currency used in the game is $DAR. Everything and anything bought and sold in the marketplace will use $DAR.
If you think you have enough of these resources, you can sell some in the marketplace for a price set by the game according to the state of the crypto market.
The game is straightforward, but there is more to it than just mining. You can also own land or mining areas to earn money.
Land Ownership in Mines of Dalarnia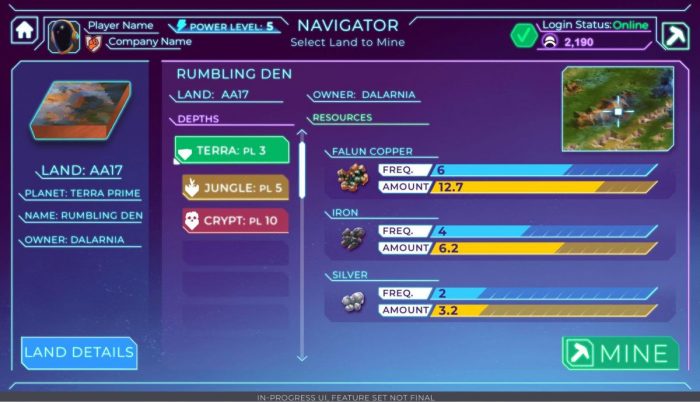 Aside from the equipment and resource, NFT assets in form of private lands can also be bought in Mines of Dalarnia. Private lands on Dalarnia are limited and can be rented by players.
Through renting, landowners get revenue from their lands, and renting players can mine for more resources.
Additionally, a successful land owner can host multiplayer competitions where a participation fee in $DAR tokens is required.
This is probably the easiest way to make money in the game without playing much. It requires an upfront investment and it's not guaranteed that others will rent your mines… but generally they will.
Plus, these will only get more expensive as the game becomes more popular and demand increases, so at least in theory, the sooner you get in, the higher your profits will be.
And if you're into Blockchain games and play-to-earn titles, make sure to read our other article sharing the 5 best play to earn games of the year.
[Please note – this article does not offer financial advice, it's just an opinion piece about playing a blockchain game]
Earn and Make Money in Mines of Dalarnia
That is pretty much it. You can spend money on better NFT equipment to mine easier, sell excess resources, or buy land and get rent money from other miners in Dalarnia. If you have the time and money for it, you can even do it all.
By doing this, you will get enough $DAR in your account that can be transferred to your digital MetaMask wallet.
Once in your digital wallet, you can do almost anything with it. Go trade it, sell it, hold it. At the end of it all, you will gain something of value in Mines of Dalarnia.
Don't forget to continue reading my previous article where I shared a bunch of Mines of Dalarnia tips and tricks. These will help you play better and, as a result, potentially make more tokens in return.
If you have additional tips that you'd like to share with us, don't hesitate to do so by commenting below.