Now that 2017 is almost all the way behind us, it's time to look back at the best games released during the year. Today we're focusing on the  best match 3 games of 2017. And we have a ton of great titles to choose from!
Even though match-three games are more popular on mobiles thanks to free to play mechanics, you sometimes feel the need to play a premium product. No in-app purchases, no headaches. Just plain old match three fun, and that's exactly what our carefully selected games offer.
Check them out below, in no particular order: the best match-3 games of 2017, to play in 2018:
Rescue Quest Gold Collector's Edition
Play through 260+ levels of uninterrupted fun as you follow the road to Turnspell Academy and study to become a full-fledged wizard! Join Boom and Zap on their fantasy adventure in Rescue Quest Gold – the remastered version with more levels, better graphics and, overall, more character.
Winter Magic Factory
Sit back, relax and enjoy your stay in Santa's village in this match-3 adventure. Visit its landmark Toy Factory, Christmas Market in the square, Wood Cottage and Candy Workshop. Grow magical trees of funny shapes, help decorate and choose the toys Santa will deliver to the children.
Although Christmas-themed, this game is a high quality title that you will enjoy playing throughout the year. Really fun!
Mystery Loss
The little canary Twiggy is lost! Did the cat eat it? Nope, but it does appear to be a kidnapping! In Mystery Loss, a grandmother and her funny cat Leonardo have to find out who kidnapped little Twiggy. Join them on their journey in this adorable match 3 and hidden object mashup.
The Trials of Olympus III: King of the World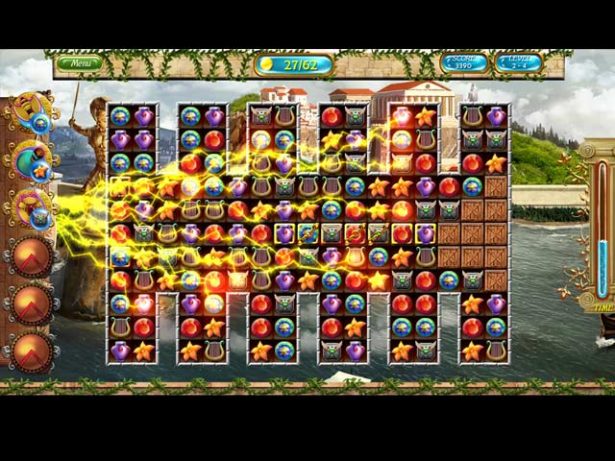 Enraged over the death of his father, King Xerxes of Persia assembles a mighty force to conquer Greece and get revenge. Meanwhile, humanity's arrogance has angered the god Poseidon, who now expresses his displeasure through natural disasters.
Play as Angelo and try to defeat Xerxes, while also doing your best to win the love of Amara. All in top quality match-three gameplay.
PrettySnails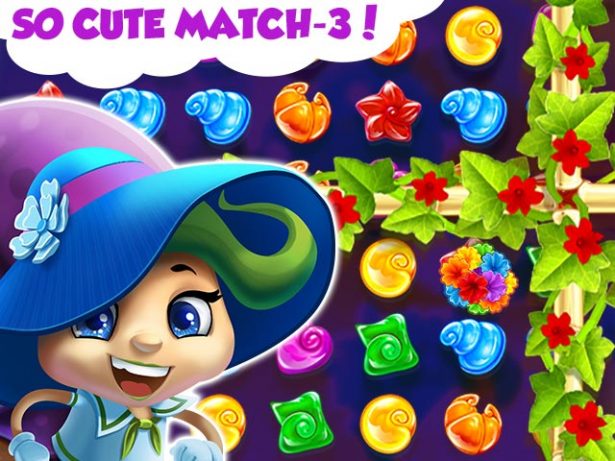 Finally, its vacation time for a family of snails living in the garden. They're going to their favorite spot in the southern part of the garden, but before they can leave, Brian finds that his luggage has been stolen! It's time to embark on an adventure to find the lost luggage and the thief.
Combining your favorite genres, Match 3 and Hidden Object, PrettySnails is a great game the entire family will enjoy playing.
Medieval Mystery Match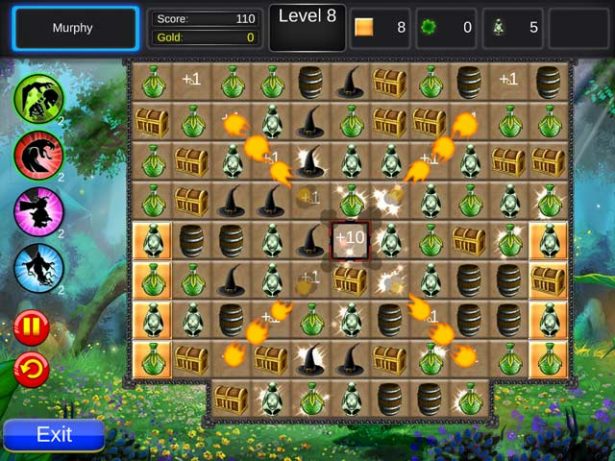 Play in a variety of environments and travel this fantasy world as you match your way through 100 levels. Earn gold along the way that can earn you bonuses and special powers to help you progress through the harder levels.
A really interesting approach to the genre, with all the Medieval settings and items. Really enjoyed it, so you will definitely enjoy it too.
Crime Stories: Days of Vengeance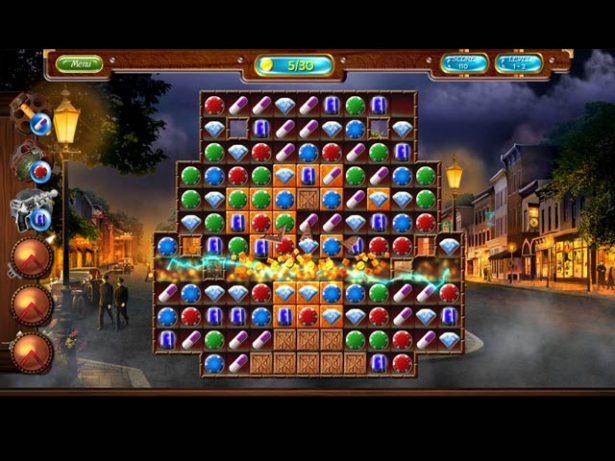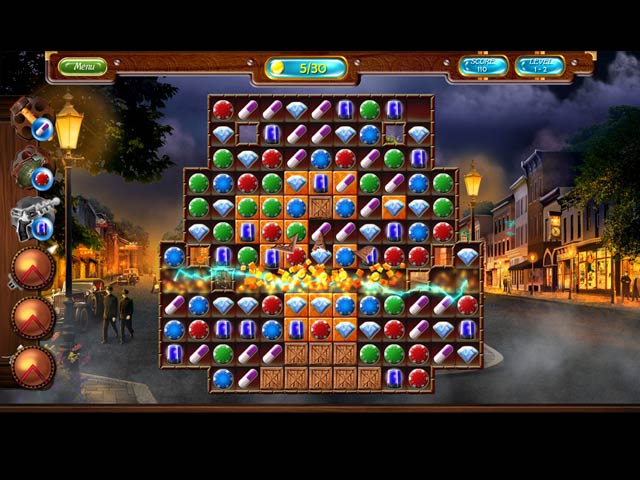 A Mafia boss named Costello went after John's family, and his life changed forever. Now, on the brink of despair and hungry for revenge, John sets out to stop Costello once and for all. To do that, he'll take down Costello's associates one by one. And you will help!
5 Star Rio Resort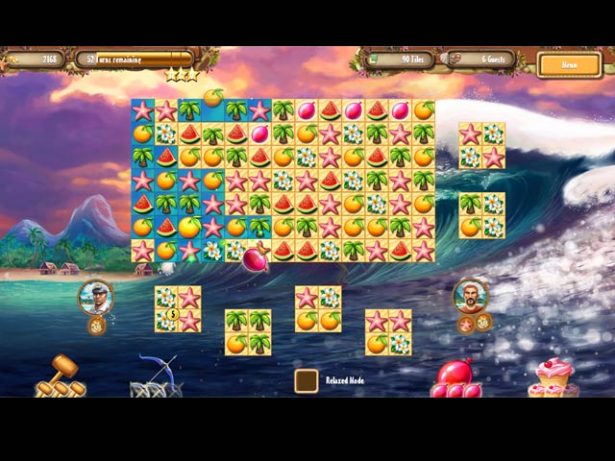 Help Lucy in this colourful Match 3 game to get her 5 stars and enjoy the pure summertime feeling. On the beach and beneath the palm trees many engaging tasks and exciting challenges await you. Earn extra cash in Match 3 levels and Solitaire mini games to make the holiday resort of your dreams come true.
Spellarium 2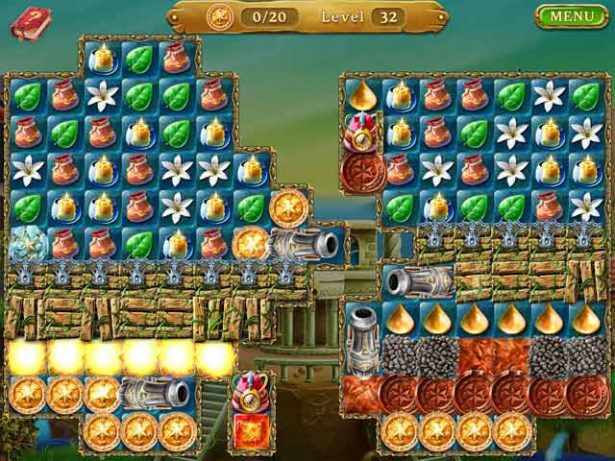 The wizard Eric has been instructed by the Gods to create a 7th element and he'll need your help to do it. Fire, Air, Earth, Water, Light and Darkness are the six elements our universe relies on, but the Gods have asked for another. Complete a fun varety of puzzles as you follow Eric on his journey to create the 7th element.
The Enthralling Realms: Curse of Darkness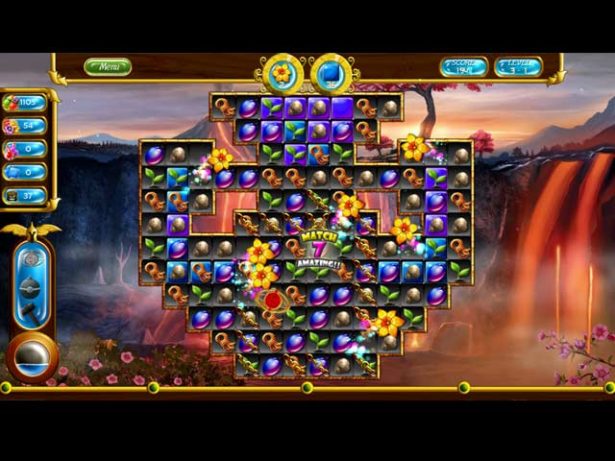 Halfling Village was once a peaceful place, but tragedy struck when a halfling named Ebbo found a magical artifact and unintentionally brought a terrible war on the village. Ebbo became hated and despised by his friends and neighbors.
Fortunately, Ebbo finds a few allies and he partners with a witch named Alice to restore the village and make it a better place. And it's your mission to help (hint: you'll have a ton of fun doing it!)
These are our top picks: 10 amazing match three games that I am sure you will enjoy, some of them also mixed with other puzzles and hidden object features. Get them all and don't hesitate to come back and let us know which one was your favorite.