Confidential Rooms, also known as Gift Rooms or Secret Rooms, are certain hidden rooms that can be found around the map in Outlast Trials and contain unique rare items that can help you in the game.
While these rooms spawn randomly and change every game, there are some main locations where they spawn often. Also, players can keep their eyes open for blue buttons on the walls as hints for room locations.
In this guide, I will showcase where the Confidential/Secret/Gift rooms may spawn in The Outlast Trials and explain what kind of rewards to expect from them.
For more starter guides, check out our article on how to reduce Psychosis in the Outlast Trials.
What Are Confidential/Secret/Gift Rooms in the Outlast Trials?
There are certain rooms in The Outlast Trials that spawn in random locations every round and have various rare items inside.
These rooms are opened by interacting with two blue buttons that are found around the map. If you find one blue button, there will be another nearby and a Secret Room next to them.
Due to that, you will need a second player to help you open them. If you don't know how to use the multiplayer feature, consider checking out our guide on how to play with friends in The Outlast Trials.
Confidential Room Locations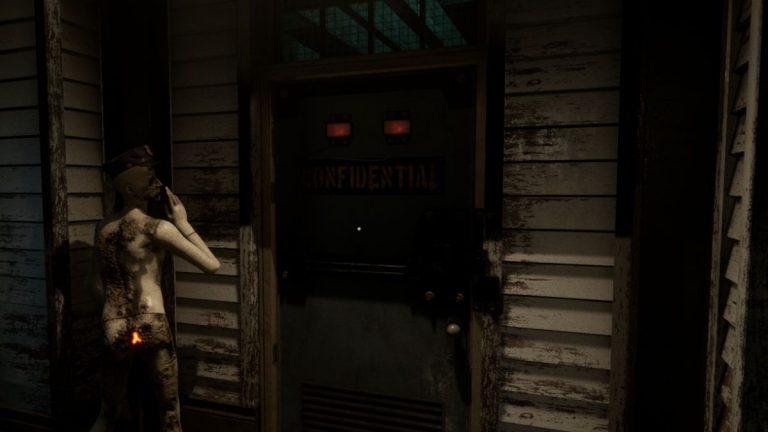 At the moment, we have managed to find Confidential rooms in the following locations in Outlast Trials:
Map
Room
Police Station
1. Basement
2. Laundry Room.
Fun Park
1. Behind Root Canal's first obstacle in a dark room.
2. Under Root Canal's stairs in a dark room.
Orphanage
1. In the Bathroom, left of Class 4.
2. In the house outside, left of "Jesus".
Since these rooms spawn in random locations, it is possible that I haven't been lucky enough to encounter each of them. If more rooms are found, I will update this guide with their locations.
After finding any of the rooms, interact with the two buttons to open it and get ready for some awesome loot.
Confidential Room Secret Item Rewards
There are various Secret Items that can be found within the Gift Rooms in Outlast Trials. Here are all the Secret Items available:
Master Key – Works as a lockpick with infinite uses that can be stored in the inventory.
Energy Booster – Increases the maximum stamina of the player and can be stored in the inventory.
Health Booster – Increases the maximum health of the player and can be stored in the inventory.
Battery Booster – Increases the maximum night vision battery and can be stored in the inventory.
Evidence – Evidence regarding the lore of the game that can be seen from the Sleep Room after the trial.
Keep in mind that all these items only last for the duration of the Trial. Once you go back to the lobby, their effects are reset and you'll need to acquire them again in the next trial.
Wrapping up
To sum up, this is everything you need to know regarding the Confidential/Secret/Gift rooms in the Outlast Trials.
They are found on every map and can be located by sporting the blue buttons nearby. Bring a friend to press both buttons at the same time and you'll unlock the room, which is full of Secret Items that will help you in the Trial.
Have you managed to find Secret Rooms in any other location? What's your favorite Secret Item? Feel free to share your thoughts in the comments below.
Before leaving, don't forget to check out our guide on how to get Release Tokens in the Outlast Trials. They are essential for completing the game and leaving the facility.