While using the Zonai Capsule Machine in The Legend of Zelda: Tears of the Kingdom, players will get various consumable items as a reward. One of these items will be the Portable Pot.
This portable stove gadget is considered one of the best drops to get since it allows players to cook anywhere and has one use.
In this guide, I will explain how to get and use the Portable Pot device from the Zonai Capsule Machines in Zelda Tears of the Kingdom.
If you're unsure of what these machines are, consider first checking out our guide on how to find and use the Zonai Capsule Machines in Zelda Tears of the Kingdom.
How to Get a Portable Pot in Zelda Tears of the Kingdom
The Portable Pot can be gained as a reward for spending your Zonai Charges in a Zonai Dispenser.
However, there are 22 Zonai Dispensers around the map and not all of them drop Portable Pots.
Specifically, I recommend checking the Tears of Kingdom interactive map to find out the ones that can drop Portable Pots. Open the map, select Hide All from the left bar, and then find 'Device Dispenser' on the services tab.
With all 22 Device Dispensers marked, click each device to see the three items that it drops. Many of the dispensers drop Portable Pots, but not all.
My go-to Device Dispenser for getting Portable Pots is on the South side of Great Sky Island.
After selecting a Device Dispenser, use your Zonai Charges and you'll get enough Portable Pots. While the amount is based on luck, they are fairly common drops so expect to get a lot of them.
How to Use the Portable Pot Device in Zelda Tears of the Kingdom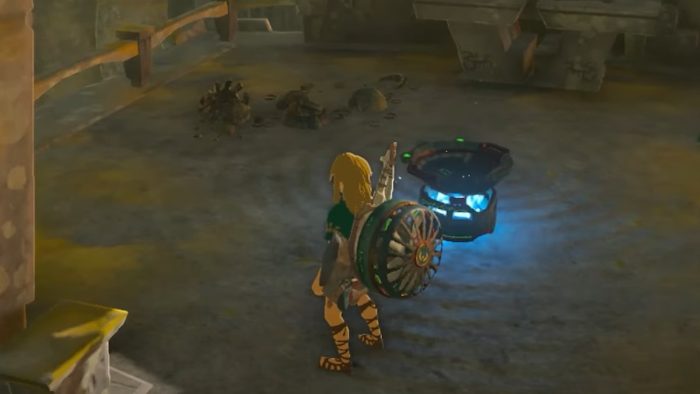 To use the Portable Pot, select it from your inventory and choose "Take out device". After it's thrown on the ground, grab it and place it straight so that the bottom flame is lit.
Then, hold the materials you want to use to cook in your hands (up to five ingredients) and look at the pot to start cooking.
Wait for a few seconds until they're ready and your meal is done! Keep in mind that the Portable Pot will disappear afterward as it's only for one use.
If you want to make another meal, you'll need to place another pot.
Wrapping up
To sum up, that's everything you need to know on how to use the Portable Pot device in Zelda Tears of the Kingdom.
This device is acquired by interacting with certain Zonai Capsule Machines and can be used to cook once while on the go.
How many Portable Pots do you have in your inventory? Are you using them often? Let us know in the comments below.
Before leaving, consider also upgrading your armor by checking out our guide on how to get the Ember Shirt in Zelda Tears of Kingdom.