When assigned as the First Officer on the U.S.S Resolute, players will have to decide whether to bring the shields or use the deflector pulse during the ionic storm.
Both choices will have the same outcome in terms of surviving the ionic storm, but what will change is which characters will trust you afterward and which won't.
In this guide, I will explain what will happen when deciding whether to use shields or deflector pulse during the ionic storm in Star Trek Resurgence to help you make the right choice.
For more decision guides, check out our article on whether the Federation should recognize the Hotari or the Alydians in Star Trek: Resurgence.
What Happens if You Use Shields Up?
Deciding to send all the aux power to the shield and orienting all your shield power towards the wave, as Lieutenant Bedrosian proposes, will allow you to endure the ionic storm.
Trusting Bedrosian's opinion will cause her to be friendlier toward you as she will admit that she'll have your back.
As for Commander Westbrook, he will be skeptical of your methods.
What Happens if You Use Deflector Pulse?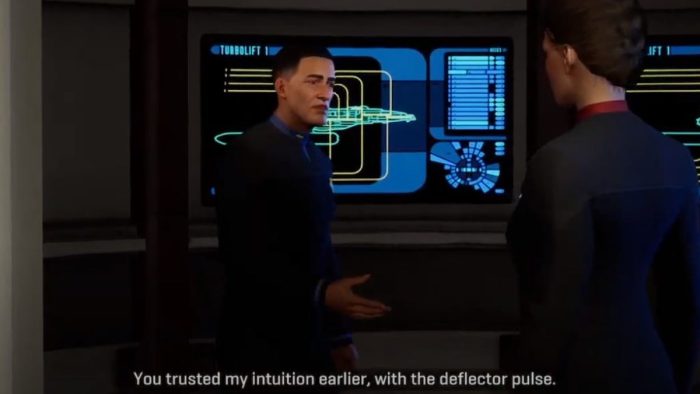 If you decide to weaken the impact of the storm with a deflector pulse, as Commander Westbrook suggests, it will help you survive the ionic storm without any severe damage.
Also, it will make Commander Westbrook overall friendlier toward you, even though he won't be your number one fan.
However, even in the future, Westbrook will remain slightly skeptical toward you, as that's his character.
Shields Up vs Deflector Pulse – Which One to Choose in Star Trek Resurgence
All in all, choosing either of the two options will have the same results in terms of surviving the ionic storm.
However, choosing to use the shields will make Lieutenant Bedrosian friendlier toward you, while using the deflector pulse will make Commander Westbrook appreciate your more.
Choose the appropriate option based on which NPC you want to build affinity with.
Wrapping up
To summarize, deciding whether to keep shields up or use the deflector pulse in Star Trek Resurgence will not affect the outcome regarding the ionic storm.
Instead, it will affect your relationship with the NPCs that proposed each of the ideas. Thus, you should decide based on which NPC you want to befriend.
Which option did you choose? Do you prefer Lieutenant Bedrosian or Commander Westbrook? Let us know in the comments below.
Before leaving, if you have a PS5 and are looking for suggestions, check out our list of the best open-world games for PS5 in 2023.