Looking to get more Shiny Steel Pokemon Encounters in Scarlet and Violet? There's an easy way to do it, and that is by making a Steel Type Shiny Boosting Sandwich. And I am here now to tell you exactly what you need to make one.
To make a Steel Type Shiny Boost Sandwich in Pokémon Scarlet and Violet, you need 1 Hamburger, 1 Sweet Herba Mystica and 1 Salty Herba Mystica. Place these ingredients on a loaf of bread at a Picnic table and you're all set!
The best news is that there are other Herba Mystica combinations that you can use to make this sandwich and I'm talking about them in depth below.
But until then, make sure to open up in new tabs my previous guides on Shiny Boosting Sandwiches, like the Fire Type Shiny Sandwich, Ghost type Shiny Sandwich or the Fairy Type Shiny Sandwich.
With these in mind, let's get a bit more in depth with today's sandwich, the one that boosts Shiny Steel Pokémon encounters!
Fire Type Shiny Boost Sandwich in Pokémon Scarlet and Violet
There is no in-game recipe that you can unlock for this sandwich. All you have to do is mix and match various ingredients to see what you end up with.
But with Herba Mysticas being so difficult to get, I am sure you'll appreciate not having to go through all the testing yourself.
Actually, any sandwich in the game can be created by accessing the Create custom sandwich option in the Picnic table's menu. Just use the right ingredients, and you will get your desired sandwich.
The trick for learning how to make any type of sandwich in Pokemon Scarlet and Violet is to enter an in-game restaurant and talk to the chef NPC that gives you new recipes: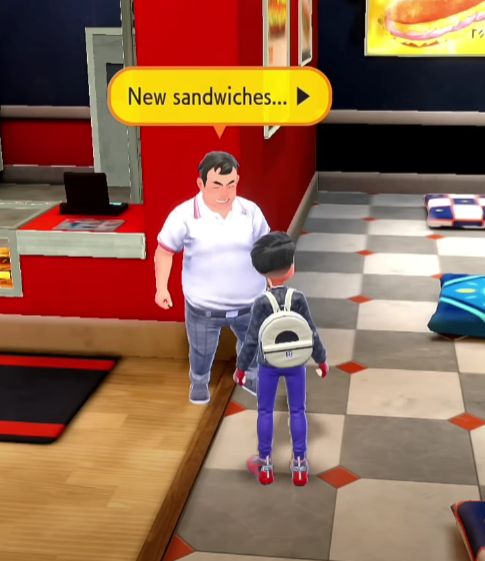 This person is the same in all restaurants in the game, so it doesn't really matter what restaurant you choose – the recipes will be the same.
Now, when talking to the NPC, you will be shown all the sandwich recipes that can be unlocked in Scarlet and Violet. But you don't have to actually unlock them in order to be able to use them!
Instead, just look at the list of required ingredients, write them down and then hit the Create custom sandwich button at any Picnic table and use the said ingredients. It's that easy for any type of sandwich!
And we're going to use the same method for the Steel Type Shiny Boosting sandwich in Pokemon Scarlet and Violet. This will increase your chances of encountering Shiny Steel Pokemon in the game.
Combine this with my method for increasing encounter rates with Shiny Pokemon, and you'll soon find more Shinies than you need!
Steel Type Shiny Sandwich Recipe
For a Steel Type Shiny Boosting Sandwich in Pokemon Scarlet and Violet, you need to combine 1 Hamburger, 1 Salty Herba Mystica and 1 Sweet Herba Mystica on a loaf of bread at your Picnic table. This will boost your chances of meeting Shiny Steel Pokemon.
But if you don't have the Sweet Herba Mystica, you can switch that with any of the two other types of the herb.
So replacing the Sweet one with a Spicy Herba Mystica or a Sour Herba Mystica and keeping the other two ingredients will give you the same sandwich!
IMPORTANT! You can't make a Shiny Boosting Sandwich until you unlock the Sparkling Power Sandwich recipe in the game. You are going to get this only after completing the main story, so if you haven't gotten there yet, you have to play a bit more.
Once you have unlocked the Sparkling Power Sandwich though, you can craft any of the other Shiny Pokemon boosting sandwiches, including the Shiny Fire Type one that we're talking about in this article.
If you're wondering how to get the required ingredients, here is what you need to know:
Hamburger: Just like most of the ingredients required for these Shiny Sandwiches, you can get it from the Deli Cioso stores in the game. One Hamburger costs 380 coins.
Herba Mysticas: These all drop from completing 5-star and 6-star Tera Raids in the game. You're going to get random rewards each time you do it, so a bit of grinding will be required here.
What does the Steel-type Shiny Sandwich do in Pokemon Scarlet and Violet?
Crafting this type of sandwich will increase your chances of encountering Steel Type Shiny Pokemon in the game.
This is the best method to use if you are looking to boost your collection with some specific types of Pokémon – steel type, in this case.
Speaking of great Pokemon, make sure to check the previous article where we pit together Armarouge vs Ceruledge to decide which one is better.
We also have a guide on how to get Kingambit in Scarlet and Violet – make sure you read that one too for some more advanced strategies.
Conclusion
Now you know how to make the Shiny Steel Type Boosting Sandwich in Pokemon Scarlet and Violet – and you have more than just one recipe to make it happen.
This way, you can easily boost your encounter rates with these pokemon and build up your shiny collection.
If you manage to find additional recipes for this type of sandwich, don't hesitate to let us all know by commenting below.