Smoked Fillet is a key ingredient in making sandwiches in Pokemon Scarlet and Violet and in this guide, we'll examine how to get it.
Similarly to hamburgers, players can get smoked fillets from Deli Cioso shops. However, there are some requirements before being able to buy them.
Eating specific meals in the game grants players unique buffs known as Meal Powers. These affect Pokemon catch rate, raid power, encountering rare Pokemon, and more.
For more recipe ideas and advanced ingredients, consider checking out our guide on how to get ham in the game.
In this guide, I will explain how to get smoked fillet in Pokemon Scarlet and Violet and list all recipes that can be made with this ingredient.
How to Get Smoked Fillet in Pokemon Scarlet and Violet
To get smoked fillet in Pokemon Scarlet and Violet, players will need to buy it from any Deli Cioso shop around Paldea.
However, you will only be able to purchase smoked fillet if you've obtained at least two Gym Badges.
Then, the ingredient will be available for purchase at the price of ₽330.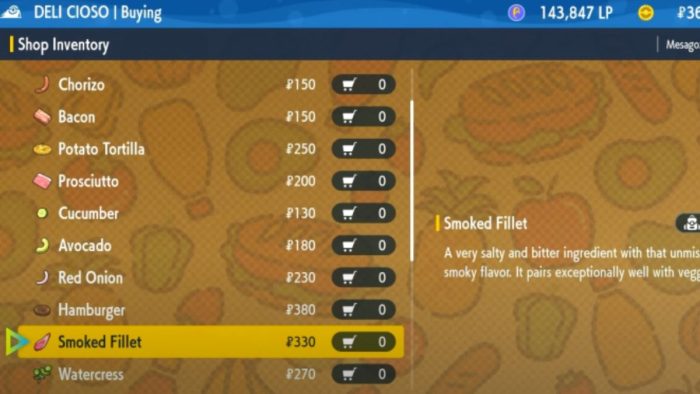 As for Deli Cioso shops, you can find them at the following locations.
Artazon
Cascarrafa
Cortondo
Levincia
Medali
Mesagoza
Montenevera
Porto Marinada
Simply open your map and search through the various icons in the city you're in until you find the exact shop location. In most cities, Deli Cioso is located very close to the teleport point.
Now that you've bought enough smoked fillets, you're ready to start making sandwiches. But which exact sandwiches can you make with this ingredient? Let's see.
All Smoked Fillet Recipes in Pokemon Scarlet and Violet
Various recipes require smoked fillet, ranging from basic ones to Ultra recipes.
Basic Smoked Fillet Recipes
Avocado Sandwich
Smoky Sandwich
Variety Sandwich
Decadent Sandwich
Sushi Sandwich
Great Smoked Fillet Recipes
Great Avocado Sandwich
Great Smoky Sandwich
Great Variety Sandwich
Great Decadent Sandwich
Great Sushi Sandwich
Master Smoked Fillet Recipes
Master Avocado Sandwich
Master Smoky Sandwich
Master Variety Sandwich
Master Decadent Sandwich
Master Sushi Sandwich
Ultra Smoked Fillet Recipes
Ultra Avocado Sandwich
Ultra Smoky Sandwich
Ultra Variety Sandwich
Ultra Decadent Sandwich
Ultra Sushi Sandwich
Conclusion
To sum up, that's everything you need to know on how to get Smoked Fillet in Pokemon Scarlet and Violet.
Unlock two Gym Badges, have ₽330 in your wallet and travel to any of the aforementioned cities to visit Deli Cioso and purchase it from there.
If you're interested in more advanced, late-game recipes, consider checking our updated guide on how to make Dark Type Shiny Sandwich in Pokemon Scarlet and Violet.
What's your favorite sandwich ingredient in the game? Which meal buff are you trying to get? Let us know in the comments below.