One Piece Odyssey includes nine playable characters, while only four of them can be in your party in each fight.
Thus, it is important to find out the best team and party members in the game that synergize with each other and can take down most enemies.
Before settling on the ideal party, consider checking out our guide on all outfits in the game and how to unlock them. This way, you'll always be in style while fighting.
In this guide, I will explain how the combat system works in One Piece Odyssey and based on that showcase the best team and party members.
How Combat Works in One Piece Odyssey
The combat in this game is based on a system known as the power triangle. This is similar to how Rock, Paper, Scissors works, in the sense that the power triangle includes three types: Power, Technique, and Speed.
Power beats Speed, Speed beats Technique, and Technique beats Power.
Each character in your party, as well as each enemy, has one of the three mentioned types. Thus, your goal is to attack with the party member that has the advantage.
If you know which type of enemy you're facing, bring its counter-type. However, if you have no idea of its type, make sure to include all three types in your team.
Based on that, the best team in One Piece Odyssey will always depend on the opponent you're facing. If your opponent is a boss with the Technique type, try and have as many Speed characters as possible in your team.
All Main Characters in One Piece Odyssey and Their Type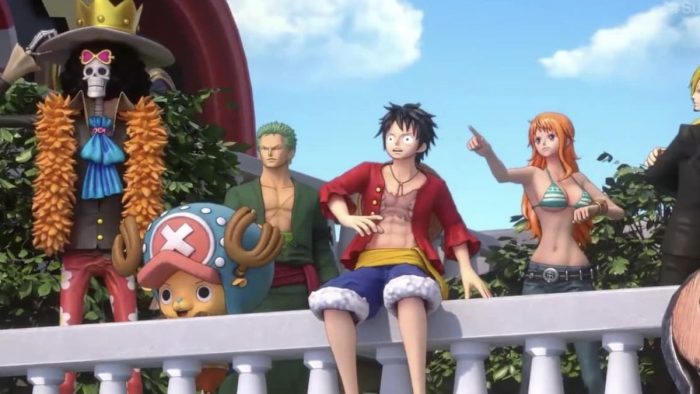 Based on the power triangle, here are all the characters and their type.
Monkey D. Luffy – Power
Roronoa Zoro – Technique
Sanji – Power
Nami – Speed
Usopp – Speed
Nico Robin – Technique
Tony Tony Chopper – Power
Brook – Technique
Franky – Speed
Based on the boss you're facing, opt for characters that are strong against its type.
Best Team and Party Members in One Piece Odyssey
While the ideal team for each fight depends on the opponent's typing, the best overall team for each scenario covers all types.
Here's the best party in One Piece Odyssey:
Monkey D. Luffy – Luffy serves as the main Power type, able to take down any Speed enemies. With high resistance to lighting and poison, as well as his ability to deal both single target and AoE damage make him a great first pick.
Roronoa Zoro – Zoro is your go-to technique type that combines equally high damage to Luffy while also being able to apply bleed on opponents.
Nami – To complete the power triangle, Nami serves as the Speed type. She has various AoE attacks and can also apply debuffs and crowd-control effects.
Tony Tony Chopper – For the last slot, I highly recommend going for Chopper primarily due to his amazing support capabilities. Chopper can heal everyone with his abilities, while also serving as an extra Power type when additional damage is needed.
Wrapping up
To sum up, that's everything you need to know about the best team and party members in One Piece Odyssey.
While on average this depends on the enemy's type, the best team includes one character from each type, as well as a support in the last slot.
If you're a fan of JRPGs, consider checking out our list of the five best games similar to Chained Echoes, one of the best new games in the genre.
What's your go-to team in the game? Who is your favorite character overall? Let us know in the comments below.