With so many customizable options you will need to find the correct combination. In this guide, I will showcase the best Jumpshot for any build in NBA 2K24.
From figuring out the settings, buying the correct boosters, and editing to get the perfect Jumpshot for your character.
There are so many things the game doesn't teach you, and without looking into the settings more yourself how were you supposed to know about them?
I will break them down easily, so you can see exactly what to change, and what each change offers you.
If you want to know more about the mechanics of the game, check out our Shot Timing Visual Cue guide, on the best setting for your play style for NBA 2K24.
NBA 2K24: Changing Settings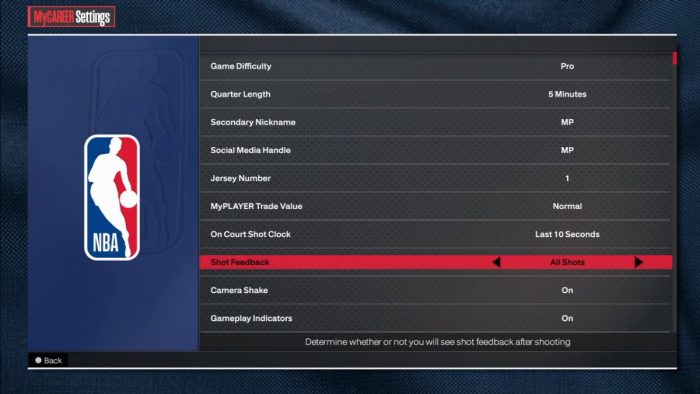 First of all, let's go over the most important setting you will need to change.
Open your menu, and go down to Options/Quit. After that go down to Settings, and find the option that says Shot Feedback.
By default it is set to "offer user only", and you will need to switch it to "All Shots". If you keep it to the default, you will not know what you are shooting.
Changing the settings, it's going to tell you if you're holding it early if you're holding it late, or if you're releasing it very late.
The new setting will let you know what you are doing wrong when it comes to shooting.
NBA 2K24: Changing Controller Settings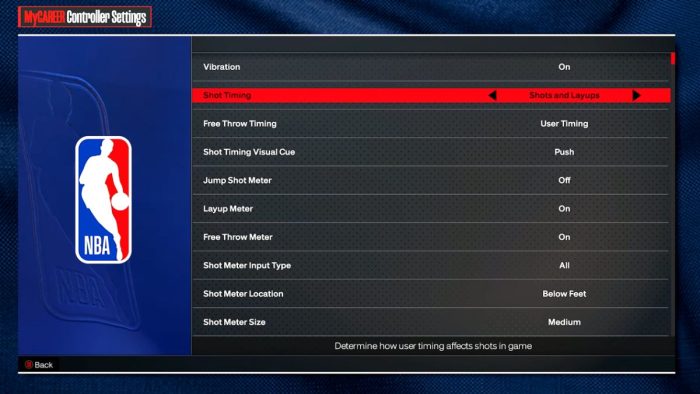 After changing the settings, go back to the menu, and then go down to Controller Settings.
First, you will need to change the Shot Timing option to Shots and Layups. It is the best option by far.
You will need to change the Free Throw Timing option to Push. There is some degree of personal preference when it comes to this, but push is generally the most
After that change the Jump Shot Meter off as soon as you learn your timing. Jump Shot Meter increases your green window size by 20%, and both your teammates and your opponents won't see your shot meter online.
Go a little further down, find the Shot Meter Location, and you need to change it from "below the feet" to "by the head".
These are the most important changes you need to make in the controller settings for NBA 2K24.
NBA 2K24: Boost Your Training
In the Gatorade Training Facility, your workout is going to be very important when it comes to shooting.
In the Gatorade Training Facility go over to the Gatorade bar, and if you have enough VC, go ahead and purchase Gatorade packs.
You want to buy the thirst quencher and the Gatorade 10 pack, which totals 3500 VC.
Also, there is an alternative option to get boosts. By opening up your menu, going to Progression, and Get Boosts, you can easily purchase them from there.
On top of that, you also have the option to buy Skill Boosts, which may rub people some people the wrong way, but if the game is offering a way to help you, then you shouldn't feel bad about using it.
NBA 2K24: Editing the Best Custom Jumpshot Build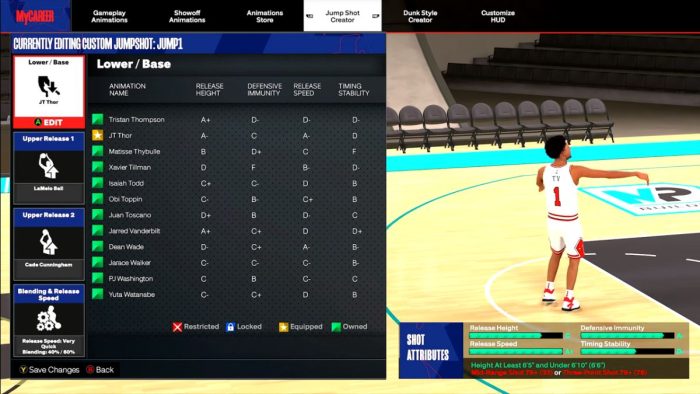 Now let's break down how to get the best custom Jumpshot build in NBA 2K24.
For the Lower/Base of the Build, you want to go with JT Thor.
For Upper Release 1, you want to go with LaMello Ball, and for Upper Release 2 you want to go with Code Cunningham.
Lastly, Blending & Release Speed. You want to completely max out Release Speed, and for the Blending of the Jumpshot, you want to have it at 40% LaMello, and 60% Cade Cunningham.
Final Thoughts
With so many customization options, the best Jumphsot build can help you narrow down the options. You can then try to play around with the different options and narrow down what works for you, and how you want to play.
If you are having trouble with an error code, check out our guide on how to fix the Error Code 4b538e50 in NBA 2K24.
With the best Jumpshot build, and all the other changes laid out, let us know in the comments below, what parts are you enjoying most from this new installment in the NBA 2K series.