If you're looking for a high-quality budget microphone for your Twitch streaming or Youtube gaming videos, then Maono's GamerWave Condenser Mic should be the one to consider.
Not only that it has solid features and great sound quality, but it also brings up the style a lot thanks to its RGB lights which look amazing on camera and spice up any stream or gaming video. (Or any type of entertainment video, to be precise).
With its full, official name being the Maono GamerWave Microphone, it's usually on sale on Maono's official website for under $50, which makes it a steal.
But let's get a bit more in-depth with today's review and see why this microphone gets all the praise that I'm offering right now.
Maono GamerWave Microphone Review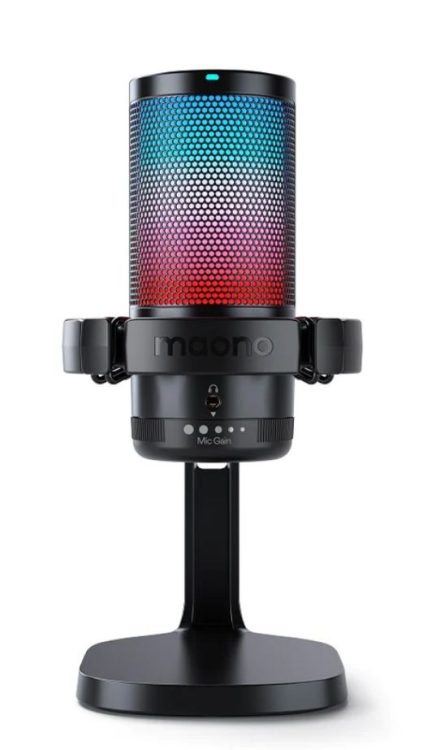 After testing it on multiple devices and in different kinds of situations, like gaming, Discord, recording on my phone, and even singing, I came up with a few conclusions about the Maono GamerWave microphone.
It offers exceptional sound quality, thanks to its professional-grade condenser capsule that delivers clear and detailed sound. Your voice comes through loud and clear during your streams and gaming sessions.
A great thing about it is that it has a much-welcomed noise reduction capabilities which work really well. So well that I actually have to speak very close to the microphone in order not to have my own voice filtered out.
But that is usually the case with microphones – you need to be close for them to work best, and with it being a cardioid microphone (focus on capturing sound at the top), you're sure it only picks up your voice.
You can adjust the volume at which the microphone picks up the sound. I tried singing, although I am no singer, and it sounded very professional, loud, and clear. I had my son being loud in the same room and the mic didn't pick up those sounds at all! I was pleasantly surprised about this.
With a sleek and stylish design, the Maono GamerWave comes in 3 color options: white, pink, or black. But they all have RGB backlight which makes a huge difference in my opinion and looks AMAZING:
I got to say, it looks very stylish and relaxing to me, and the black that I got makes the lights' colors pop up more. Of course, you can control the lights with the press of a button and turn them off completely if for some reason you don't like them.
I found the shock-mount feature very useful for people like myself that move a lot. You don't have to worry it moves and ruins your streaming if you get a little too excited and accidentally bump into it.
Also, the pop filter has great anti-plosive capabilities, filtering out those annoying, popping Ps and other similar letters. Plus, it gives it a more professional look, which is always a bonus.
The inclusion of USB and USB Type-C connectivity makes the Maono GamerWave an impressive and highly versatile microphone that reduces the amount of cables required and increases the number of devices it can be used with.
Overall, the Maono GamerWave Condenser USB Gaming RGB Microphone is an excellent choice if you are a gamer or streamer who wants the best sound quality, design, and noise-canceling technology and you're on a budget. I personally loved it.
I also loved the fact that I could connect my headphones to it and hear myself while I was recording or talking in Discord voice chat and streaming.
For most people, though, I think that it would be better to pair it with an arm stand – this makes it easier to keep it as close to your face as possible for the best possible sound quality.
But besides my personal opinion on the matter, I'll give you the technical features of the Maono GamerWave gaming microphone, so you can decide for yourself.
Features
Noise cancelation
Real-time monitoring
Adjustable gain
Controllable RGB lights
One-button mute
USB A & C connectivity (plug&play)
Includes shock mount and pop filter
Budget-friendly
Conclusion
The GamerWave Condenser Gaming Microphone is an excellent choice for anyone looking for a high-quality microphone that is versatile, easy to use, and visually stunning.
It is compatible with a wide range of devices, making it perfect for gamers, streamers, and content creators who need a reliable and high-quality microphone.
Whether you are a professional gamer or just starting out, the Maono GamerWave is sure to take your content to the next level.