I don't think that many people anticipated a quiz about classic paintings when they first started playing Man of the House… but that's exactly what you get eventually, if you follow Claire.
In today's article, I am going to share with you a complete set of answers for the Paintings Quiz in MotH so that you will easily pass the test and get more hearts with the beautiful lady.
Remember that we have also shared the complete set of answers for the Movie Quiz in Man of the House, as well as an extremely useful of collectables locations so that you get them all and enjoy them whenever you want.
But right now, let's just get back to the paintings, and find the correct answers in order to impress Claire. Fortunately, this time, we're not talking about a ton of questions… just a few that you will receive, but they are randomly selected during each playthrough.
But we've got you covered with all the questions that will be asked, so here are the correct answers for the paintings quiz.
1. The painting with the girl in a seashell is "The Birth of Venus" by Sandro Botticelli
2. Question: What is the title of this painting by Rembrandt van Rijn?
Answer: The Night Watch
3. Question: Who painted this masterpiece?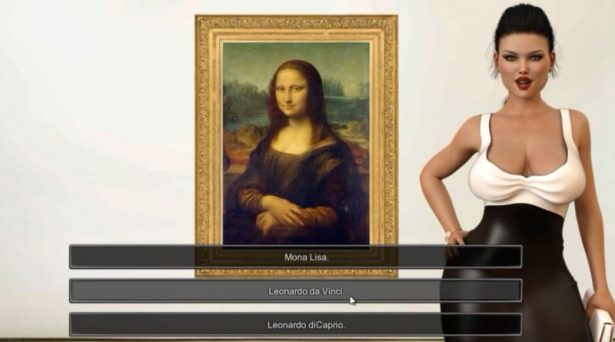 Answer: Leonardo da Vinci
4. Question: What is this painting by Michelangelo called?
Answer: The Creation of Adam
5. Question: Who painted "Girl with a pearl earring"?
Answer: Johannes Vermeer
6. Question: What is the title of this famous painting by Salvador Dali?
Answer: The Persistence of Memory
7. Question: What can you tell me about this painting (of a man with his eyes over his ears)
Answer: The Scream by Edvard Munch.
8. Question: Who painted Starry Night?
Answer: Vincent van Gogh
And these are the questions that Claire will select three from – and you now have all the answers. This gives you extra stars, making it easier to progress with Claire, so make sure that you always give the correct answers by referring to this guide.
We'll have even more walkthroughs and tips for Man of the House, as well as a complete guide to getting all the girls and all the endings in the game, so make sure to check back often for them all!
Until then… did you receive a different question, with a painting that is not listed in our set of answers above? If so, let us know by sharing your comments below.