We know that we can paint our Power Armor in Fallout 4 in a few colors and add a few extra goodies to make it our own, but the game doesn't offer a ton of option and none has a military theme, one that would actually make a lot of sense in the game.
Fortunately, a modded has already started working on bringing military patterns to the game and the first release is a Power Armor mod, one that paints your Power Armor into a great military pattern.
Now you'll really feel like an US soldier fighting to bring justice back to the wastelands!
So it's all pretty straightforward: you're getting new paint jobs for your Power Armor and you will love them!
Even more is planned by Bigtalon, the modder who created the Military Power Armor for Fallout 4 and who is planning to create even more military-themed stuff in the game, but for now we have to do with this one.
How to download & install this mod
1. First, you will need to download it here.
2. Extract the files to Fallout4/Data Folder
3. Go to Documents\My Games\Fallout4\Fallout4.ini and open it with a text editor like Notepad. Find the following line:
sResourceDataDirsFinal=STRINGS\,
It will be under the header [Archives]
Change it to look like this:
sResourceDataDirsFinal=STRINGS\, TEXTURES\,
4. Save the file, then go to the Fallout 4 Main folder (install folder under Steam ) and find Fallout4_Default.ini and edit the lines listed above too. Save and play the game!
Screenshots of the Fallout 4 Military Power Armor Mod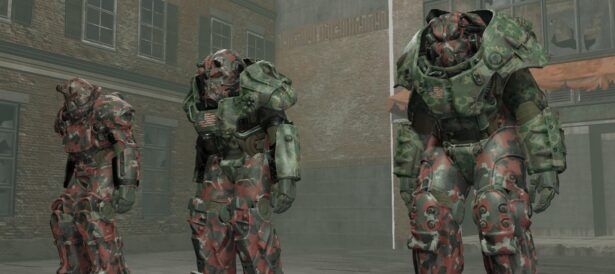 Pretty great, right? Thanks, Bigtalon for creating this amazing mod!