If you are to ask me, I hate the storms in Fallout 4 because I don't need extra radiation in my body and I definitely don't like the bad weather.
But things can be always improved – or worsened, depending how you look at it – and an incredible team of modders decided to bring one beloved Skyrim mod to the Commonwealth.
We're talking about the Fallout 4 mod True Storms – Wasteland Edition, a mod that's all about making the storms and bad weather in Fallout 4 be as real as possible and look as amazing as a post-nuclear thunderstorm would look like.
This is, in my opinion, enough of a reason to really give this great mod a try.
So if you want improved weather effects with increased realism and jaw dropping wow factor, this is the mod you have to download and I have the instructions for you: how to do it, here!
How to download and install True Storms – Wasteland Edition
1. First, go and download the mod on Nexus Mods.
2. Download optional files if you want to (check them out on the mod's page).
3. Follow the instructions on the mod's page and enjoy the mod.
Here are the top features of the True Storms mod for Fallout 4:
– Intense visuals during rainstorms — distant fork and sheet lightning in the sky!
– All-new heavy rain/dust textures, materials, visual effects, and particle geometry for truly heavy storms!
– No more "white rain" – particle materials are now using proper alpha blending and lighting, and are effected by the ambient lighting conditions.
– 20 all-new, intense thunder sounds, and a new method for much more unpredictable/random playback.
– New interior sounds for all weathers: wind, rain, radstorm, and thunder sounds for all rain types, but only inside locations where it makes sense.
– New weather types, with new particles/materials, including radiation rain, heavy dust storms, heavy fogs, heavy/light rain, and more!
– Weather chances have been slightly altered to give a little bit more diversity (the vanilla game heavily favors sunny weather.)
– Weather will stick around just a little bit longer — you will no longer experience 4 or 5 different weathers in a single day.
– Vanilla night brightness and several darkness levels available, for compatibility with darker nights mods.
– Volume slider for new thunder and rain sounds to give you more control for your audio setup.
Here are some Screenshots of this amazing mod: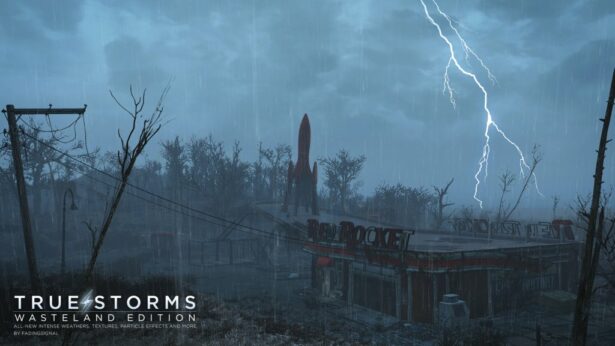 Credits: fadingsignal and the entire team that made it happen.

Latest posts by Calin Ciabai
(see all)