Have you ever felt that clothing and armor are not done particularly right in Fallout 4? For example, why can't I wear a hat over my gas mask, or a bandana under my cap?
Why can't I put on some armor over my fancy suit?
Well… these will no longer be problems if you decide to download Armorsmith Extended, the great mod that we're talking about today and, in my opinion, one of the essential mods every Fallout 4 player should have installed and running at all times: not only because it is extremely cool, but also because it makes a ton of sense.
What is Armorsmith Extended all about
Straight from its description, here are the 8 great things that this mod does:
One, every outfit in the game can now be worn under armor pieces and all armor pieces should show up when equipped.
Two, every hat and helmet in the game that doesn't cover your face can be worn with bandanas & gas masks.
Three, every outfit and every hat & helmet in the game can have ballistic weave armor added to it.

Four, I completely redid the entire clothing modding system from scratch.
There are now 5 different types of mods: Lining mods, outfit add-on mods, headgear add-on mods, Glove mods, and eyewear mods. The categories of what mods are available for a specific item correspond with which of these 5 categories are present on that item.
Five, adds new outfits, headgear, gloves, custom Dogmeat armors, Under Helmet Hoods, Helmets (w/Hair), and nudifying rings to be crafted from the new custom Armorsmith Workbench.
Six, all clothing items are moddable now and are also rename-able.
Seven, I made this mod compatible with Legendary Modification by teaLz.
Eight, for the master armorsmith/scientists out there I've implemented a new craftable set of armor called Therm Optics Combat Armor. Using stealth technology it is now possible to create cloaked combat armor pieces.
Also the chestpiece can be modded with a therm optics booster that will extend the cloaking field around the user when standing still and sneaking.
There is a known bug with this: These new Therm Optic armor pieces will not automatically unequip previously worn armor, you have to do that manually. This was was the only way to do invisible armor with properly functioning mods.
How to download & install Armorsmith Extended mod in Fallout 4
1. First, click here download the mod.
2. Install the mod and play the game! It's that easy. But make sure to read the entire description of the mod on its download page to make sure that you know what mods its compatible with.
Some more Armorsmith Extended mod screenshots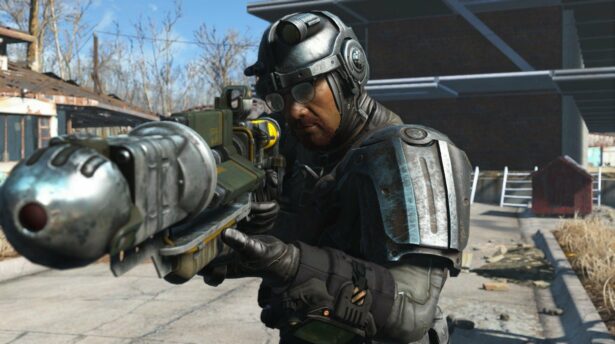 Yup! This is just as amazing as it sounds, so go out there and download this mod!