Peanuts are one of the available food items in Disney Dreamlight Valley. They can be unlocked early in the game and are the favorite food of squirrels.
If you've been looking for what to feed these squirrels, or are interested in cooking a specific recipe, keep reading.
Also, if you're interested in other recipes and ingredients, consider checking our guide on all the recipes in Disney Dreamlight Valley and how to make them.
In this guide, I'll go through how to unlock and find peanuts in Disney Dreamlight Valley, as well as some of the best ways to use them.
How to Unlock Peanuts in Disney Dreamlight Valley
To unlock peanuts, you need to progress Remy's quests. Specifically, you need to start the quest 'Remy's Recipe Book'. In order to unlock the quest, you need to complete the following:
Reach Remy Friendship level 4
Progress Merlin's quests
After that, Remy will give you this quest. As a reward, this quest will allow you to purchase peanuts from Remy's restaurant and give you two new recipes that feature them as an ingredient.
From now on, you can purchase as many peanuts as you'd like from Remy's restaurant at the price of 200 coins per.
How to Complete Remy's Recipe Book
This is a straightforward quest that requires you to visit three different locations and find hidden books. Here are the three locations:
Near the main stairs leading down to Dazzle Beach
In the mystical cave in Dazzle Beach (need to progress Ursula's questline)
Near Goofy's stall in Dazzle Beach
Dig at these three locations to unlock the books and bring them to Remy. He will then require you to visit his realm and bring him some peanuts.
How to Find Peanuts in Remy's Realm
At one point in the questline, Remy will ask you to bring him a Bag of Peanuts. These are located within Remy's Realm, at the far back of the restaurant, on a tray full of peanut sacks.
Simply interact with the tray and one of the sacks will fall on the ground for you to pick up.
After that, simply bring the peanuts to Remy and that's it.
All Recipes with Peanuts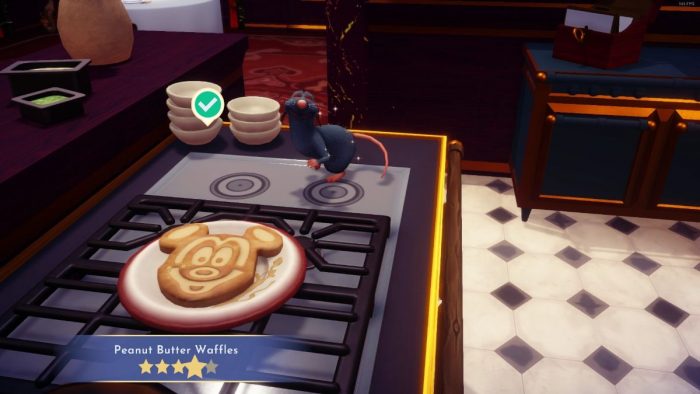 Other than feeding them directly to squirrels, there are only three recipes with peanuts. Here are all of them:
Peanut Butter Sandwich – Peanuts, Wheat
Smoked Peanuts and Anglerfish – Peanuts, Anglerfish
Peanut Butter Waffles – Peanut, Egg, Wheat, Milk
And that's all. These are easy-to-make recipes but will cost a bit since you'll need to purchase some of the materials from Remy directly.
Conclusion
To sum up, to unlock Peanuts you need to complete Remy's quest 'Remy's Secret Book', available at friendship level 4.
After completing the quest, you will be able to buy peanuts directly from Remy's restaurant at the price of 200 coins.
If you're fairly new to Disney Dreamlight Valley, consider checking our guide on the best beginner tips and tricks in the game.
Have you unlocked peanuts yet? Did you use them to cook or tame a squirrel? Let us know in the comments below.