Cooking plays a huge part in various quests in Disney Dreamlight Valley. Making meals, like the 3-star meals, are a condition for multiple missions, in Moana's quests and the Missing Minnie quest.
But, how do you make 3-star meals in Disney Dreamlight Valley?
I'll provide a well-detailed guide in this article today, so that you don't have to scratch your head anymore and struggle to make them!
How to Make 3-Star Meals in Disney Dreamlight Valley?
You must be wondering what the star ratings mean on the meals, aren't you? I was confused too but it turns out the stars actually denote the number of ingredients required to make the meal.
For example, to make Fish Sandwiches, which is a 2-star meal, you only need two ingredients – Any Fish and Wheat. On the other hand, the Ratatouille and Potato Leek Soup are 5-star meals, meaning it'll need five ingredients.
Additionally, adding ingredients which aren't essential for a meal won't contribute to the star ratings. So, if you add spices to a 3-star dish that doesn't have spices in the recipe, the dish will still be a 3-star one.
To initialize the cooking process, you need to have a stove, where the cooking takes place and a coal, to ignite the fire.
When you approach the stove to cook, a menu should appear, from which you can select ingredients for the unlocked recipes.
Select the three correct ingredients for the 3-star meal you're making and hit "Start Cooking" for your meal to be cooked. You can then access the final dish through your inventory.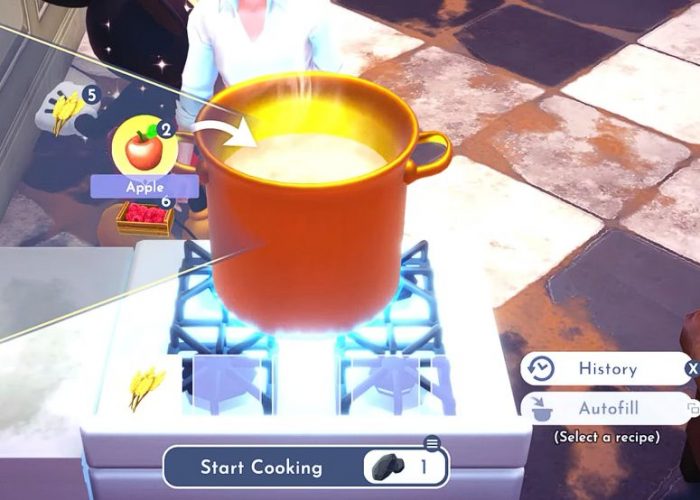 For example, if you're making the 3-star Grilled Veggie Platter for Maui, the ingredients you'll require are carrot, tomato, and lettuce. Select these ingredients after interacting with the stove and initiate the cooking process.
It's that simple! In my opinion, the only difficult task you'll face when making 3-star meals, or any meal for that matter, is collecting the ingredients.
The ingredients for the meal recipes are not specified in the game, but hints are given through the small icons visible under the name of the meal. You need to solve this puzzle!
You can figure out the specific ingredients from these icons, as they closely resemble their real-life appearance.
However, if you're having trouble figuring it out, I'll share the ingredients of some key 3-star meals discovered in the game so far.
You'll most likely not have some ingredients in your inventory or storage. You need farm those ingredients using their seeds or you can purchase them from Goofy or other NPCs.
Increasing storage space might also help you carry additional ingredients, especially if you're cooking more than one meal.
Disney Dreamlight Valley 3-star Recipes

"My Hero Cookie": Butter, Wheat, Sweets.
Apple Pie: Apple, Wheat, Butter.
Bell Pepper Puffs: Bell Pepper, Cheese, Eggs.
Snow White's Gooseberry Pie: Gooseberry, Butter, Wheat.
Seafood Pasta: Any Seafood, Milk, Wheat.
Fish Steak: Any fish, Tomato, Basil.
Chili Pepper Puffs: Chili Pepper, Cheese, Eggs.
Grilled Veggie Platter: 3 Vegetables of any kind.
Pizza: Wheat, Cheese, Tomato.
Veggie Pasta: Any Vegetable, Wheat, Tomato.
These are just a few of the large number of 3-star recipes available in the game. And, there are more left to be unlocked!
Wrapping Up
Making 3-star meals in Disney Dreamlight Valley can be exciting as you try to figure out the perfect ingredients for a recipe and then cook the recipe all by yourself!
It's also an important activity in many of the quests in the game. The characters liven up after they've consumed the food and the sight is just beautiful!
Feeding food to the characters as well as the animals plays a major part in their happiness throughout the game.
Did this guide help you to make your first 3-star meal? Did you enjoy cooking the meal? Leave your thoughts in the comments below!