A GIF for a Steam Avatar sounds pretty awesome, right? How cool would an avatar of Kratos look with fiery flames going on in the background? Or, how cute would Corgi look scratching and wagging its tail?
But, can you have a GIF as a Steam avatar? Yes, you can, but it will come at a cost! Certain conditions must be met before you can have a GIF avatar.
It's not that complicated, though, and I'll help you get your first GIF Steam Avatar today with only a few steps! So, read on!
Can You Have a GIF as a Steam Avatar?
Yes, Steam allows moving pictures to be used in Steam Avatars. But, how do you get it?
You can only purchase specific GIF Avatars provided to you by Steam itself. The Avatars can be found in "The Points Shop" and you can purchase these using Steam Points.

Each animated avatar will cost you 3,000 Steam Points!
Therefore, in order to have a GIF as a Steam Avatar, you'll need to be willing to spend some money purchasing Steam games, DLCs, soundtracks and in-game items.

You'll earn 100 Steam Points per USD spent on Steam games. So, if you do the math, you'll be spending around $30 USD in order to get a GIF as your Steam Avatar!
If you were already planning on purchasing games, like COD MW2 (2022), getting them on Steam, if they're available, can be a smart move for the future!
In case you've already purchased multiple games and DLCs in Steam, then that's great news for you, as you probably already have a good Steam Balance!
Unfortunately, you can't use customized GIFs of your choice as your Steam Avatar; your only source is the Points Shop.
However, the Points Shop does not disappoint! Currently, it has over 850 GIF Avatars that are purchasable, along with over 450 Avatar frames and Animated Backgrounds.
How to use GIF as a Steam Avatar?
Open the Steam application and hover over the "Store" option, found on the top taskbar beside "Library".
Click on the "Points Shop" option that's displayed on the drop-down menu.
On the new window, you'll come across "Avatar" as you scroll down the menu on the left. Selecting this option will showcase some of the Animated Avatars and Avatar Frames on the screen.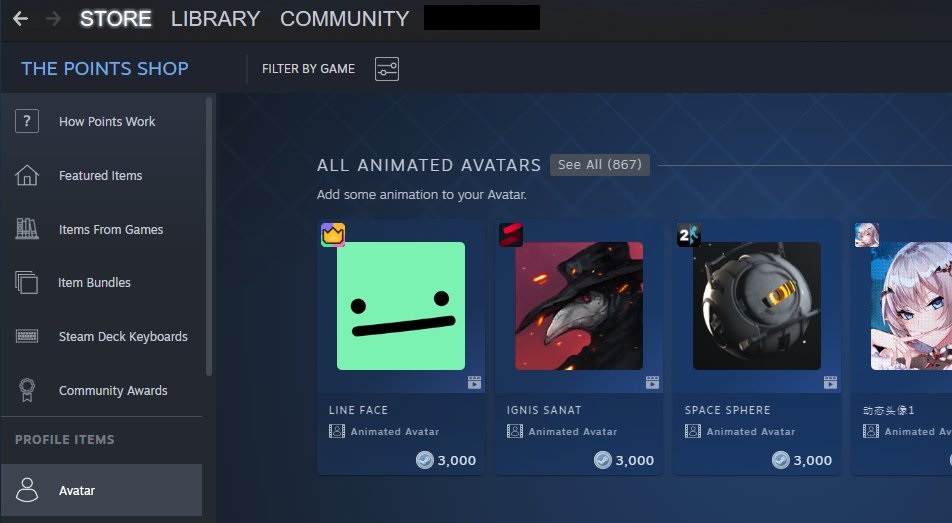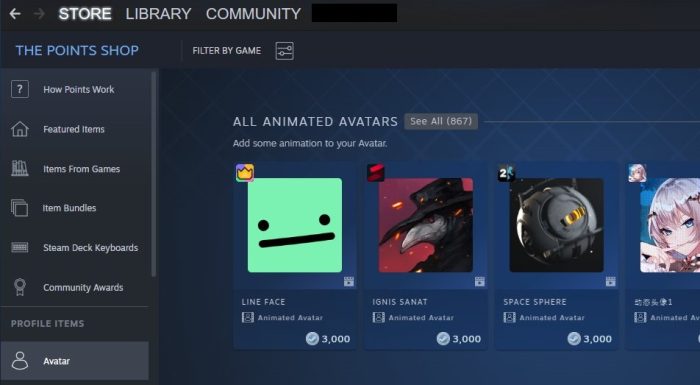 Clicking on "See All" will take you to the entire list of the GIF Avatars that you can purchase.
There are lots of really awesome options that you can choose from and are mainly based on all the Steam games. These GIFs will actually work like GIFs and won't be still images for both your Profile and Mini Profile.
To purchase an Animated Avatar, select your chosen Avatar and from the resulting menu, click on the "3,000 Points" button below.
After you've purchased the Avatar, select "Equip Now" from the next window that appears and the GIF Avatar will be visible in your Steam Profile!
If you want to remove the GIF from your Steam Avatar or use another one, you can easily do so by visiting the "My Profile" option in the Points Shop section.
Wrapping Up
It could be even more awesome if Valve or Steam would allow us to design our own customized GIF Avatars and use them as our Steam Avatars. However, the option we have at hand isn't too bad, either!
You can upload your customized GIFs to the Artworks in Steam, though, and enrich your profile with the unique creativity. Maybe, in the future, if Valve does allow us to put our customized GIFs as Avatars, these will come to be very useful!
Nevertheless, if you're having any sort of issues using the purchasable GIFs as your Steam Avatars, do let me know in the comments!