There are tons of games out there that are wide multiplayer games with a constant player cap of even around 100.000 players daily.
League of Kingdoms is one of those games making it a very alive and well community to flourish in by making real-life money.
How to make money in it though?
You will have all sorts of gamers around the world. You will have people that will want to sit back and enjoy some single-player games. Then you'll come across the competitive community.
Or maybe you'll end up in a multiplayer genre like League of Kingdoms where gamers want to become the absolute best and better than anyone else.
That is why some gamers are willing to pay real-life cash in order to become better in League of Kingdoms. In this guide, I will be showing you how to use that for your income. Let's get started.
How to Make Money in League of Kingdoms
There are actually 3 ways of earning money in the League of Kingdoms. Here they are:
Own Land – The most basic is passive income from land ownership: landowners earn 5% of the materials collected by players, as well as 10% of the profits from DAI in-game purchases.
Trade Land – Within the game, players swap their land with one another. The price of land varied from $13 to $240 in the inaugural land sale in December 2021
Farm Resources – Earn resources in the game and then sell them on third-party marketplaces. These resources can also be combined to provide more resources for sale.
If you're into NFTs and play-to-earn games, make sure to also check out the previous article on Town Star (and the best NFTs for increased rewards).
How to Play the Game in Order to Make Money
The primary goal of League of Kingdoms is to construct your kingdom and then combat other players. You may harvest resources, gather NFTs, join alliances with other players, or form your own guild-like alliance.
The aim, as in other combat strategy games, is to establish and develop your kingdom by careful resource management while defeating your nearest opponents in fights.
You can also fight monsters, such as a rampaging golem. If combat isn't your thing, focus on resource farming instead.
The best money-making method is mainly through farming though. But that doesn't mean that you won't be able to make some through the combat system as well.
Get inside, give it a try and whatever works best for you is how you'll choose to make your income from this game.
How Do The Facilities and Resources Work
You will start out with a small patch of land called and known as simple as Kingdom. You will be a small city-state and you'll need to use the Resources and Facilities to your advantage in order to get better and be able to find work to do.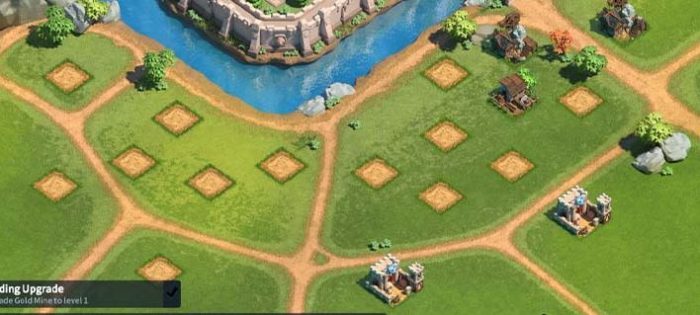 The Kingdom is separated into 2 parts:
Interior Castle

Castle – this is the Control Center
Treasure House – you can manage your Treasure here
Hospital – heal up your units
Storage – the amount of capacity you'll have for storing resources
Hall of Alliance – everything connected with your current alliance
Trading Post – the Marketplace

Outer Fields

Barracks
Farm
Gold
Quarry
Lumber Camp
These are the Resources that you can get through the facilities or through your unites:
Food
Stone
Gold
Lumber
Crystals
Crystals are the most valuable resource in the game, used to speed up the building process and upgrade amenities in your castle, among other things.
They can be obtained by mining or participating in special events and used to make in-game purchases.
You will start out with 100k each as a brand new and fresh player in the game. The crystals will of course be at 0 when you start.
League of Kingdoms Arena – LOKA
League of Kingdoms is developed on Ethereum, and the in-game money is LOKA (League of Kingdoms Arena), a governance and utility token with several uses:
You can get it by completing certain challenges
Used to make in-game purchases
Upgrade to Digital Asset
Can be staked and converted into real-life money
You can track how much money is one LOKA at the current moment to know if it is worth trading and using it as your income.
To visit a good website where you can actually trade the amount of LOKA into USD or other world currencies I recommend checking out this website here – Gemini.
What Is An NFT
NFT are the lands are totems that you'll see throughout the game of League of Kingdoms. Here they are explained in detail:
Lands – Land in League of Kingdoms may be purchased on the secondary market (the creators recommend the OpenSea or PlayDapp collection) or directly through the League of Kingdoms' official portal. Players will be able to produce a total of 65,536 tokens, and kingdoms will be established on top of the NFT lands, with each land able to host up to 16 kingdoms.
Totems – Totems are ancient relics that reflect the area underneath them in the game, and they may be minted and exchanged as NFTs. When put on land, they provide the user with magical powers and stats.
You can buy or sell both of these items on the market too.
Conclusion
Making money out of a video game is always fun and interesting. Not only will you be enjoying the type of content of the game, but also you'll be investing your time and earning some income too.
For making money in League of Kingdoms you will have to be patient and invest quite a bit of your time. The fees are high at the moment too.
If you are thinking about it, go ahead and give it a try. Just remember, smart investing and patience can lead to many great things but also it might not work out so great too.
Here are some other money-making methods you might try too.