If you're looking for some Idles Breakout cheat codes to help you rush your progress to more advanced stages, you're at the right place! I am here to share with you some Idle Breakout cheats that you will surely appreciate!
I love playing idle games and Idle Breakout is the latest title I've been playing on PC lately. I kept it running and getting better and better with each passing hour… but in case you don't want to wait that much, I've got you covered!
Today, I will share with you a bunch of working Idle Breakout cheat codes that you can use to skip a lot of levels – all the way up to level 42,000! (And that's not the final one).
So check out the cheat codes below, so that you can progress quickly.
IMPORTANT: Since these are save game codes, it means that they will overwrite your current game. I recommend exporting your save game first in case you'll want to carry on playing your current save.
Idle Breakout Cheats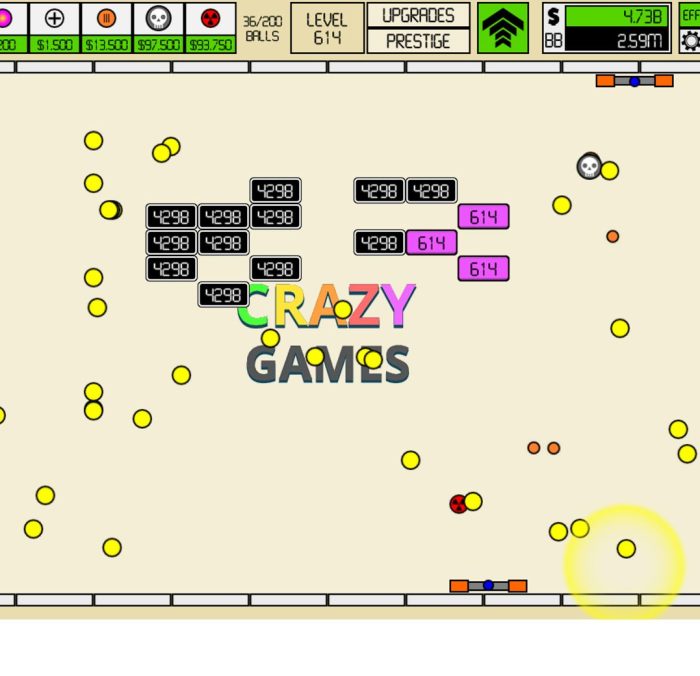 Here are the cheat codes you should use. Each will take you to the indicated in-game level:
Get to level 212:
MjA5LDQyMTcwNTcwMywzMTY0LDE2LDIwLDE5OTA1LDExMzE0OTAwLDU1MjI2MDUsNSw3NzksMiwwLDAsMCw0NDEzOC41NSw1OCwyMzgxNDUxLDU2MDk0OTEsMCwzNzUyNDQ1NDc3MDI5LjAwLDAsODQyODI0NTk3NDY2Ny4wMCw1NTIwLDIwMTY4MjU2OTM4MzE5LjAwLDAsMTQ2MTA1NTcxNzkxMDkuMDAsMCwxMDE4NjIzMTA2Ny4wMCwzMywwLDAsMCwwLDAsMCwwLDAsOSwyNSwwLDAsMCwwLDAsMCwwLDAsMCwwLDAsMCwwLDEwLDgsMTEsNCwxNSwxLDEsMSwxLDEsMSwxLDEsMSwxLDEsMSwwLDAsMCwwLDAsMSwxLDEsMSwwLDEsMSwxLDEsMCwxLDEsMSwxLDAsMSwxLDEsMCwwLDEsMCwwLDAsMCwwLDAsMCwwLDAsMjU3MDYyMCwwLDAsMiw1MywwLDAsMSwwLA
Get to level 6,000:
NjEwMywxOTI3ODAzMzk2MTEuNDcsMzA5LDg2NCwyNSw1ODA0MTksNjA4OTkzNCwyODI2NTMzLDIsMzIzOSwzLDEsMSwwLDQzNTk0Ljk1LDUyLDAsMTM5ODY3MjAyNyw4MDI0MDcwMjMzMi4wMCwyNjU5MTY2MzAxMzMuMDAsNTE0Njg1MDAxNzUuMDAsMzExOTM1NjcyMDk2LjAwLDcxMjk2MzMyNjQ0LjAwLDM1MDExMjM5MjYwOS4wMCw5MDA5NzcwMzY0NS4wMCw0MTU1NDQ3MjA4NzIuMDAsMCw3MDY1MDM2NTQ1LjAwLDAsNTIsNTEsNDQsNDMsMCwwLDAsMCwwLDAsNiw0OCw2LDU2LDgsNTIsNiw2MywwLDAsMCw3Niw3MiwxMCw4LDksNCwxNCwxLDEsMSwxLDEsMSwxLDEsMSwxLDEsMSwxLDAsMSwxLDAsMCwwLDAsMCwwLDAsMCwwLDAsMCwxLDEsMSwxLDAsMSwwLDAsMCwwLDEsMSwwLDAsMCwwLDAsMCwwLDAsMjY3OTA1LDAsMCw5LDIwLDEsMCwxLDAs
Get to level 10,000:
MTA2MzcsMjcxOTM0ODExMzk0Ljg4LDk4LDE1NzcsMjMsMTAxMTI3Myw2Mjk0NDEyLDI5ODE2NzYsMCwyMDk5LDEsMCwxLDAsNDQwNDUuOTYsMTA0LDAsMjE3ODUyMywwLDIwODk3OTg2MjgwNC4wMCwyMDQyODgwLDE2NjQwOTI2ODk4MS4wMCw2MzE4OTA5MzI2LjAwLDYzMjA4OTE4NTMuMDAsMjkxODUzMzI3NDMyOC4wMCw0NjcwOTUwMzYzMzQ3LjAwLDAsMTU5MzEwNiwwLDAsMjcsNDUsNTgsMCwwLDAsMCwwLDAsMCwwLDAsMCw4LDQ4LDAsNjksMCwwLDAsMCwwLDEwLDksOSw0LDgsMSwxLDEsMSwxLDEsMSwxLDEsMSwxLDEsMSwxLDEsMSwxLDEsMSwwLDAsMCwxLDAsMCwwLDAsMSwxLDEsMCwwLDEsMSwwLDAsMCwxLDEsMSwwLDAsMCwwLDAsMCwwLDExNTcxOTMsMCw0LDAsMjMsMiwwLDAsMCw=
Get to level 24,000:
NDI4MDYsMjE5MzE4MzQ2NzU3NTMuNjEsNTksODA1OSw1Niw0MDY5Mjg5LDY4OTQ0NDAxLDM0MjY5MTQxLDAsMTU4ODk4LDUsMSwxLDAsNDQyMTkuMTIsMjkuMDAsMCwyMDE3MDYyMjkyLDI0MjQ2ODExNDczNzAzOCw5NjY2MDAyNDcwOTE4NTYsNjE0OTk0ODQ3MDU1MjgsMjM5MjgzNzkxMTc5MDA2LDIwMDAzOTUwODM2MDU3Niw3ODA0OTQzMTA2NTMzMzUsMjQyMDA4MjQxMTEwNDU4LDkxNDg1NTMyMTMyNzE5OSwxNTA2NzU0NDQ4OTU1Miw1ODc5MTE0NjYzNzExNiwwLDYwLDU1LDU1LDgwLDIwLDAsMCwwLDAsMCw2LDYwLDYsNzQsOCw3NSw2LDg3LDUsMTA5LDAsOTksMTQwLDEwLDksMTQsNCwyMiwxLDEsMSwxLDEsMSwxLDEsMSwxLDEsMSwxLDEsMSwxLDEsMSwxLDAsMCwwLDEsMSwxLDAsMCwxLDEsMSwxLDAsMSwxLDEsMSwwLDEsMSwxLDEsMCwxLDEsMSwwLDAsMjkzNzQ0NjAsMCwxLDEzLDY0LDIsMCwxLDAs
Get to level 260,000:
MjYwNDY0LDFlKzMwMixJbmZpbml0eSw0MDE4NywwLDE1MjY0NTkzLDE1MjY0NTkzLDc2
If you enjoy playing Idle Games, make sure to check out my previous article about Idle Monsters TD, a title that I still love playing today.
Or you can try something a bit more recent, like Idle Skilling, which is equally awesome.
How to use the Idle Breakout Cheat Codes
In order to use these cheat codes, you will need to import them as a save game file. Here is what you need to do:
1. Launch the game from its official page or from your install location if you have it downloaded on your laptop.
As you can see, I played it on Crazy Games initially as that's where I found it… but it works better on the official page (at least in my experience).
2. Click the cogwheel button in the upper right corner to get to the game's settings and click "Import":
3. Paste the exact code from the list above. You will automatically be taken to the indicated level and you can continue progressing from there.
Wrapping up
This is it! If you were curious to see how the game would look like in the very late stages, you have the chance now if you use the codes I have shared above.
I have to warn you that they will take away most of the fun that comes from progressing by yourself… but it doesn't hurt to try and see, especially if you save your current game and import it afterwards, so that you can get there by your own.
If you have various other save file codes that you would like to share with the community, post them in the comments section below, but make sure to also indicate the level they will take you.
Source: I found these cheat codes for Idle Breakout over on the game's reddit page. Make sure to check it out in case these are not enough as even more might be available if you dig deeper than I managed to dig.

Latest posts by Calin Ciabai
(see all)