If you're having trouble coming up with a unique, cool or funny (or all of these) character name for your Hogwarts Legacy character, I am here to help.
Today, I will share a bunch of Hogwarts Legacy character name ideas that go well with the lore of the game – but also some that are so much out of place that fit like a glove.
So let's not waste a single second (not unless you want to learn how to unlock the Room of Requirement) and let's check out some great Hogwarts Legacy name ideas for Wizards and Witches!
Hogwarts Legacy girl / witch name ideas
I am recommending some unique, Harry Potter-esque names below. I find them funny and cool at the same time and hopefully you do to.
Adalyn Moonstone
Beatrix Rosewood
Cordelia Thornapple
Delphine Thistle
Eloise Firethorn
Flora Thornbird
Gwendolyn Dapplewood
Hestia Thornfoot
Imogen Nightshade
Johanna Wainwright
Katheryn Bellflower
Lily Thornblade
Matilda Starling
Niamh Dewey
Ophelia Thistle
Persephone Willow
Quentin Dewey
Rowena Thunderbird
Seraphina Blackthorn
Theodora Thundercloud
If you want to go with something more era-specific, you should know that the game is set in the Victorian times, so choosing a Victorian name might be the best way to go:
Adeline Rose
Beatrice Evans
Cordelia Reed
Delilah Green
Eloise Powell
Flora May
Gwendolyn Wood
Hestia Hill
Imogen Fisher
Johanna Wright
Katherine Price
Lily Morris
Matilda Black
Niamh Clark
Ophelia Alexander
Persephone Roberts
Rosalind Parker
Sarah Brooke
Theodora Foster
Victoria Lewis
Hogwarts Legacy boy / wizard name ideas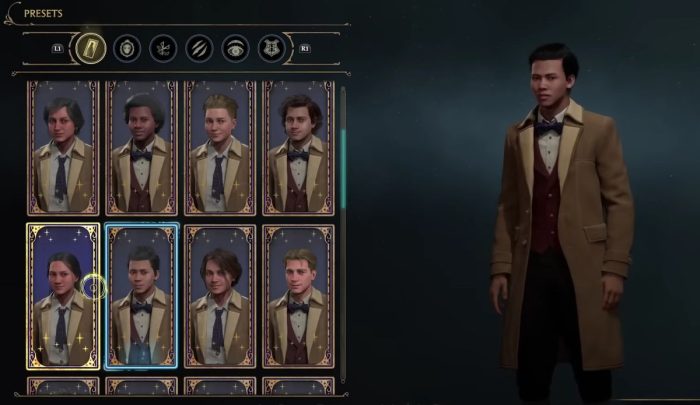 Now let's check out some name ideas for male characters in the game.
Augustus Pye
Barnabas Flack
Charles Wainwright
Declan Nightshade
Edmund Thornberry
Felix Felicis
George Weasley
Harrison Willow
Ignatius Bole
Jasper Flintstone
Kaleb Thornfoot
Leo Firethorn
Marcus Flint
Nathaniel Nightingale
Octavius Blackthorn
Percival Dapplewood
Quentin Nightowl
Rupert Gudgeon
Silas Nightshade
Theodore Starbuck
Here are some Victorian Times-inspired names that would work well for your Harry Potter character, if you don't want to go with any of the recommendations above.
Alistair Montgomery
Benedict Ashley
Cedric Holland
Duke Harrington
Elijah Preston
Franklin Winston
Gregory Sandford
Harrison Stone
Ian Fairfax
Jasper Hartford
Kendrick Blake
Leo Forrest
Marcus Knight
Nathaniel Grey
Octavius Park
Percival StJohn
Quentin Rivers
Rupert Sinclair
Silas James
Theodore Ashworth
Wrapping up
I think that all of the names recommended above would go really well for a character in the Harry Potter universe, including Hogwarts Legacy.
If you have additional suggestions, let us know some other cool name ideas below. And if you want to keep learning about the game, I recommend going a bit more in depth by learning how to change your appearance in Hogwarts Legacy.