There's something about Ancient Egypt that holds sway even today. As the first "developed" civilization, it marked a departure from what had gone before. Vastly different from the world we live in today, it was closer to our modern-day culture than anything prior.
Ancient Egypt was a world of great pharaohs and towering pyramids, of all-powerful gods and animal-headed goddesses. It was at once mystical and earthy; strange and yet somehow familiar. Perhaps it's this inexplicable duality that explains why we're still fascinated by this lost culture so long after its demise.
Regardless of the psychology behind it, there are many who flock to the various forms of media inspired by this ancient world. That includes plenty of gamers. If you're among them, here are four titles we think you'll enjoy.
Smite
Smite is a game of gods, and many of its extensive cast of characters come straight from Ancient Egyptian mythology. As well as obvious MVPs like Osiris and Anubis, you'll find a selection of lesser-known but equally fascinating deities, such as Geb and Neith.
While it's not solely Egypt-focused, this ancient culture has one of the largest pantheons of mystical beings featured. Sobek is a particular favorite.  
Lara Croft and the Temple of Osiris
Any game with Lara Croft in is going to be good, and this one is no exception. The follow-up to Lara Croft and the Guardian of the Light, it marked the first four-player cooperative experience in the entire franchise. But that's not all.
Set in the arid deserts of Egypt, it sees its main character team up with well-known Egyptian gods, including Horus and Isis. Their nemesis is the fearsome god of chaos, Set. Borrowing heavily from Egyptian mythos and folklore, this is a fantastic game for anyone who enjoys this aesthetic.  
Eye of Horus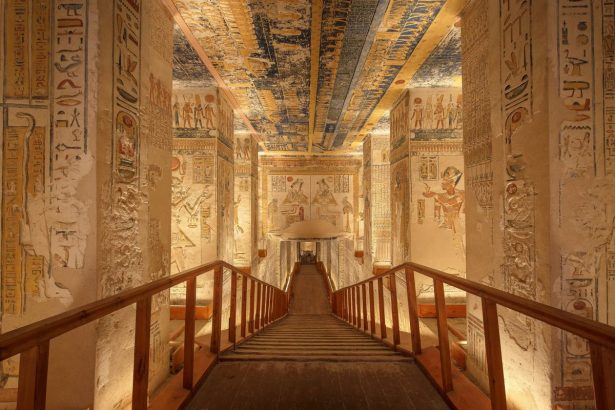 Source: Pixabay
It's not only video games that have been inspired by our favorite ancient civilization. There are also slots that borrow from its stories. You can play Eye of Horus to see for yourself. Set in a forgotten temple covered over by sand and lost to time, this slot has a really well-researched backstory.
Its creators have clearly done their homework, and on your reels, you'll see lots of themed icons, from scarab beetles to Egyptian hieroglyphs. It's immersive, engaging, and takes players back in time to a truly fascinating period in history.   
Civilization 5
If you're looking for something more historically accurate, try your hand at Civilization 5. This clever strategy game puts players in the roles of ancient leaders, with one of the most exciting characters being Rameses.
The challenge is to establish and lead a successful civilization, and as its ruler, you're responsible for leading it to war, managing its diplomacy, and building it into a powerful empire. There are lots of authentic components added to give you a taste of what life in Ancient Egypt might actually have been like.  
Tell us, which of these Egyptian-themed titles would you like to try out first?