There are endless games available on Roblox and it would be a crime if there weren't any Pokemon games in this platform! Thankfully, there are loads and oh, how fun they are!
Given, these games probably won't give you the exact experience of playing Pokemon on a Nintedo console, but some of these are pretty highly-rated and still have thousands of players every day.
Let's have a look at 7 of these Pokemon games to play on Roblox that will channel that inner Pokemon Trainer in you!
7 Best Pokemon Games to Play on Roblox
Project Polaro
Created in 2020, Project Polaro has gained an insane amount of popularity among Roblox Pokemon gamers. It has had over 350K+ visits in its first two years and rightly so!
The game tries to replicate the true Pokemon game experience with a number of Pokemon cities, such as the Viridian City and Vermillion City. There's also a huge range of Pokemon, belonging to different generations.
You'll play the role of a trainer in the game; you'll catch a Pokemon and venture your way through different cities to enrich your Pokedex and fight other trainers.
The battle system between trainers is pretty simple and user-intuitive. Codes are easily available for the game too.
Project: Pokemon
Project: Pokemon has been around since 2016 and has won hearts of loads of Pokemon enthusiasts.
The game follows a similar playstyle like Project Polaro; however, it does try to bring the essence of the classic Pokemon by introducing several legendary characters from the vintage Pokemon games.
The game's features are user-friendly too, enabling convenient navigation through your Pokedex and other stats.
The game was taken down by Roblox a few years back, but it has made its return recently.
While it risks being taken down again, you won't have to worry about your progress, since all the progress will be restored once the game inevitably returns again, due to the huge demand!
Pokemon Battle-Brawlers
Pokemon Battle-Brawlers makes this list solely based on the nostalgia factor that it brings with the vintage Pokemon games we used to play on Gameboy.
Apart from diving into a pool of nostalgia, you'll also be impressed with the various options available in the game and the precision of detail in each and every feature.
Also known as PBB, the game has great options to be your own monster and explore throughout and unlock legendary Pokemon.
The game was taken down by Roblox a while back, but it was reinstated into the Roblox server and there have been some progress in bug-fixes and updates since 2021.
Pokemon Galaxy
With over 15 million players, Pokemon Galaxy rose as one of the best Pokemon games in Roblox.
You get to interact with Pokemon from almost all the generations and the game comes with a pretty decent-looking graphics and characters. The adventures you go through in the game try to mimic the classic Pokemon games too.
More importantly, the game also features the likes of Ash and the legendary Pikachu, as well as allowing you to start off with Eevee as a starter Pokemon!
Bloxymon
Due to the Pokemon content being constantly taken down in Roblox, a set of developers came up with Bloxymon and it has been a huge success ever since!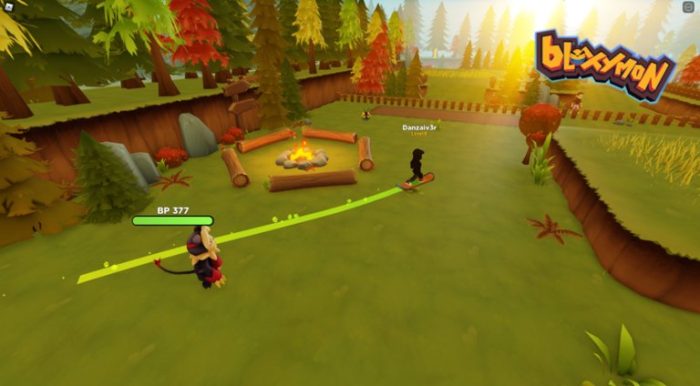 It's a replica of the original game, so even though a lot of features may be inaccurate, it aims to give the feeling of playing the actual game of Pokemon!
Instead of Pokemon, you, as a trainer, catch and interact with Bloxymons. You'll be finishing various missions as you explore through the huge world.
There are Bloxymon versions of the legendary and rare Pokemon as well that you can catch or fight trainers to win. The battling system gives a Pokemon-vibe and all-in-all, it's a satisfying experience playing this game.
Pokemon Legends
Featuring regularly spawning loot in the game and constant events, Pokemon Legends has attracted more than 20 million players, since its first release back in 2010.
There are regular updates to the game with various bugs resolved and items added, enriching the experience for all the fellow Pokemon gamers.
You'll basically be playing as a Pokemon in the game and battle other players who also play as Pokemon. There are a huge number of routes to explore and lots of different locations that you can visit as a Pokemon.
If you can't find the link to the game, visit their Wiki page to gain access to the latest version of Pokemon Legends in Roblox.
Pokemon Brick Bronze
The last game on the list, and arguably, the best Pokemon game on Roblox is the Pokemon Brick Bronze!
The game has attracted huge attention due to the innovative aspects as well as the well-designed interface of the game.
There's a vast amount of area that you can wander around and fight other players in the classic Pokemon-type battling systems. Furthermore, exceling in these battles will also earn you badges, just like the original game.
Pokemon Brick Bronze also features a huge range of cities from the actual Pokemon game, such as Indigo Plateau, Saffron City, and Lavender Town.
Wrapping Up
Roblox have been constantly taking down Pokemon games due to copyright issues with Pokemon; however, the developers have constantly found ways to bring them back with restored data!
Roblox features amazing games such as Blox Fruits, DOORS, and Reaper 2; it would be incomplete without the addition of the legendary Pokemon game.
There are a huge number of options when it comes to Pokemon games though, but the ones mentioned above truly take the cake.