Avocado is a common ingredient used in making meals in Pokemon Scarlet and Violet via the picnic feature.
It is fairly easy and cheap to obtain and allows players to cook some solid sandwiches that will make exploring Paldea easier.
Sandwiches are a great way to increase certain stats like Pokemon catch rate, shiny encounter rate, and combat performance.
If you're interested in a more late-game ingredient, consider checking out our guide on how to get tofu.
In this guide, I will explain how to get avocado in Pokemon Scarlet and Violet and showcase all possible recipes with this ingredient.
How to Get Avocado in Pokemon Scarlet and Violet
To get Avocado, players will need to visit the Aquiesta Supermarket in Levincia. Travel to the Levincia North Poke Center and you'll find it nearby.
However, Avocado isn't available from the get-go. Instead, players will need to obtain two Gym badges first. Then, avocados will be available for purchase at the price of ₽180.
Sandwich Recipes that have Peanut Butter in Pokemon Scarlet and Violet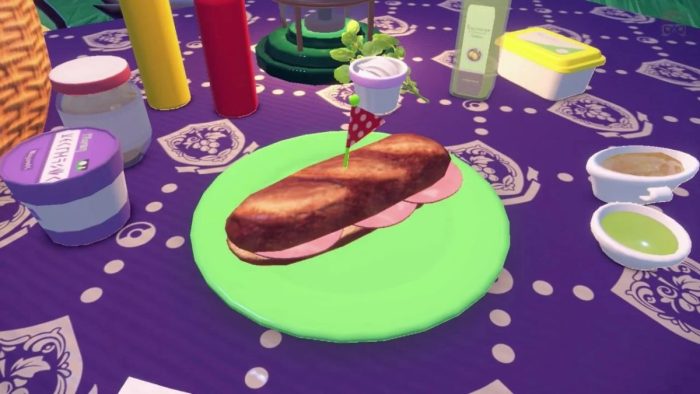 Various recipes require avocados, ranging from basic ones to Ultra recipes.
Basic Avocado Recipes
Avocado Sandwich
Tofu Sandwich
Refreshing Sandwich
Tropical Sandwich
Great Avocado Recipes
Great Avocado Sandwich
Great Cheese Sandwich
Great Potato Salad
Great Tofu Sandwich
Great Refreshing Sandwich
Great Spicy-Sweet Sandwich
Great Tropical Sandwich
Master Avocado Recipes
Master Avocado Sandwich
Master Classic Bocadilla
Master Cheese Sandwich
Master Potato Salad
Master Tofu Sandwich
Master Refreshing Sandwich
Master Spicy-Sweet Sandwich
Master Tropical Sandwich
Ultra Avocado Recipes
Ultra Avocado Sandwich
Ultra Classic Bocadillo Sandwich
Ultra Cheese Sandwich
Ultra Potato Salad
Ultra Tofu Sandwich
Ultra Refreshing Sandwich
Ultra Spicy-Sweet Sandwich
Ultra Tropical Sandwich
Each of these sandwiches requires avocados as an ingredient. Since there are many options, make sure to stock up on Avocado while visiting Levincia.
Conclusion
To sum up, that's everything you need to know on how to get Avocado in Pokemon Scarlet and Violet.
All it takes is visiting Levincia's Aquiesta Supermarket after getting 2 Gym Badges and having ₽180 for each avocado.
Also, now you have an idea of how to use your avocado with all the available recipes that include it.
With your new sandwiches and their buffs, maybe now you're ready to tackle Pokemon Scarlet and Violet's hardest content: the 6-star raids.
Which sandwich are you cooking first? Are you missing any other ingredients? Let us know in the comments below.