There are many characters players will be able to get. In this tier list, I will showcase the best idols/characters in the game for HoloCure.
As of the release of 0.6 the game currently has 38 different characters available for players to choose from. Some of them will be available by default while others can be obtained through the game's character gacha mechanic.
Here is a quick overview of the tier list.
| | |
| --- | --- |
| Tiers | Idols/Characters |
| S | Aki Rosenthal, Ceres Fauna, IRyS, Nakiri Ayame, Nanashi Mumei, Nekomata Okayu, Sakura Miko, Takanashi Kiara, Yuzuki Choco |
| A | Akai Haato, Amelia Watson, Anya Melfissa, Calliope Mori, Gawr Gura, Hakos Baelz, Hoshimachi Suisei, Kaela Kovalskia, Minato Aqua, Moona Hoshinova, Pavolia Reine, Tokino Sora, Tsukomo Sana, Vestia Zeta |
| B | Airani Iofifteen, Ayunda Risu, Inugami Korone, Kobo Kanaeru, Kureiji Ollie, Murasaki Shion, Natsuiro Matsuri, Shirakami Fubuki, Yozora Mel |
| C | AZki, Ninomae Ina'nis, Ookami Mio, Oozara Subaru, Ouro Kronii, Roboco-San |
If you have trouble finding the items needed to get super collab weapons, check out our guide on how to get the golden hammer in HoloCure.
HoloCure: Pulling for Characters
In order to use the best characters, you will need to know how to get them from the game.
When you first start, you will be given 5 characters by default, and the rest will be "locked" behind the character gacha system.
You will need to spend HoloCoins to pull from each group's character banners. Each banner contains up to six different characters. The characters are randomly selected from each banner and only one character can be acquired for each pull.
Each character has an equal chance of appearing from their banner. Gacha rolls can be bought one at a time, or multiple rolls at once, up to 10.
There are nine different banners players will be able to choose from:
Hololive EN -Myth-
Hololive EN -Council- & Project: HOPE
Hololive JP Gamers
Hololive JP Gen 0
Hololive JP Gen 1
Hololive JP Gen 2
Hololive ID Area 15
Hololive ID Holoro
Hololive ID HoloH3ro
If players receive a duplicate gacha pull of an already-obtained character, that character will receive a G. Rank Up, which adds a +1% bonus to HP, ATK, and SPD (up to a max of 20%).
HoloCure: S-Tier Idols/Characters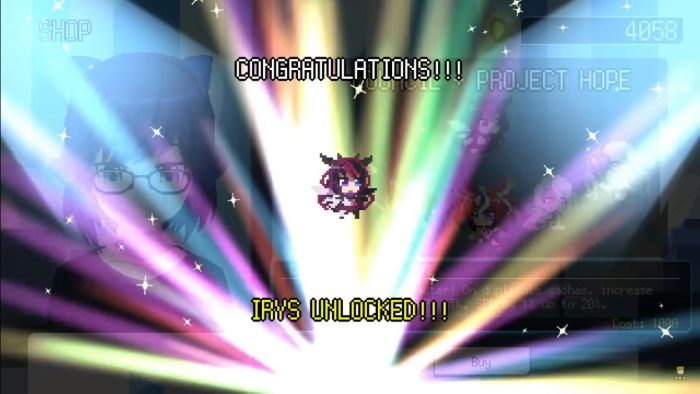 S-tier Idols are the best possible charatcers you can use.
They will be able to pull you through many tough situations, and they eliminate enemies even without stat upgrades or the need for G. Rank Up.
They have the most effective combination of specials, and skills.
Aki Rosenthal – Special: Sing an otherwordly folk song, summoning a storm of rose petals dealing 50% damage and inflicts 20% Slow each while healing for 20% per second.
Ceres Fauna – Special: Summon a giant tree that creates a healing zone. In this zone, Fauna gains a 10 second invincibility buff.
IRyS – Special: Hope descends from top of screen, and then explodes for 250% damage.
Nakiri Ayame – Special: Increase the attack speed of Dual Katana by 200%. After 4 seconds, the spirit slashes the screen, dealing 1000% damage to all targets.
Nanashi Mumei – Special: Destroy everything in sight. Increase Haste by 1% for each target that has been sacrificed, for 10 seconds.
Nekomata Okayu – Special: For 6 seconds, Okayu is invincible and increases SPD by 50%. Non-boss targets touched will be eaten, healing 5% HP.
Sakura Miko – Special: Create a zone around Miko for 8 seconds, summoning hot flames that burn everything. Targets in this zone take 50% more damage.
Takanashi Kiara – Special: Explode with the flames of a phoenix and gain a 15 second Immortal Phoenix buff. If HP reaches 0, Kiara fully heals.
Yuzuki Choco – Special: All targets's ATK and DEF are reduced by 30%. Targets close to Choco have a 40% chance to become converted and joins her side for 8 seconds.
Final Thoughts
Among the many different chaarcters players will defiently find their own favorites.
Always keep in mind, that with any tier list you shouldn't force yourself to use only the highest tier characters. Find your favorite, and with each upgarde they will decimat everythign and catch up in power to the characters on the top.
If you want to try your hand at fighing, but it seems daunting, check out our guide everything you need to know about fishing in HoloCure.
With the Idol/character tier list laid out for Holocure, which ones are you eager to try. Did any of the higher placed characters makes you want to pull for them in the character gacha?