You might be looking for some games like Fall Guys to bring in some extra challenges or just to see what other developers came up with in terms of zany gameplay mechanics. Maybe you somehow got bored with the current game, or it is too difficult for you. In the end, it doesn't really matter why you want them – all it matters is that we have them – the best Fall Guys: Ultimate Knockout alternatives.
The truth is that games that are exactly like Fall Guys are non-existent at the moment of writing this article. But we still have some that are similar in concept and offer zany physics or mechanics that will keep you equally entertained (or frustrated, depending on the case or your skill level).
Either way, I am sure you will absolutely love these ones, so let's just check out the best games like Fall Guys below!
Best Fall Guys: Ultimate Knockout Alternatives
Gang Beasts
Gang Beasts is a silly multiplayer party game with surly gelatinous characters, brutal slapstick fight sequences, and absurd hazardous environments, set in the mean streets of Beef City.
While it can only be played by up to four players at a time, it does offer local multiplayer as well as online multiplayer options and a ton of minigames and crazy features that you will absolutely love if you enjoy playing Fall Guys.
I would go as far as saying that this is definitely more fun if you play it as a couch co-op game, but if you don't, make sure to turn on those headphones and talk with your pals when playing this one. It's hilarious to say the least!
Gang Beasts is available on all major platforms: PC, PS4, Xbox One, even Mac and Linux so you can definitely find it and enjoy it on your platform of choice. It's really worth it!
Pummel Party
Pummel Party is a 4-8 player online and local-multiplayer party game. Pummel friends or AI using a wide array of absurd items in the board mode and compete to destroy friendships in the unique collection of minigames.
While this one is definitely more violent and features more blood than Fall Guys: Ultimate Knockdown, it's just as fun and intense (if not even more so). The fact that up to eight players can participate in the game makes it as random and silly as it can get, but I personally prefer the 4-player mechanics.
Either way, you have them all: the difficult to control characters, the zany physics, the plethora of minigames that will challenge you to the core – and make you laugh and cry and go crazy (sometimes all at once!) In other words, it's a perfect Fall Guys alternative!
We can say that Pummel Party is a Super Mario Party game that went completely crazy – and that's a good thing, believe it or not! Definitely worth trying, with the game being available on Steam only.
Party Panic
A game that's very much like Fall Guys (as well as Pummel Party above), this one's another Super Mario Party game on drugs: lots of crazy and funny minigames for you to play against up to three other people in either local co-op or online modes.
Compete against your friends in the all new board game, play 30+ rapid fire minigames, race through the brutal Gauntlet, or complete the challenges on Trophy Island. There is even a built in drinking game! You'l laugh, you'll cry, it's stupid. And that's exactly what you were looking for, right?
This game is also available on all platforms, so you can download it on PC from Steam, but also get it for your PS4, Xbox One, Mac or Linux-powered system.
Human: Fall Flat
Human: Fall Flat is a hilarious, light-hearted platformer set in floating dreamscapes that can be played solo or with up to 8 players online. Free new levels keep its vibrant community rewarded.
You can even play this one as a single player adventure, in which case you will go bananas sooner rather than later (really, I just couldn't do it!) But, of course, this is something many are looking for.
If you're not, then you can easily relax a bit with one of our recommended relaxing games for PC.
It's the multiplayer element that makes is resemble Fall Guys so much and, even though a bit more difficult in my opinion and maybe the most frustrating on our list, it deserves to be here. Plus, despite my edgy relationship with this game, most people who tried it absolutely loved it. So you will probably do to.
You can easily give it a try as this one's literally available on all major gaming platforms out there.
Totally Reliable Delivery Service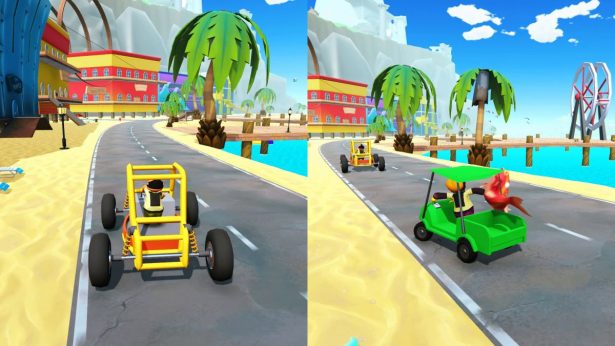 T.R.D.S. is a ragdoll physics simulation about terrible package delivery couriers. Work together using odd machinery, useful gadgets, and the wonders of physics to reliably deliver packages to their destination.
This proves to be a lot more difficult than it might sounds, which is where the fun and frustration delivered (no pun intended) by the game comes from. It's definitely more fun when played with friends, ideally ones you're very close with because your friendship will be put to great tests.
The split screen multiplayer is perfect too – but I recommend playing this one online actually even though it takes a bit of the fun out. But you do need as much screen space as possible in order to deliver that package!
TRDS is available on all major platforms – but on PC it's currently an Epic Games Store exclusive (until sometime in 2021 when it is expected to launch on Steam as well).
Overcooked! 2
Now this is another game that proves that cooperation is usually overrated. But it makes friendships stronger – if they survive the game's campaign mode, that is.
Journey to the Onion Kingdom and assemble your team of chefs in classic couch co-op or online play for up to four players. Hold onto your aprons… it's time to save the world again by preparing dishes in some of the strangest areas you've ever seen.
This is definitely one of those games that's better the more people you play it with, so bring on three other friends to have a slightly easier time and enjoy. It will surely be hilarious, especially with all the talking and actual human interaction that is a must if you want to succeed.
You can download Overcooked 2 on Steam, as well as all other major platforms, including the PS4, Xbox One and the Nintendo Switch.
Secret Neighbor: Hello Neighbor Multiplayer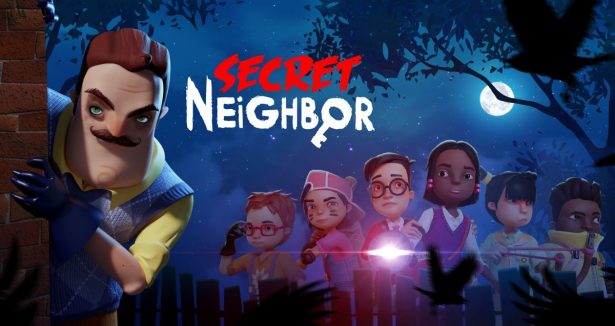 Now this is a bit of a stretch, since it doesn't really have much in common with Fall Guys, except for the fact that it's a multiplayer game.
But it's created by the same team behind the amazing Hello Neighbor series, with some amazing graphics and mechanics, so it's worth trying if you have some friends to play the game with.
Secret Neighbor is described as a Multiplayer Social Horror Game where a group of intruders try to rescue their friend from the Neighbor's creepy basement. Only problem is one of the intruders is the Neighbor in disguise.
You can imagine just how cool this is when all the six characters are played by a bunch of friends. Intense for sure and absolutely amazing. So still worth a try, even though it doesn't offer the same gameplay that Fall Guys: Ultimate Knockout does.
Right now, the game's only available on Steam and Xbox One.
And these would be, for now, all the games like Fall Guys: Ultimate Knockout that you can play together with other people (ideally your friends).
However, since Fall Guys proved to be such an incredibly popular game, I am sure that more games like it will start being launched sooner rather than later, giving us more options if these are not enough.