It's never too cold (or hot) outside to do some virtual farming on our computer or laptop. And today I am here to share with you the best farming games you can play on PC (without an internet connection).
The good thing is that farming games are relaxing and entertaining, offering us a break from the crazy world outside or the more intense video games we can play otherwise.
Even though the days of the FarmVille craze are long gone, farming games are still out there – and you can play them offline, without WiFi, doing everything at your own pace.
You will have a ton of fun playing my recommended titles, which begin with more complex games that even diehard gamers will love, only to continue with more casual time management farming games that are still fun to play.
So let's not waste a single second and instead let's check out the best virtual farming games you can play on your PC or laptop – all games being available offline, without WiFi (after you install them, of course).
Stardew Valley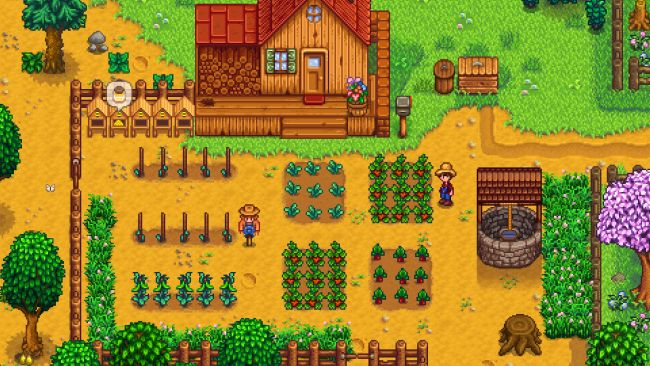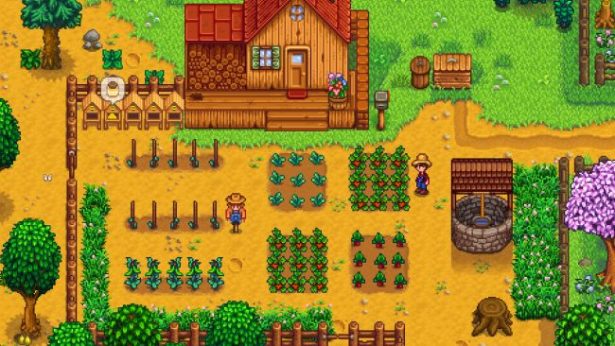 This is one of the most relaxing games ever, and a title that will always hold a special place in my heart. If you try it, I am sure you will fall in love with it instantly.
It's a lot more than a farming game, although you will be tending crops, planting and harvesting, as well as caring for various animals. But you will do so much more – it's a real RPG with lots of characters and paths for you to follow.
One thing is sure: you will never run out of things to do in Stardew Valley and you will always be entertained and relaxed when playing this game. So if you haven't done so already, do yourself a favor and get it now!
Farm Together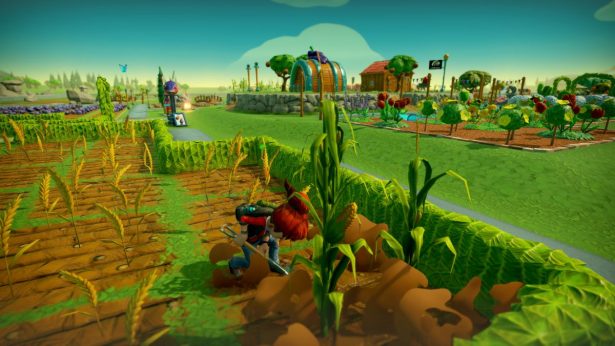 This is a game that I absolutely love to play together with my son. It's all peaceful, sandbox gaming with no violence but instead tons of plants and beauty.
This is perfect for kids and adults alike and the fact that you can play it on the same computer makes it even better.
Plant and grow crops, harvest them and unlock new ones, build various structures and play as you see fit: a great farming game that gives you complete freedom.
Farming Simulator 2022
If you want to go above and beyond the casual approach of most games on this list, then Farming Simulator is the game you need. It's getting better each year!
You will skip the manual planting and harvesting, as well as the casual approach and jump into farming vehicles and take everything to the next level, in a game that delivers the most accurate farming experience possible.
Click here to get the game now.
Kynseed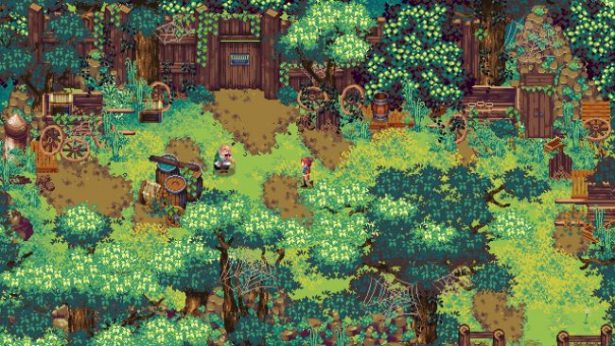 A sandbox RPG adventure that's very similar in both concept and atmosphere with Stardew Valley.
You are the owner of a Kynseed – a magical seed that grows a tree where your choices manifest in its branches. So everything you do (or at least most things) will have an impact on the evolution and growth of the tree.
You'll be planting crops and exploring, building a family and fully enjoying your time in this charming, relaxing game.
My Time at Portia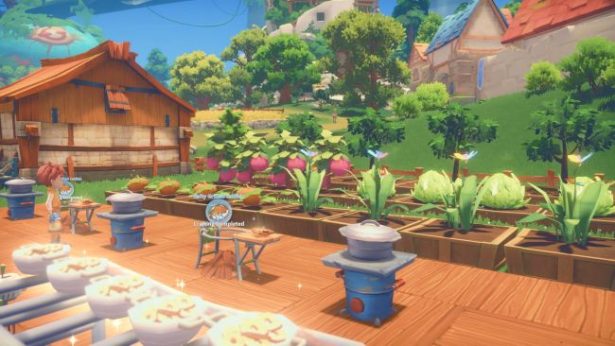 A combination of Minecraft, FarmVille and Stardew Valley can never go wrong – and this is what My Time at Portia is all about.
While the farming element of the game isn't necessarily the main focus here – crafting and other actions are, we can still consider this one a "farming" game – and a mighty good one as well, giving you a lot of things to do and enjoy.
Click here to get the game now.
Farm Frenzy: Refreshed
This one's more about the animals, than it is about tending crops: but it's still fun. A smaller screen, fewer things to do, but again: still fun, otherwise it wouldn't be on my list.
The best part? This is a remake of the original Farm Frenzy game, updated with better graphics and more things to do. You will love it!
Guide the red-haired Scarlett as she does all the farming needed in the game.
From feeding feisty animals to gathering fresh eggs to making delicious pastries, you'll turn a humble little homestead into a booming agribusiness. You'll have to stay on your sun-kissed toes, though.
This is the latest game in the Farm Frenzy series, so if you enjoyed playing the previous titles, you will surely love this one too!
Click here to get the game now.
Alice Greenfingers 2
This is an older game which is still relevant today – like most of the games on this list. A time management game that will quickly take you through levels that get more and more difficult as you progress – but without becoming stressful.
In this game, you join Alice as she applies her green thumb to her lazy Uncle Berry`s ailing farm. Grow fantastic flora and populate the farmstead with exciting animals. Earn money selling crops, picking fruit, or auctioning livestock and dairy.
Click here to get the game now.
My Farm Life 2
A beautiful farming game that takes everything to the next level – literally!
I am saying this because in My Farm Life 2, players tend to crops 30 stories above busy city streets! You'll be running your impressive rooftop farm, growing crops, milking cows and producing goods: all in the game's cool episodes that get more and more challenging and fun.
Fantastic Farm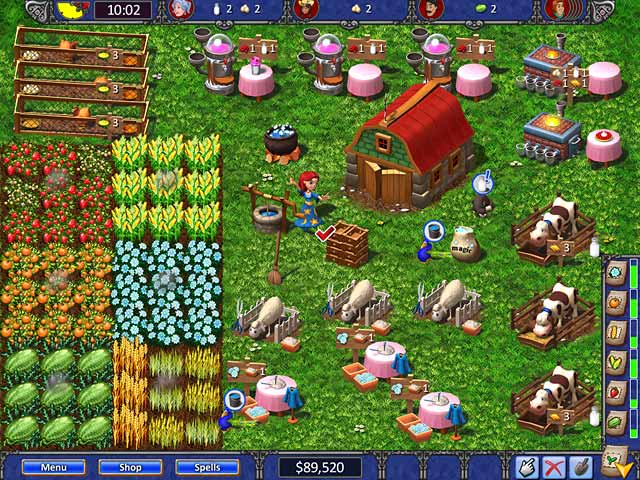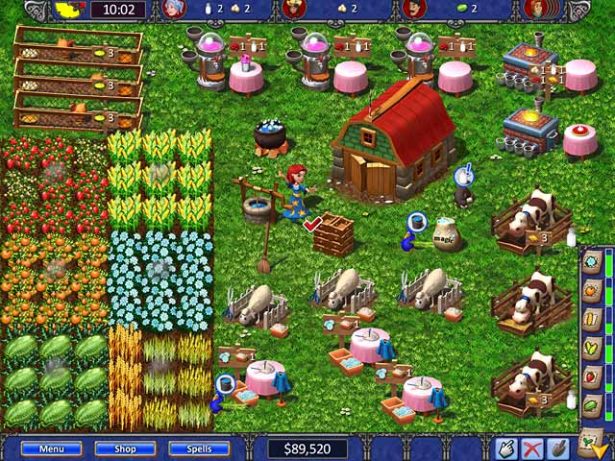 Help the fresh out of school Maggie run her magical farm! Use a variety of magic powers to grow a small farm into a prosperous enterprise! Care for the animals, grow plants and make enchanted goods in Fantastic Farm!
Even though the game itself is pretty old and the graphics look a bit outdated, it's still a fun romp that will bring back some nostalgia to some of us older players.
Click here to get the game now.
Ranch Rush 2 – Sara's Island Experiment
Help Sara and her new friend Coco harvest produce, manage the farm and even put the evil villain to shame.
Travel to the ocean for some exciting fishing as you collect gold coins to help decorate your farm and do your best to create the most awesome tropical farm the world has ever seen!
Farm Tribe: Dragon Island
Some fantasy elements never hurt, even in a farming game. Actually, I would dare to say that they make the game itself even better and that's exactly the case of Farm Tribe: Dragon Island.
You'll be tending your crops and working your magic somewhere in the Ocean of Eternity, on the Keeper's Island where organic products grow faster and you can contact other Worlds and their residents.
Help the main character build a farm, become the Keeper and protect other Worlds' residents from Dark Forces in order to save the Island from vanishing into the Ocean of Eternity.
Farm Mania 2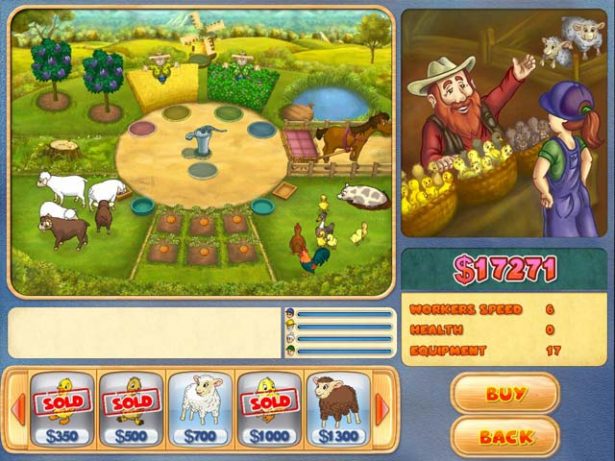 Fruits and vegetables, animals and birds, bakeries and textile factories – it's all waiting for you in Farm Mania 2! Help Anna and her new husband Bob turn their farming dreams into reality in this fun time management game.
Click here to get the game now.
Wrapping up
These would be my recommended farming games to play on your computer and you have a ton of great options: from really casual games to more complex titles.
All that you need to find you next few favorite virtual farming games (that you can play offline) is above, but if you know of a different farming game that we haven't mentioned, let us all know by commenting below.