CS:GO skins mean a lot of things to many people. For some, they are aesthetic assets worth collecting, while for others, it's all about the investment and money. Why are CS:GO skins so popular nowadays?
CS:GO skins are unique and you're sure to bump into something you like considering their sheer number in the market. Also, CS:GO skins are a stable form of cryptocurrency and a sound investment option.
One of the most crucial skills any trader should possess is the ability to evaluate the worth of his/her assets. This is also true if you're trading CS:GO skins
What are CS:GO skins?
CS:GO skins are modifications made on already existing weapons. The modifications do not in any way, influence the performance of the weapons. In short, weapons with CS:GO skins are no different from their vanilla counterparts in terms of performance. The only difference is in their appearance and some aspects of usability.
CS:GO comes in various grades and rarity, but the most crucial aspect of rarity is its influence on the price and the price of the skin is highly influenced by the number of cases you need to open to get to that specific skin. The exterior quality also affects the degree of weariness and determines the pricing.
What determines the price of skins?
There are three main factors that determine the price of CS:GO skins- skin rarity, skin float, and skin features.
1. Skin rarity
When it comes to pricing of CS:GO skins based on skin rarity, the universal rule applies- the rare the skin the high price tag it commands. Most skins come from loot stashes that cost money to unlock. You can expect to pay $1 to $2.50 for a key that unlocks a stash.
A rare skin will require a number of keys to unlock it with each key costing a certain amount so you can get the picture of a skin's worth. Also, we need to consider what weapon the skin represents.
If the skin is for a widely popular weapon like AK47, it will fetch a huge price compared to the skin for a rare and unpopular weapon. The more frequent the skin, the cheaper its price.
When it comes to the skin rarity, pay particular attention to the watermark. We grade the skin rarity from the commonest to the rarest:
Consumer-grade (common)
Industrial grade (less common)
Mil-spec (rare)
Restricted (mythical)
Classified (legendary)
Covert (ancient)
Melee weapons (devastatingly rare)
Contraband items (immortal)
The rarest skins to come across are CS:GO knives and assets like AWP Dragone Lore.
2. Skin wear and tear
Every CS:GO skin has a level of wear, which contributes to the quality of its imagery. There are five primary levels of wear and tear, namely; "well-worn," "battle-scarred," "minimal wear," "field-tested," and "factory-new."
"Battle-scarred" skins are the most worn-out while "factory new" are flawless with no signs of usage. Each of these five levels has a unique float number ranging from 0.00 to 1.00 with 0 for skin in perfect condition and 1 for the most damaged skin. However, skins with the same wear rating can showcase different signs of wear.
Note, the wear rating is assigned to the skin during creation and is unchangeable no matter if you stick stickers or how long you play with it. Even in the rare cases when you can change your skin, it does not affect the wear rating and the skin rarity.
csgo wear rating can be classified as follows:
Factory new (0.00 to 0.07)
Minimal wear (0.07 to 0.15)
Field-tested (0.15 to 0.38)
Well worn (0.38 to 0.45)
Battle-scarred (0.45 to 1.00)
Skin floats greatly determine skin value with the general rule being the less wear on the skin, the greater the price. If you're shopping for some skins, consider investing in Minimal wear or field-tested skins. They are way cheaper than factory new but not too cheap to give you value.
3. Skin features
One of the essential qualities that make counter-strike: global offensive competitive is its high level of skill. However, some skins have unique features that can improve your gameplay. There are two main types of skin features:
1) souvenir skins
These come from souvenir packages that are offered during valve-sponsored CS:GO matches and majors. They come with uniquely integrated stickers and fetch quite high prices.
The most expensive souvenir skin ever sold was the AWP Dragon Lore with stickers of the Boston Major 2018 event MVP for a clean $61,052.63.
You do not require a key to unlock a souvenir package. You can only obtain them from watching an official tournament or get them from the trading marketplace or if someone puts them up for sale. Souvenir skins are super pricy and command hefty price tags
Stickers give souvenir skins their identity and determine their value. There are tons of stickers on the DMarket.
Some are cosmetic decorations while others relate to esport players and teams and some to particular events. Keep in mind, common and cheap quality stickers dampen the quality of worthy skins.
Stickers can be classified into the following:
Normal (high-grade)
Hologram (remarkable)
Foil (exotic)
Foil, souvenirs (extraordinary)
Discontinued (contraband)
Contraband skins are the rarest and most valuable. They are skins removed from cases by CS:GO developers and dropped randomly, such as a skin featuring unique artwork.
2) StatTrak skins:
StatTrack tech has a significant impact on skin prices. It basically monitors your kills with a specific weapon and the kill counter resets to zero after trading. StatTrack skins are more costly compared to your regular skins and are often in a signature orange bracket in your steam inventory.
StatTrack takes into consideration the number of actions performed by the skins. For musical kits, it records the number of times you play music and if it's a weapon, it tracks the number of kills once the equipment is listed on the market and traded, the counter resets to zero.
Where to sell your CS:GO skins?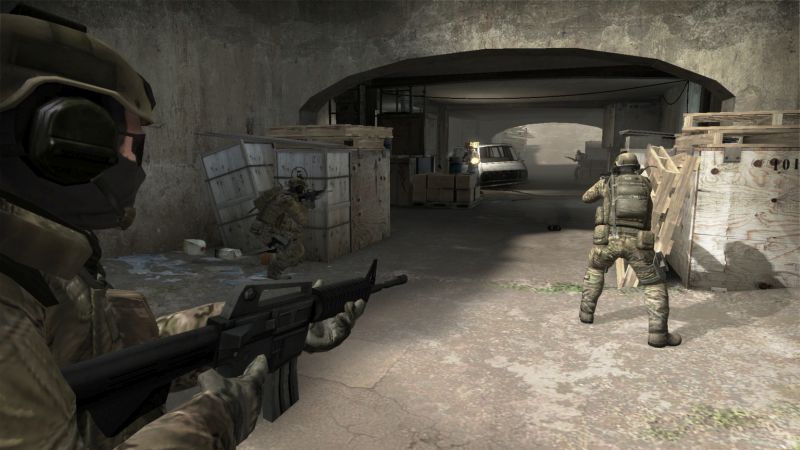 Knowing the value of your skin is one thing, but this has no value if you don't know where to cash out your loot. Know how to pick the ideal market.
1. Steam market
Sell your skins in the official steam market under the control of Valve itself. With steam, you are guaranteed a ton of offers and lucrative prices for your skins.
2. Third-party marketplaces:
If you want the lucrative offers of the steam market but outside the confines of the steam environment, you might want to try out one of the numerous private marketplaces. This way you have a bigger chance to stake a higher offer and negotiate for better deals. Do due diligence and check the price of skins in various marketplaces.
3. Third-party mass deposit sites
There are tons of sites that offer the above service with SkinWallet being one of them. Whichever sites you choose ensure it guarantees you of the highest price in the market you can get for your CS:GO skins. Fish for the most lucrative offer.
Want to know more about CS:GO skins? Be sure to let us know your suggestions.