Virginia is a three-legged mutant woman in Sons of the Forest that players can befriend and have as a companion.
While she looks like the other mutants on the island, she is one of the few friendly NPCs. Thankfully, finding her is fairly straightforward since she will come toward you during the first few hours of your gameplay.
In this guide, I will explain how to find Virginia, as well as how to befriend her and what to expect from her.
If you're just starting in the game, consider checking out our guide on how to make a bed, which is an essential tool for saving your progress and sleeping.
How to Find Virginia the Mutant Girl in Sons of the Forest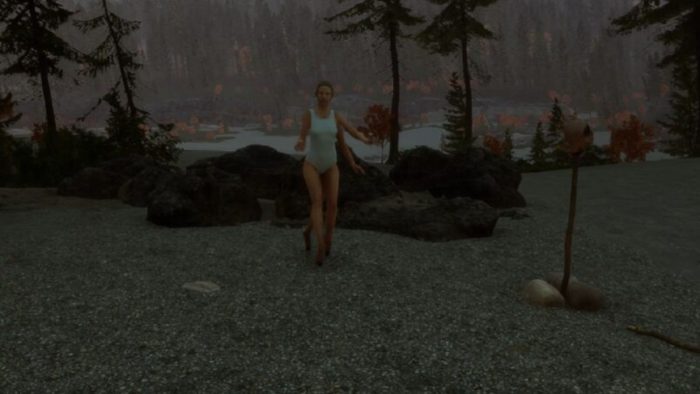 Virginia will approach you multiple times during the early game. Especially when you set up camp, she will be one of the first mutants to visit you.
Even if you scare her away, Virginia will always come back. Unless, of course, you kill her. Unfortunately, killing her will end this storyline completely as there is no way to respawn Virginia or any other NPC in Sons of the Forest.
Thus, as long as you don't attack her, Virginia will come back and roam around your base.
But what should you do with her? Let's see.
How to Get Virginia as a Companion in Sons of the Forest
Despite being a mutant, Virginia can be recruited by the player and serve as a companion.
To get Virginia as a companion in Sons of the Forest, holster any item you're holding (hotkey: G) whenever you see her. Then, approach her slowly.
At first, she will get scared and run away into the woods. However, eventually, she will come back. Repeat the same process until you're able to get close to her without making her run away.
Then, she will become friendly toward the player and always hang around the base.
While you can't command her like Kelvin, Virginia will follow you around and occasionally bring you materials as gifts.
Additionally, players can approach Virginia and give her a pistol or shotgun. With a gun, she will be able to help in combat against other mutants. On top of that, she's a really good shot. Having her on your side is a great benefit.
Wrapping up
To summarize, that's everything you need to know on how to find and befriend Virginia, the three-legged mutant girl in Sons of the Forest.
She will find you during the early game and roam around your base. Approach her slowly and repeat multiple times until she stops being scared of you.
With Virginia on your side, consider checking out our guide on the best base locations in the game, to ensure you're starting in an optimal spot.
Did you kill Virginia on your first run by accident? If you befriended her, has she brought any nice gifts? Let us know in the comments below.