Do you want to get new clothes for your character in Pokémon Scarlet and Violet? Are you interested in customizing and adding a personal touch to your character's looks and accessories?
Customization is definitely possible in the game and there are a variety of options available. However, there are certain limitations as well, which might put a lot of Pokémon gamers off!
How to Get New Clothes in Pokémon Scarlet and Violet?
Unfortunately, you won't be able to purchase separate shirts, pants, or a new attire in Pokémon Scarlet and Violet; you'll need to make do with the uniform options available.
There are particular sets of uniform preset by the game. You can change between these seasonal uniforms for a change in looks.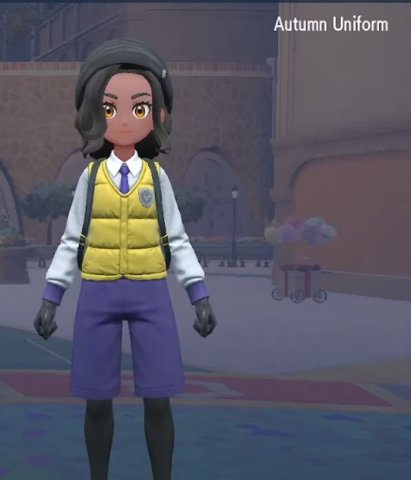 Along with that, there are additional accessories already provided for you to scroll through and bring out the beauty of your character.
Moreover, there are accessories that you can purchase from various shops and further customize how you character looks. The options for accessories are huge and come in almost all sorts of colors!
Default Clothes and Accessories in Pokémon Scarlet and Violet
When you click on the left arrow button, also called the Left Directional button, on your Nintendo Switch, a new menu should open up showcasing the four seasonal school uniforms given by the game.
You'll notice that each uniform represents the classic attire worn by students in that particular season; you're free to choose any.
Along with that, you'll notice options for accessories in the same menu.
There are several options for each accessory available in this menu, such as Gloves, Bags, and Helmets/Caps.
You can use any mix of accessory combinations to customize your character for free! A Sporty Cap featuring the Pokémon League and elegant black Leather gloves are some of the notable clothing items that can be put on.
You can purchase additional accessories from shops in Paldea, which I will talk about in a bit!
Furthermore, if you look at the top-right corner of the menu, you'll find an option to modify the looks of your character as well. You can adjust the shape of the eyes and eyebrows, but the hair can't be modified.
Purchasable Clothing Accessories in Pokémon Scarlet and Violet
Even though you can't buy new sets of clothes or attire, there are still numerous shops where you can get a huge range of accessories to add and customize the fixed uniform options.
Each shop specializes on a particular part of clothing, such as the headwear, shoes, legwear, and even gloves. Some shops feature multiple clothing items too.
These shops can be found in three particular locations – Levincia, Cascarrafa, and Mesagoza. You'll need to spend Pokédollars to purchase each accessory and wear them in the game.
Now, let's take a brief look at the different shops available in Pokémon Scarlet and Violet!
Bagin's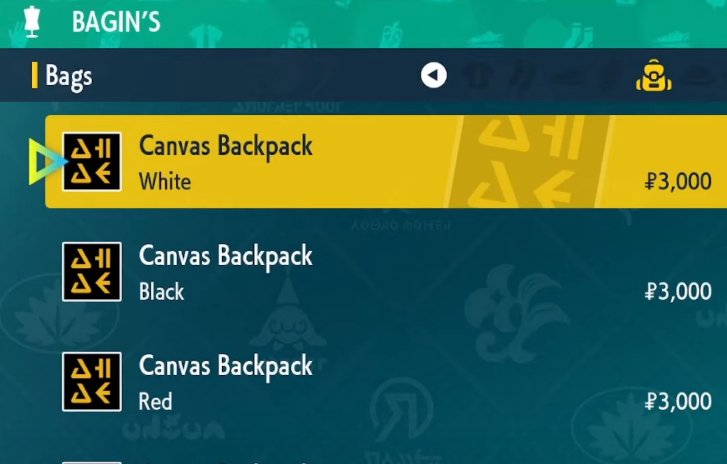 Bagin's is where you'd want to go if you wanted a new backpack! Bagin's brings a whole palette of colors for backpacks, giving you the chance to showcase and fashion a particular color.
Moreovoer, the Bagin's store can be found in Levincia, Cascarrafa, and Mesagoza too!
Capbourg
Like the name suggests, Capbourg specializes on caps and hats. It's your perfect go-to place if you're in need of a headwear.
Just like Bagin's, it's available in all three locations and the type of cap or hat you get depends on where you're buying from. Based on the location, you can get Sporty caps or Berets.
Spec Shak
Spec Shak brings a wide range of glasses for your character. The glasses range from half-rim glasses to stylish sunglasses, letting you choose the perfect type that fits your fashion sense.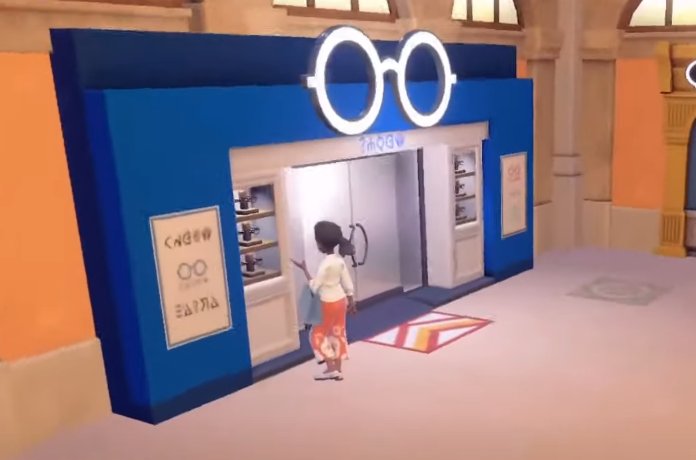 You can find Spec Shak shops in all of Levincia, Mesagoza, and Cascarrafa.
Zapaldea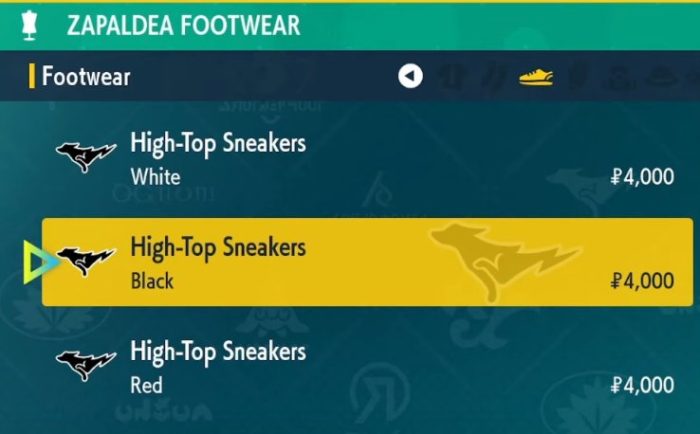 Zapaldea is the key footwear shop in Paldea. Whether you want Performance Sneakers or High-Top sneakers, you'll get them in Zapaldea and in your favorite color too!
It does depend where you're looking for a certain type of shoe, though, since you'll find Performance sneakers in one city whereas the High-Top ones may be found elsewhere.
Sock Quarter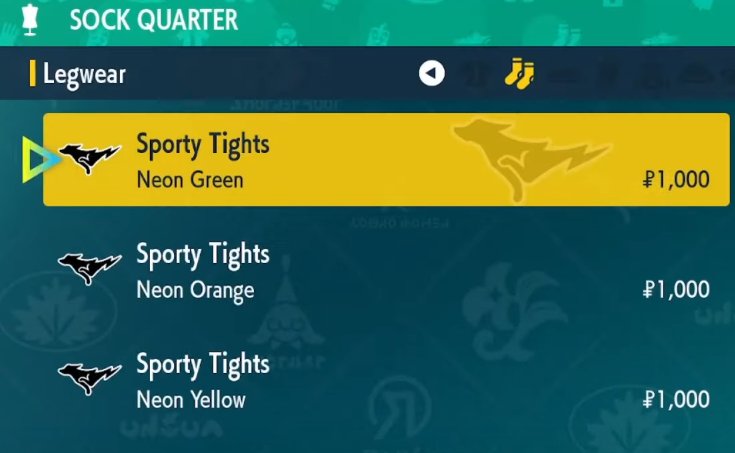 Pokémon Scarlet and Violet lets you customize legwear as well and Sock Quarter contains the perfect collection of socks and tights that will help you find the right combination with your uniform and style.
Sock Quarter can only be found in Mesagoza and Cascarrafa, though.
Rough and Tough
Rough and Tough consists of multiple sets of clothing items, and if you're looking to purchase items from a single shop, it should definitely be in your options. These shops follow a particular theme for the accessories that they have.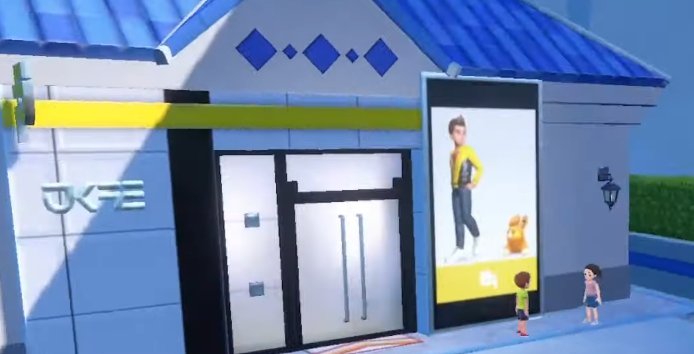 In Levincia, there's a wider range of items to choose from, whereas the range of selection is smaller in Mesagoza. Rough and Tough is available in Cascarrafa too.
Veracidad
Vercidad features very classy items, starting from Leather backpacks to Aviator and Cat-Eye sunglasses. The prices of the items are relatively a bit higher too, so make you have a good amount of Pokédollars in store.
Veracidad is available only in Levincia and Cascarrafa.
Seguro Style
The Seguro Style shop focuses on items you can wear while travelling. The shop consists of items like Off-Road helmets, Retro Jet helmets and colorful Fingerless gloves.  
You can match these with the rest of your accessories. The shop can be found in Cascarrafa and Levincia, just like Veracidad.
Wrapping Up
The fact that Pokémon Scarlet and Violet doesn't let us purchase and use new sets of clothes is quite annoying and a pretty big limitation from the fashion aspect. However, it makes some sense, since we're students in the game.
Nevertheless, the insane range of clothing accessories provided by the game is actually pretty impressive and you can still customize your character a lot. I think, these options are good enough to find the perfect looks for your character.
If you're having any issues with clothing in the game, do leave a comment below! I'm here to help with any Pokémon Scarlet and Violet problem you may have, whether it's finding classy sunglasses, beast balls, or even peanut butter!